Registered User
Join Date: Feb 2017
Posts: 2
NEWBEE
---
I just picked up a 93 Bronco, plan on it mainly a off road play thing, but with that being said I plan on getting it and keeping it road worthy, so nothing wild, sorry.
This is it now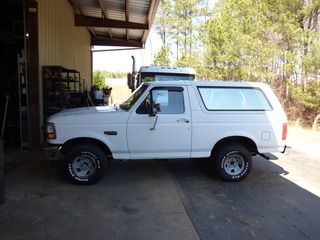 I should be starting work on the old girl this weekend
Tires, new locking hubs, replace broken side glass and other stuff.

---
Russ K
Moderator
Yo Russ,
Welcome and your 93 looks good!
Check with local dealer to see if cruise control, if equipped recall for your 93 Bronco was performed; "...Ford is recalling 225,000 my 1992-2003 Econoline, 1993-1995 Taurus SHO, 1992-1998 Crown Victoria, 1993 Bronco, F-Series,1995-1997 F-Series Super Duty stripped chassis, 1992-1998 Mercury Grand Marquis, and 1992-1995 Lincoln Town Car vehicles. The affected vehicles were previously repaired using a wiring harness that is not compatible with the vehicle circuit polarity. As a result, the fuse is located in the output circuit rather than in the intended input power feed circuit, and may not offer the intended protection in the event of an electrical short to ground. Dealers will install a new wiring harness, or replace the mating electrical component. The recall began on February 18, 2008. Owners may contact Ford at 1-800-392-3673. Ford recall no. 08s01. Customers may also contact the National Highway Traffic Safety Administration's vehicle safety hotline at 1-888-327-4236 (TTY 1-800-424-9153), OR GO TO HTTP://WWW.SAFERCAR.GOV..."
When you have time, fill out your Bronco Info with year, engine size, transmission type, transfer case type (manual or electric shift), locking hub type (automatic or manual) info & major mods such as a Lift, etc. for better responses.
Click User CP
Edit Your Details,
Scroll down to Bronco Info
For your Broncos questions, it is better to ask each seperately in Noobie Bronco Tech Questions. Flame free zone. This will get more attention and you can build up your post count to get into other sections such as Bronco and Ford Parts/Accessories (75 posts required to view).
Common Replies to FAQs
includes for example:
How to use search (Advanced)
Baba Looey's Favorite FSB Links (lots and lots of tech links)
Here are some wiring diagrams (partial, 86 through 96) and Technical Service Bulletins, (80 through 96) same as by Ford;
Search Wiring Diagrams
Enjoy our site & please VOTE FSB for Top4x4 site once daily[/B] @
Top4x4Sites.com - Listing some of the top 4x4 and Off Road sites on the web!
---
See my partially recovered Bronco web site
...Will need to clean up dead links & add many more new links some day. Thanks to Mr. Schwim!
THANKS to ALL WHO SERVE!