TSM Disc Brake Conversion Kit
---
I Just bought a rear disc brake conversion kit for my 79 Bronco from TSM, PN 2500. I was wondering if anyone else has installed this kit on a similar truck? If so, do you have any pictures of how it turned out?

I've been searching the internet and forums and there is plenty of reference to this kit but I can't seem to find any pictures or instructions. My main concern is it looks like you have to cut off the press fit collar that holds the bearings in place and shift the bearings back to get the TSM base bracket to mount between the axle house flange and the retaining plate. The instructions state that this may be required and they suggest that you don't have to put on another collar. This has me a little skeptical because their brackets are on the outside, so the tapered race is the only thing holding the bracket on the inside. Also, the TSM bracket doesn't surround the axle 360 degrees, so this leaves an area where mud and water will have access. It looks like the outer seal should protect the bearing but this looks like more of the seal will be exposed than I would prefer. I also want to get this right because if the spline isn't at the correct depth in the rear end this could also cause problems.

I may be making too much out of this, but I'm pretty new to this and I don't want to run the risk of ruining my rear end. Any help would be appreciated.
Registered User
Join Date: Aug 2005
Location: Shreveport, LA
Posts: 1,773
Bronco Info: 1979 Freewheel'n, PowrLok, ARB, OBA, and anything else I can cram in
If you have to cut off the part of the axle you mentioned, return the product and go with BC Broncos or a weld on.
Also return it if it allows any of the bearing to be exposed, ever.
In fact, if you have to cut any part of anything, return the product and get something that works. You can get weld on kits for about twenty bucks. And they weld on.
Bolt on kits, like BC Broncos are a little more expensive, but it's easy to enlarge 8 holes and bolt them on. And, once the Caddy calipers find their way into the garbage, they work great.

I took a look at the picture, and it APPEARS that the bracket mounts in the typical fashion, that is to say that it mounts on the inboard side of the flange. You are correct in thinking that if they mount between the flange and the bearing retainer, you will be having problems.

I hope that youre reading the instructions wrong, because to think that a kit could be made that's designed like that AND that people have bought it is shocking.

Good luck with it. Maybe you should see how good their customer support is...
there are plenty of rear disc conversions..look at summit, ssb, wilwood..there kits bolt on...i think you like it better
Below are the instructions I received... talk about generic. I've heard they have great customer service, so I may contact the company and see what they say. I'm starting to think they gave me the wrong base bracket. If the center of the bast bracket was large enough to fit around the bearing I don't think there would be a problem.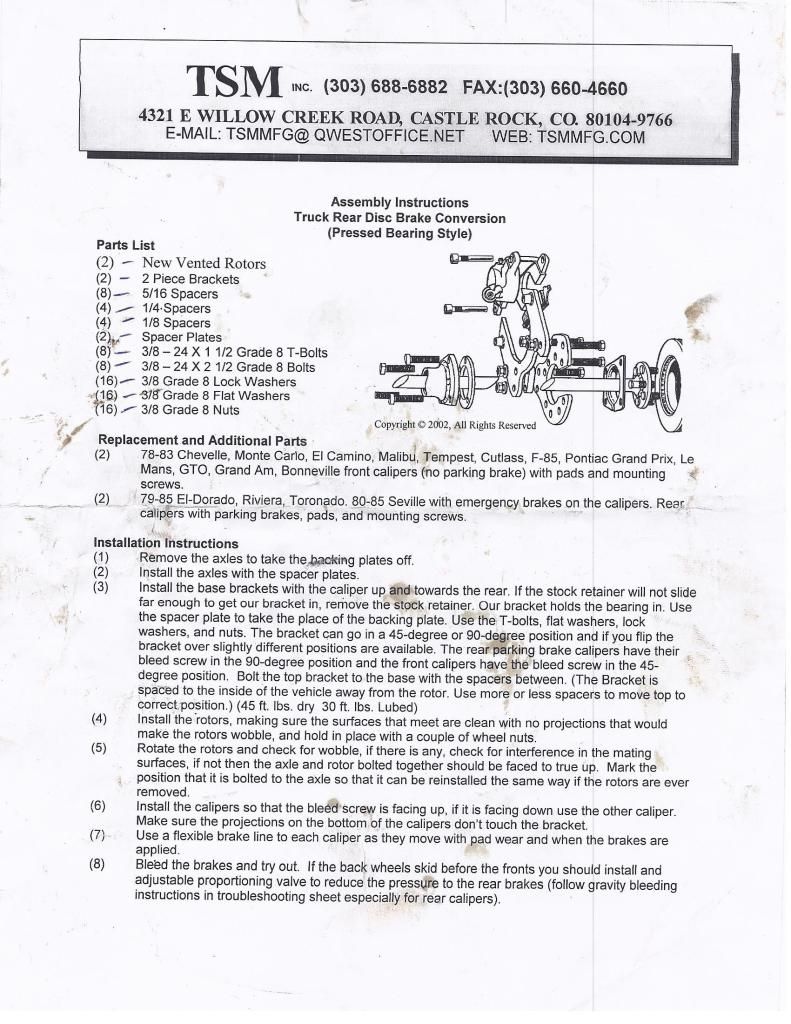 I hate to return the kit because then I get to pay to ship it back, but maybe it is best just to take the hit and find something better. I guess I'm still hoping I'm just looking at the whole thing wrong since I did my shopping before hand and heard a lot of good things about this kit.
The real beauty is now that I've taken out one of the axles I have to replace the seal (might as well do the bearing and all) which isn't a simple job on these pressing fitting axles, and this is my only vehicle. I guess I learned my lesson that I should only do these projects when I have a back-up vehicle ready.
Ford Hoarder
Join Date: Apr 2004
Location: Franklin, Indiana
Posts: 5,105
Bronco Info: See Signature
I installed a very similair kit and have had no issues with the mounting plate. I did cut the stock one's off like the directions say too.

---

The Street Queen: '92 Eddie Bauer- C6 Swap, Roller 357W 400hp/400ft-lbs, SCT Tuned, 4" Lift, 4.10's,
Go Fastish Build: '78 Custom- 4" Deaver Lift, Mild 460, Full Cage, 4.10's
Build Thread
http://www.fullsizebronco.com/forum/...8-project.html
Crazy,

By saying "cut the stock one off" your talking about the stock retaining plate that goes on the outside of the bearings and this is replaced with the base plate, correct? This hit me last night that this may be what they are talking about. They simply call it the "retainer" so it wasn't clear to me at first. I was a little leery about trying this without confirmation since everything is press fit, so you aren't allowed much room for trial and error.
I'm relatively new to this forum and I just have to say this place is great. Seems like you can find someone that has done everything.

Ewgoetz,

This is how I expected mine to fit, but the center is not large enough to go around the bearings so it has left me a little confused. Either way thanks for the write-up it from the base plate up should be all the same so I'll reference it.
I've been PMing with CrazyBroncoguy and he helped clear it up. I just wanted to post here so a clear solution is identified if someone else searches for this post. He said that he had to cut off the stock retaining plate (The plate with the 4 holes shown below circled). The base plate replaced this piece and holds the bearings in the housing.