bronco high idle and truns off when lowered
---
hi guys i have a 1991 bronco when i bought it it would turn off the second u put in drive or reverse,so i put new plugs,wires,oil,fuel filter ,air filter,ignition coil,idle control valve,and new distributor now the truck drives and has no problem going into gear but the rpm's are at 1500 on idle but when we lower the idle she dies in gear like right away i am at whits end i just bought a scanner and am gonna try when it get to house but i also thought i could have a vac leak but i cant seem to find any
Registered User
Join Date: Aug 2003
Location: Albany, Oregon
Posts: 1,159
Bronco Info: 1992 XLT 5.8, SAS 8 inches and Tons
Come back with the codes then will talk
ill give it a try will see what the hell happens this truck loves to kick my ass lol
Fullsize Member
Join Date: Apr 2005
Location: Rolling Hills Estates, CA
Posts: 9,852
Bronco Info: 1986 Bronco XLT 4x4 -AOD -Warn Hubs, NEW stock 302EFI (2008) All MSD ignition, 9mm FMSR wires
Definately pull codes and see what elec/electronic faults are indicated but usually cleaning the IAC = idle air control valve does the trick, check test the TPS = throttle position sensor for voltage range, either may pop up as a fauilt code.
Just press the gas pedal down when the idle is high and kick the rpms down until you figure it out.....with sensors a lot depends on how old they are so if you don't know or haven't replaced in some time them now is a good time to do so....
The rule of thumb with the IAC is, if you unplug it and the engine stalls it's one full turn of the throttle body "idle stop screw" inward/right located on the right side of the throttle body, it's spring loaded and I would count the number of screw threads protuding on either side of the TB block if you need to put it back the way it was....
Good Luck ~
thanks JKossarides
ill post what codes the scanner post
Registered User
Join Date: Nov 2012
Location: Richmond VA
Posts: 3
Bronco Info: 1987 Bronco
Any update on this one? There are a couple of threads on it but never heard if you figured it out? I have the same issue.
AKA: Butthead
Join Date: Apr 2009
Location: Gadsden Purchase
Posts: 2,879
Bronco Info: '91 RoadQueen 351w-2wd-ZF camtiming+4* 265/75-16E's dual Ranchos F&R, SuperCab bench seat EEC=F250
Quote:
Any update on this one?
I have the same issue.
Rex/OP lists everything except a new TPS (reporter). ;)
Been thinking about how to go about getting a "TPS report" and just now
came up with this idea... Strip the three wires (or just two) like a 1/2"
and then twist the wire to form a "teat" then solder the little teats.
The trick is to stagger 'em so they won't-never touch each other.
I made three little jumpers but it's just another step installing those that
just seems unneeded?
Test yours using an analog voltmeter and/or an ohmmeter, look for smooth
voltage or resistance operation. It's a potentiometer... is there such a thing
as a 100% all-the-time -smooth- operating potentiometer? LOL :)
Alvin in AZ
ps- Just checked out Rockauto.com and a Standard Motor Products TPS
is more money than a Motorcraft. ~$50 ...look under "Fuel/Air"
Fullsize Member
Join Date: May 2007
Location: Seattle, WA
Posts: 3,946
Bronco Info: 1990 EB FSB, MAF, 6.7L, E4OD, 4" Rancho, 4.56, 33" on 15x10 Alcoa's
Junkyard made TPS Test Harness...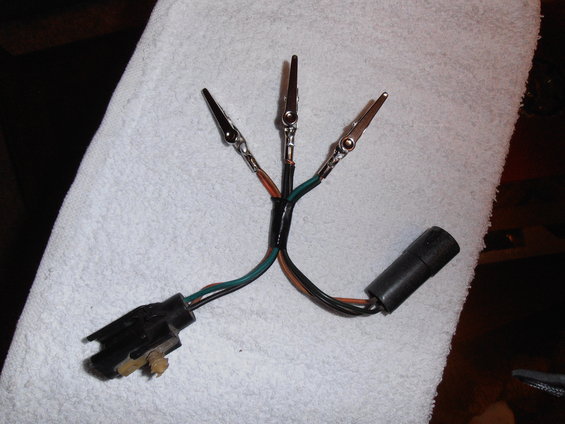 My concern is how the OP is lowering his idle which caused the engine to die in gear. I hope he wasn't turning the factory set throttle stop screw...
See these links:
Throttle Position Sensor Testing, Replacement and Adjustment
How to Test and Clean your IAC
---
1990 Bronco,
MAF
,
408 Stroker
,
Level 10 E4OD
,
Currie F9+
,
Electric Boost Brakes
,
lots more...