Wrong starter?
---
Alright, so, I've been looking at a bunch of starter related threads and haven't found the exact info I need. First off, here's what happened to my starter:
Now, in looking up starter issues, I've seen explanations from a floating flex plate to having the manual transmission starter instead of the AT starter.
Apart from the 1/2 sec. starter grind once the engine catches and I release the key, I'm assuming that the starter does, in fact, disengage. I don't hear any funny noises under normal running.
NOW, it seems that various parts resources do not correctly list the part numbers for whether or not they are for an AT or MT. The official ford parts website has both starters, but does not list which is which.
1) SA-734-BRM
2) SA-738-ARM
Both of these starters are for my 1986 351W with an AT. does anyone know which part number is the CORRECT starter for an AT? I've read all over that parts stores give them the wrong ones.
Furthermore, if you'll look at the photo - this appears to be the wrong starter, entirely. the part number is D2AF-11131-CA? I gather it's from an old mustang or an old F100 (yet it's so fresh looking). Can anyone tell me if this starter is the wrong starter or if it's just another version of the correct starter (so that I can narrow down the cause of issue)
My plan is to get the proper AT starter and shim it, despite people saying that it's not necessary. Can't hurt, right?
just in case anyone want's to know, the correct starter for the 351W AT is the SA-734-BRM as per the ford parts person. Issue put to rest for anyone confused about the proper ford starter.
Registered User
Join Date: Oct 2006
Location: NORTH ALABAMA
Posts: 3,794
Bronco Info: 80 BRONCO 400 NP435 NP205 Detroits , SAS, 5'' lift on 36'' TSL's
How does your ring gear look? That could also cause your problem.
Roller rockers are gay
Join Date: Aug 2004
Location: Woodridge, Illinois
Posts: 19,281
Bronco Info: 2005 Chevrolet Venture, 1997 Acura TL, 1994 Chevy Caprice
Quote:
How does your flexplate look? That could also cause your problem.
fixed. there's only 2 ring gears in a bronco, 1 in the front differential, and 1 in the rear.
---
2005 Chevy Venture. 1997 Acura TL. $500 beater. 1994 Chevy Caprice.
Quote:
Originally Posted by
"Bronco" John Galt
View Post
New nuts are in the plan.
"Kids, they see the good in everything and through their eyes, they open ours." - Hank Davis
"To be easily amused is to live most of your life smiling."
Registered User
Join Date: Feb 2011
Location: Alexandria, VA
Posts: 1,883
Bronco Info: 82 inline 6, holley 600, offenhauser intake, roller rockers, crane cam, 4.56 gears
For the love of God make sure it's for an AT..

you can compare the two starters...MT and AT...MT has a snub nose look to it and the AT has a longer nose

I went through 6 starters....trust me...the parts guys may not know what they are doing or it is a wrong starter in the right box...it happens..
---
Betty WILL run....
Fullsize Member
Join Date: May 2007
Location: Seattle, WA
Posts: 3,946
Bronco Info: 1990 EB FSB, MAF, 6.7L, E4OD, 4" Rancho, 4.56, 33" on 15x10 Alcoa's
Good point Ranger.
Selecting the correct Ford part number is important as the automatic and manual starters are not interchangeable. On the automatic Starter, the drive gear has a longer nose and the drive gear extends 3/8" further in order to mate with the recessed flywheel ring gear. If the shorter throw manual Starter is installed in an automatic, it will not engage with the flywheel and simply spin.
Also could be damage from "Starter Run-on" due to incorrect wiring or failure to remove an included Bus-Bar.
For more information, see this link:
How To Properly Wire Your PMGR Mini-Starter
Automatic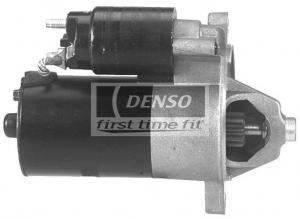 Manual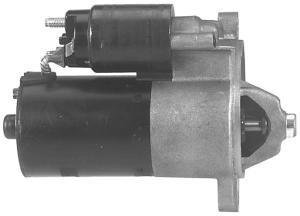 Bus Bar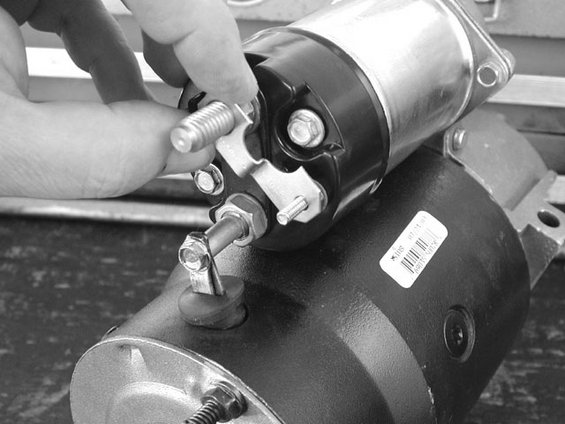 ---
1990 Bronco,
MAF
,
408 Stroker
,
Level 10 E4OD
,
Currie F9+
,
Electric Boost Brakes
,
lots more...
thanks guys - I figured the AT vs MT thing out with the help of the other starter threads. the correct automatic transmission starter is the one listed above (post #2) as per the Ford parts desk person that I talked to. Of course, trying to track one down locally is a different story when everyone tells me what I'm trying to look for. Instead of telling me they have that specific part #, I get told that "dude, they all fit. don't worry about it."
AKA: Butthead
Join Date: Apr 2009
Location: Gadsden Purchase
Posts: 2,879
Bronco Info: '91 RoadQueen 351w-2wd-ZF camtiming+4* 265/75-16E's dual Ranchos F&R, SuperCab bench seat EEC=F250
...only because I like my picture better. xD
(manual left like Seattle's post sez)
Alvin in AZ
AKA: Butthead
Join Date: Apr 2009
Location: Gadsden Purchase
Posts: 2,879
Bronco Info: '91 RoadQueen 351w-2wd-ZF camtiming+4* 265/75-16E's dual Ranchos F&R, SuperCab bench seat EEC=F250
Ok, so how 'bout this... ? :)

Rockauto.com
STANDARD MOTOR PRODUCTS Part # SDN3A
Starter Drive (the Bendix)
Direct OE Replacement Number of Gear Teeth 9
One of our most popular parts
Automatic trans.
$16

Alvin in AZ