Eric
Join Date: Dec 2012
Location: Phoenix, AZ
Posts: 1,496
Bronco Info: '88 Bronco XLT, 5.0L, AOD, 33's
Top end failure, need advice
---
So, I started to troubleshoot why I had white smoke coming out the exhaust, today. Thought it might be bad valve stem seals, a blown head gasket, or something along those lines. After pulling the valve cover off the right bank (1-4 cylinders), I noticed something that made my heart sink: The number 4 exhaust pushrod was bent at about a 25 degree angle and laying up in the valve spring galley about 3 inches from its guide hole. The rocker arm bolt was backed out about 3 threads and the intake-side rocker was almost as loose, but the pushrod and lifter were still intact.
Pulled the corresponding lifter and the crown was trashed. Completely cupped about an 1/8 inch. Pulled the head and found no PTV contact had occurred, but, I fear the cam lobe is shot. Haven't pulled the cam yet, though. The rest of the valvetrain for both banks checks out fine.
Have an opportunity to source a cam and lifters out of a '77 F150 with a 351M, completely stock. Trying to get by on the
cheap
for now. Just gotta keep this thing on the road until I rebuild the other motor. So, two questions:
1.) What do think happened with the #4 cylinder? Maybe, the rocker bolt came loose?
2.) Does the '77 F150 cam have the same specs, more or less, as my Bronco? Gotta pass emissions.
Thanks again, guys. It's much appreciated.
Eric
Try it now!!
Join Date: Aug 2003
Location: hotels, Charlotte, Roanoke VA, the cockpit...time split equally between all of them.
Posts: 9,400
Bronco Info: 1989 460 EFI/C6/BW1356 electric/6 inch Rough Country lift/York OBA/Warn hubs/electric fans/14 bolt
I would bet the bolt came loose first and that caused the pushrod to eject out.
I'd make sure your cam sustained damage before you buy other used parts to put in it. Take it to a machine shop, you may be able to get away with a new pushrod and lifter, assuming the rocker arms arent damaged. Certainly would save you lots of work and money.
And don't feel bad, I just discovered I've had a similar issue for over a year. I had a stuck valve and it bent the pushrod and ejected the lifter on top of the block below the lower intake. Luckily no damage except the lifter. Heads are at the machine shop getting some work done while I was this far in...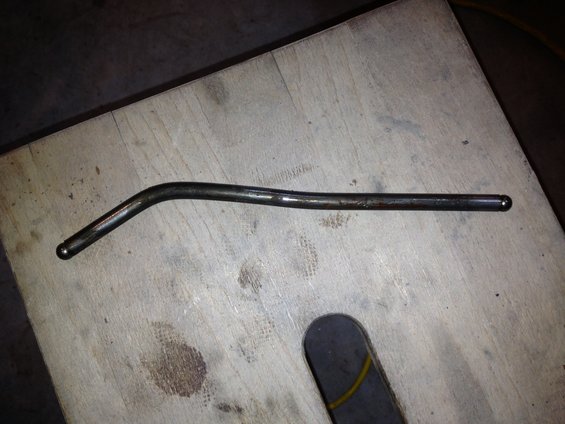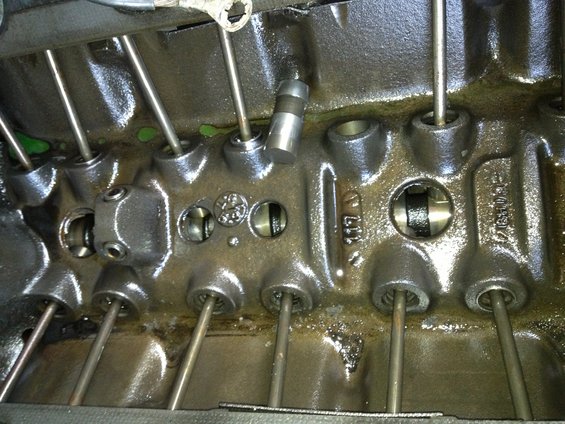 ---
-Will
064 tlx 98
http://www.supermotors.org/registry/...ail.php?id=819

The best electric fan writeup out there
http://www.fullsizebronco.com/forum/23-technical-write-ups/40564-electric-fan-install-1989-460-efi.html
Eric
Join Date: Dec 2012
Location: Phoenix, AZ
Posts: 1,496
Bronco Info: '88 Bronco XLT, 5.0L, AOD, 33's
Yep... that's about what mine looks like. Thing is, this is my daily driver and I need to get it back on the road. I can pull the trigger on this other cam and lifter set tomorrow morning and slap the motor back together, but, the machine shop doesn't open til Monday.
FSM Lifetime
Join Date: Jul 2007
Posts: 5,402
Bronco Info: 82 bronco 408w 4" lift 35's, 88 bronco 351w all stock on 31s
I think the '77 f150 cam would work fine for smog.
all the smog cams are pretty similar and even if it were different (which i doubt) it will still pass fine, it's not that critical.

if you want to make sure its the same, what i usually do is go on a parts site, and look up the replacement cam for your truck, then the replacement cam for the donor vehicle and see if they have the same part number. that would tell you for sure.


on a related note, if you have white smoke (or is it blue?) you likely have another problem.. does it smell like coolant or burnt oil? are you loosing coolant?

if it's oil, could be rings, or valve stem seals, considering your push rod condition i'd be suspect of the valve stem seals.
Bad gas can cause a ton of friction in the valve guides with the result being broken rockers and/or bent push rods (ive experienced this). so it might be a good idea to at least change your valve stem seals while you have the engine apart.
---
-Ryan
Check out my youtube page. Many bronco videos.
http://www.youtube.com/user/rhauf1
---
Last edited by rhauf; 01-06-2013 at

04:02 AM

.
Eric
Join Date: Dec 2012
Location: Phoenix, AZ
Posts: 1,496
Bronco Info: '88 Bronco XLT, 5.0L, AOD, 33's
Great, guys. Thank you.

kf4amiu, I'll yank the cam and check for damage. Maybe, (fingers crossed) the lobe is still intact.

sackman9975, I'll pull the other head and check that gasket to make sure it didn't fail.

rhauf, solid answer. I think I'll get that other cam and lifters swapped in if the lobe is shot on mine. Also, a seal/gasket replacement is, definitely, in the plans while I have the motor torn down.

Much appreciative,
Eric
gone fish'n
Join Date: Feb 2003
Location: Maggie's Nipples, Wyoming
Posts: 23,640
Bronco Info: pile of parts
the valve could have gotten stuck in the head. I had something similar happen to mine where there was nothing left on the exhaust seat, then the valve spring stacked and bent the push rod.

finding out why that happened is going to take some digging.
---
'01 F250, 444ci of straight piped oil burning fun. 4x4, 6 spd, GTP38R noise maker, Stage 2 injektorz. Lotsa fun!
Let's Go Fishing.
Registered User
Join Date: Nov 2005
Location: Bedford, TX
Posts: 1,779
Bronco Info: 1978 Bronco, 466 EFI
Any mild cam w/o much overlap should pass emissions. A melling or sealed power RV cam should work nicely.

As for your issue.....is it possible you over-revved the engine? That lifter probably made a heck of a lot of noise before it let go, what was happening when the noise started? How is your oil pressure? How old is your engine? Is it possible that valve sank into the seat ans seized like Jopes said?
---
Opportunity is missed by most people because it is dressed in overalls and looks like work- Thomas A Edison
Eric
Join Date: Dec 2012
Location: Phoenix, AZ
Posts: 1,496
Bronco Info: '88 Bronco XLT, 5.0L, AOD, 33's
Well, pulled the cam. Lobe is smashed and timing chain stretched badly due to the binding. Found other issues along the way that made me wonder if the guy that owned this before me was, really, sane.

The guy that was gonna sell me the cam and lifters backed out and decided he wanted to sell the motor whole to someone else. Go figure. Now, I'm dead in the water until payday.

BigWheelz, I think this is an issue from the previous owner. I traded my '95 Explorer straight across for this Bronco a week ago because it was going to cost me $2,400 to get the Explorer to pass emissions and rebuild the tranny. I figured I could rebuild the Bronco myself (no electronic crap) for around $1,800. The previous owner lived in a small town and had limited access to resources and parts and "hack-jobbed" a lot of stuff. I've found evidence that he may have taken it mudding. I figure he may have "hammered-down" too much and over-revved the motor as you stated. This thing wasn't even running when I found it on Craigslist. It had been sitting for a few years (diff covers off with gears explosed, body panels rusted everywhere, and electrical probs throughout). Told the guy I'd get her running and drive her out of his lot if he would trade straight aacross because he, originally, wanted $1,500 for it. This thing made noise from the moment it first cranked over. I figured it to be a timing issue.

It wasn't until I pulled the valve covers to check the stem seals (wanted to troubleshoot the white smoke I was having) that I found the pushrod and lifter all jacked up. Earlier today, I discovered the cam was shot, too.

So, yeah... there's the scoop. Over the past week I've rebuilt the carb, rebuilt the steering box, installed new PS pump, changed all fluids, installed new starting/charging system, and this weekend I tore down the motor (still in the truck) and am going to do a top end rebuild next weekend.

This thing may end up kicking my ass, but, not today.

Eric
FSM Lifetime
Join Date: Jul 2007
Posts: 5,402
Bronco Info: 82 bronco 408w 4" lift 35's, 88 bronco 351w all stock on 31s
any time i buy a non running vehicle, or a vehicle that isn't currently seeing daily use, i just expect the worst, which is:

expect to replace tons of little stuff as a minimum (breaks, seals, steering parts, shocks, etc)

expect to likely have to rebuild the engine and/or transmission..


at this point i'd recommend rebuilding the engine if you have the money for it, otherwise, a cheaper (and obviously lesser) alternative would buy another running 351m or 400 and swap it in.
---
-Ryan
Check out my youtube page. Many bronco videos.
http://www.youtube.com/user/rhauf1
Eric
Join Date: Dec 2012
Location: Phoenix, AZ
Posts: 1,496
Bronco Info: '88 Bronco XLT, 5.0L, AOD, 33's
Well, ordered all the parts for a top-end rebuild. When I pulled the left bank head, I found what I can only describe as "mud" coating the combustion chamber of the #7 cylinder. The lower head bolt right next to that cylinder had the same "mud" deeply embedded in the threads and I thought I was gonna snap the bolt trying to torque it out. I thought it was rusted in there, at first.

This "mud" was like an 1/8 inch thick and I had to chisel and wire wheel most of it off (fine tuning with a Dremel wire wheel and wire brush later). It was black from carbon on the surface, but, underneath, it was brown, like dirt. Same dusty/crumbly texture too. Maybe, this was, somehow, the cause of the white smoke?

Oh, well. Getttin' fixed, now. What a PITA.