Registered User
low RPM stalling issue
---
Hello,
I have done some of the required research on this forum and even posted the question on another ford forum with no luck. Some posts on this site seem similar, but none to the T and are too old for me to reply to and probably ever get a response. so here is my question, please don't hate me if it has already been answered.
I have a 1992 Bronco with 180k on it. 5.0 E4OD trans. Trans has around 230k on it. It surges sometimes. Sometimes it surges terribly in gear at an idle. Sometimes it surges so much it stalls in gear at idle. Sometimes it stalls immediately after switching gears ie park to reverse, drive to reverse. In Gear at an idle if I power brake it to about 1000rpm's the surging isn't noticeable. Truck has a slight misfire, in park or neutral, once in a blue moon if I leave it running to like warm up, when I go back it has shut off, but not usually. Recently (less than 3k) I have replaced cap rotor button, all 8 wires and plugs. Pulled EGR and cleaned it. Cleaned IAC. Disconnected IAC at idle. Truck shuts right off, so that's good right? Found two vacuum leaks to a device up against the fire wall behind intake mani I am assuming EGR Solenoid.
Fixed them. I found a wire harness back there, not connected to anything. Felt around the device at the back of the manifold and couldn't find a connection the wire went to. I am not throwing any CEL codes. I hooked directed vacuum to EGR, truck ran worse. Fuel Filter has less than 30k on it. Both Throttle plates have been cleaned thoroughly . Only other strange thing, is the high temp hose that connects bottom of EGR Tube to exhaust, blows up every month or so. When that blows up, check engine light is intermittent while driving. This problem is destroying my MPG. Went from about 12 to 8. Truck smells like it is running terribly lean as well. Surging and stalling probably started about 2 weeks ago. High temp hose problem has been for about a year now. Less than a month ago, I had done the wires and what not, and replaced the high temp hose, ran it through NJ Emissions and passed. Any suggestions? please help!
Someone told me to check exhaust pressure through o2 tap. I'm assuming they mean unscrew o2 sensor run the truck and use the o2 whole to check the pressure, but I don't know how to go about checking it or what is good pressure or bad.
Thanks!
Registered User
Join Date: Jul 2011
Posts: 666
Bronco Info: 95 XLT 5.0
You said its not showing a CEL but have you checked to see if its throwing any codes?
Registered User
Quote:
Originally Posted by
hizootiemizark
View Post
You said its not showing a CEL but have you checked to see if its throwing any codes?
I have not, I know it is probably still storing EGR codes from when the silicone hose popped last
Registered User
Slight update, it has been not even 3 weeks probably since I last replaced the silicone hose from EGR tube to exhaust and it has popped again.
I can hear the leak and smell the fumes in the cab. I can't imagine a Good EGR will do that. But My EGR is clean, I have done some tests on it aside from readings from a mulitimeter and I would believe that it is in fact working. This is also the first time that hose has gone and the CEL has not come on. Any suggestions?
Thanks
Registered User
Join Date: Oct 2009
Location: Monroe, WA
Posts: 94
Bronco Info: 1993 XLT / 1993 Lightning
The EGR has a tube that connects to the back of the heads. That is most likely where your problem is. Also the IAC should be completely replaced. Ive tried cleaning it but it only makes a small improvement. Replace it completely and it will considerably help your problem. Go to the junk yard and look at another rig. Take pictures of the harnesses and vac lines, then double check yours. The unit that you fixed the leaking vac lines on the firewall was the MAP sensor. I believe there is a wire harness that plugs into that aswell. Take some pictures of the back of the motor area and post them. It will help with diagnosis.
---
Real men do it in the mud
Registered User
hmm... didn't get an email message saying this thread had new posts :(. Anyway Isn't the map sensor to the left of the motor along the firewall next to the blower motor and a/c cylinder doodad? Also I have been reading posts about EGR Tubes and intake mani's and I'm confused. I am almost 100% certain MY EGR is bolted directly to the intake mani to the left of the throttle body and the single tube on the bottom runs under the intake (valley?) and has some mesh wrap around it kind of like conduit and then down into the exhaust between pre-cat(resonator and cat). Connected with a stupid high temp silicone hose (which I just replaced again today) The device directly behind the intake between the firewall and intake I'm not sure what it is. Has two small vacuum connections then I can't quite feel what else is there. I'll see about taking pictures soon.
---
92 FSB 5.0 E40D 31x10.5 Rust and Primer
03 Suzuki Voulisa 800 Vance and Hynes Exhaust
Registered User
I am working on uploading a few pictures now. I just wanted to post a status update on my issue. I left this out in the original post because the problem had corrected itself, but now it is back. When the vehicle is running there is like a banging/popping/thumping noise coming from under the hood and I can feel it on the floor board. It is more pronounce and more consistent with a load on the engine, but it is still there in idle and park just less. The CEL is on now so obviously I'll have to check the codes. Only thing I did to the truck was, while moving things to take some pictures today I think I may have broken a vacuum line, not sure where it goes though. Took a pic though.
---
92 FSB 5.0 E40D 31x10.5 Rust and Primer
03 Suzuki Voulisa 800 Vance and Hynes Exhaust
Registered User
Here Are pictures I have taken of some questions I have. If anyone could help that'd be great!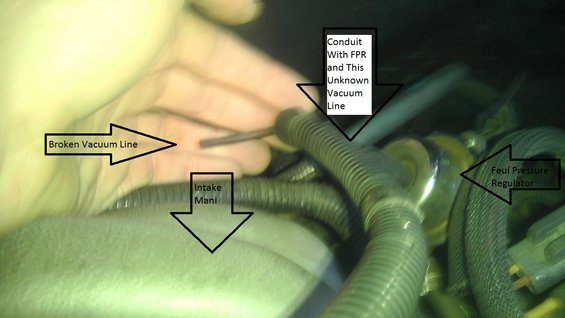 Can anyone tell me where that goes? I think I just broke it today
I've replaced this so many times :( any thoughts to why?
What does this go to?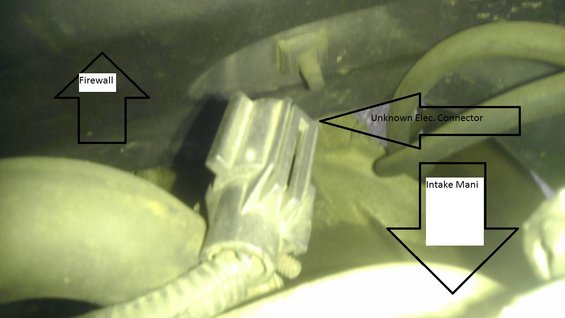 same as above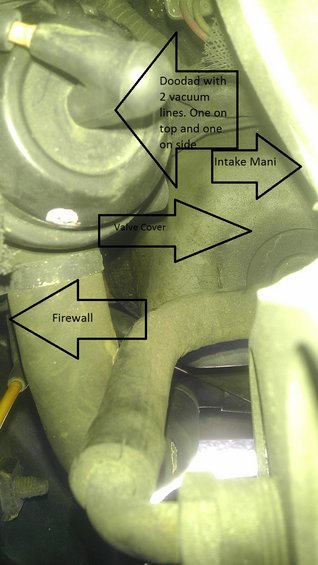 Doodad I was referring to in earlier post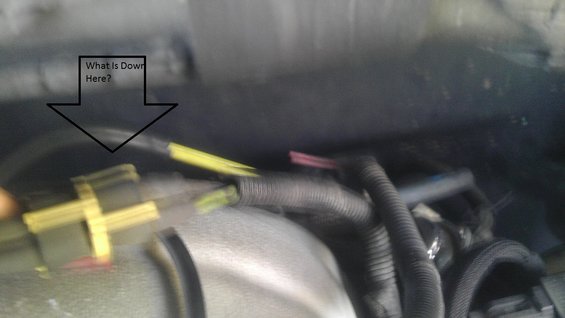 Location Of said Doodad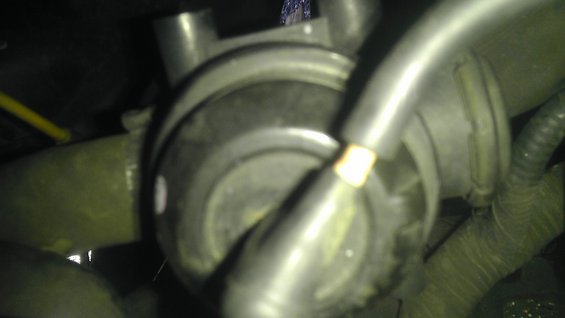 Another Angle of said doodad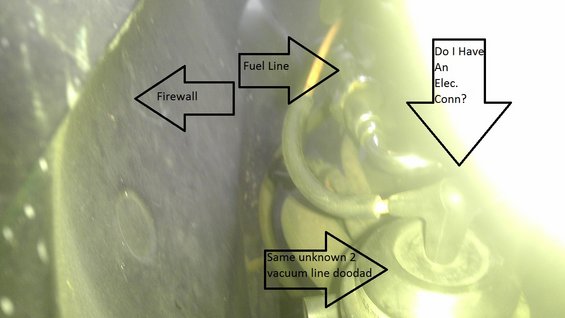 Another Angle of said doodad
---
92 FSB 5.0 E40D 31x10.5 Rust and Primer
03 Suzuki Voulisa 800 Vance and Hynes Exhaust
Registered User
Not trying to "bump", but I was doing some reading and thought I'd do a quick check to the FPR. Pulled the vacuum line, no gas smell, truck ran fine. Went to put it back on and the truck started stumbling, took it off, smoothed out, repeat same thing. Bad FPR?
---
92 FSB 5.0 E40D 31x10.5 Rust and Primer
03 Suzuki Voulisa 800 Vance and Hynes Exhaust
Fullsize Member
Join Date: Apr 2005
Location: Rolling Hills Estates, CA
Posts: 9,869
Bronco Info: 1986 Bronco XLT 4x4 -AOD -Warn Hubs, NEW stock 302EFI (2008) All MSD ignition, 9mm FMSR wires
What FSB member mettler might be referring to is a Thermactor Exhaust Air Injection Cross Over tube bolted to the back of the cylinder heads, has a check valve threaded in on top of the tube and over time due to mositure they rust/burn thru and cause an exhaust leak affecting over all performance, code : 44.
The check valve only costs $20.00 at most auto stores and if you have this set up you'll have to remove the "tube" in order to replace the check valve which has tappered "pipe style" threads so a vice grip would be handy you know....FYI: no tube gaskets are required for install but rather use bearing grease which will shallak into a nice seal....FSB member Steve83's tech tip.
Do a visual inspection of all your emissions sytem vaccum lines for potential leaks...
Good Luck ~
Registered User
Want to update again. Knocking noise went away again, CEL is still bright as ever. Wasn't able to get it on a toll, will have to try and do that this weekend
---
92 FSB 5.0 E40D 31x10.5 Rust and Primer
03 Suzuki Voulisa 800 Vance and Hynes Exhaust