Registered User
Join Date: Jan 2010
Location: Orlando, FL
Posts: 120
Bronco Info: 1978 Bronco Custom 35" 351M
Edlebrock Intake Manifolds??
---
My bronco came with an aluminum Edelbrock S.P.2-P. 400 intake manifold. Is that different than the Edelbrock Performer 400 intake they sell now?

I came across a Performer 400 for a good price should I pick it up?
---
Last edited by Jeffr_vws; 02-25-2013 at

03:45 PM

. Reason: More to it
Thanks 351w500
Join Date: Mar 2005
Location: Northcentral,CA.Twain Harte, up here in the mountains
Posts: 5,448
Bronco Info: 88 Centerion 460 Dana 60/10.25 78 Bronk Cromo shafts,Detoit 4.56's lift 7" Deavers 38's 9"rear disk
Did you go to edelbrocks website and compare the 2 intakes??????? I think that would give you the most accurate info..
---
I take Prayer Requests. God Bless
Registered User
Join Date: Sep 2007
Location: North Carolina
Posts: 2,094
Bronco Info: 1979 w/400, 4" lift, 35's, 3.55's
I have/had an SP2P on my 77, and yes, they're different. The SP2P is older technology and significantly smaller runners. I'd say the intake allows the truck to fall on it's face about 1500rpm sooner than having a Performer on the same engine.
---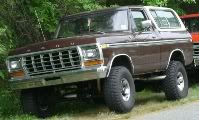 Ben
Registered User
Join Date: Apr 2007
Location: Gunnison, CO
Posts: 2,166
Bronco Info: 78 XLT, 429 Thunderjet, C6, sh ackle flip in rear, 4" springs in front, 4.56 gears, f& r trac loc
The SP2P will make slightly more power, off idle, with better response, at lower rpm, but will run out of breath, before the Performer. If your rig is stock, and you never push hard, you will not notice much of a difference between the 2. When the SP first came out, it was presented as more of an "economy" intake, than a power maker. Back in the day, guys were running the SP, with a tiny Holley "Economaster" carb, and wondering where all their get up and go went!
Registered User
Join Date: Jan 2010
Location: Orlando, FL
Posts: 120
Bronco Info: 1978 Bronco Custom 35" 351M
Ok, thanks for the input guys! I did end up picking it up, the size difference in the runners is shocking. I decided to upload some pics for anybody who is interested in seeing the difference.
This is the top view of the Edlebrock S.P.2P Intake Manifold
Here is the top view of the Edlebrock Performer 400 Intake Manifold
Lastly here is a side by side comparison of the runner opening.
Registered User
Join Date: May 2003
Posts: 40
I've always referred to the SP2P as the "better than nothing" intake. As in, if you got a cast iron 2bbl, and wanna go 4bbl, the SP2P is better than nothing (but not by much). Alot of guys with Jeep CJ's that run the AMC 304 V8 like them because they get a 4bbl, save some weight and they produce pretty good low end on a stock low compression motor.