Registered User
Join Date: Mar 2017
Location: Philadelphia
Posts: 11
Bronco Info: xlt 5.8 v8 241k
Bed sculpting ideas
---
So I got her back on the road and with a clean bill of health. Now for cosmetics. I bought the truck without any paneling, just bare metal in the bed. I have an autistic 6 year old who loves to pick things apart. Having him help me clean it up the other day I descovered that him alone in the bed is a very bad idea. He was picking apart the somewhat beat up bed. So I was pondering some ideas to custom build my own bed interior. I got some wood stock as well as a couple sheets of s.s diamond plating. I'm just not sure where to go with it yet. And I've got some grinding and por15 work ahead. But I wanted to know if anyone has gone this route before and has any info or problems they came across. The end result would be crafting the paneling and maybe a comfy house for my bench seat so my son can enjoy the truck with me. It has to be perfect and I know I have some work ahead of me. But my goal is to make something awesome that I can tote my junior mechanic in training around with me, for he loves the truck just like I do. Everytime he walks past the truck he says daddy's bronco and tries to climb aboard. After everything is assembled it will all be again coated with por 15 then Bedliner. But I'm worried about rattling between any gaps between the paneling and the truck metal bed so precision cuts will be key. So far all the info you guys have given was spot on. And I've used all ideas when getting her road worthy, yet now as a body guy and painter I'm extremely picky about what route to go. I've seen some work online and I see lots of diamond plating yet the raw metal stands out to much for my liking and looks as if someone built it. I want it as close to factory stock as possible. Thanks in advance, you guys rock.
Resident Nice Guy
Heya Kayv and thumbsup for the work you're doing so your son can hang out with you! It's a rewarding experience in itself :)
I didn't go the route of diamondplate and my goals were slightly different than you but I just got finished installing soundproofing, making and covering side panels and flattening the bed floor before covering it all with rubber. You can view it's transformation
here
.
As far as complexity goes, the rear half of our Bronco's are awfully simple which makes working with almost any material a much easier process than say making door panels or a console for the front.
I'd be interested in hearing more about your planned direction. Right now it's a little fuzzy. Are you thinking the diamond plate for side panels? If so, I'd use some good sound proofing on the backs as it seems to me it would be awfully noisy otherwise.
---
This is my signature. There are many like it, but this one is mine.
My signature is my best friend. It is my life. I must master it as I must master my life.
Schwim!
A social site with an identity crisis.
Registered User
Awesome being able to do this with your son! One thing that might be a nice addition when you are re doing the truck bed would be to add an access panel for the gas tank. In my short time here that seems to be a nice addition for getting to the float / sending unit without having to drop the tank. If you do go with the diamond plating that might look good sprayed with rhino liner or something of that nature to make it not stand out as much? I guess to it would depend on the colors you are going with. If you did wood, you could go with a 50's looking wood truck bed, might be a nice touch.
---
1989 Eddie Bauer
5.0 V8
Registered User
I have a similar setup in my 85. 1/8 inch steel plate, painted to a dark gray. It's very clean and neat looking. I did not do this, it was done by the PO.
These are the best pics I have at the moment.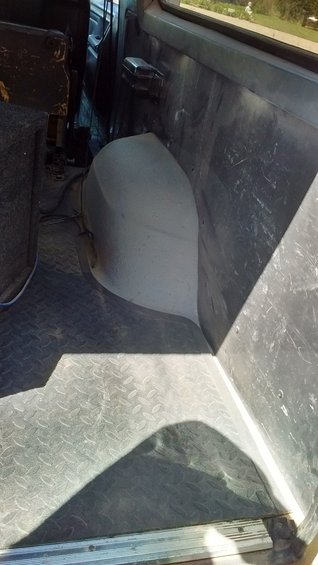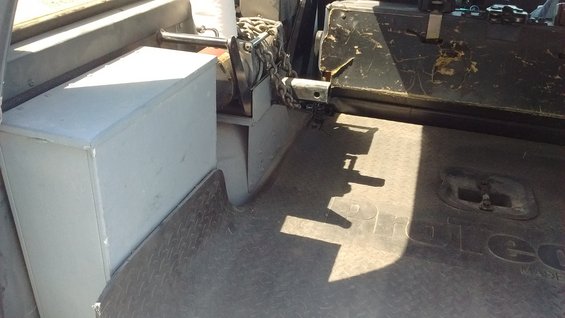 ---
94 Bronco XLT. Beefy 351, 6" , 37's, 4.88: burnt
85 Bronco custom, 4" 37's, locked 4.56, 300 i6 4 bbl, np435/208
96 f350 XL, rclb, 351, c6, BW4407 xfer
78 f150 Ranger, 351m, t18, np205, rusty
90 f150, 95 f250, 96 f350 psd: stolen, sold, and burnt, respectively.
Registered User
Join Date: Mar 2017
Location: Philadelphia
Posts: 11
Bronco Info: xlt 5.8 v8 241k
This is kind of what I've been looking at. I have a bare bones bed and would like to make it comfortable. Yet I'm thinking more along the line or spray on linex in replace of the apolstry.