How to press rotors without taking them to a machine shop
---
This write up shows you how to press your rotors on your Bronco's and F150's 4x4's.
So you got a rotor you need to replace, and you don't want to spend the money for a rotor with a new hub. The difference in price is a lot. I pay $29.99 for a new rotor, then press off my hub from the old, and press on to the new. With the hub already on, your paying nearly $100 a piece for them.
You got to start with the old rotor fully off the truck (I'm sure there's a write up to show you how to get to this point).
First step is to knock out the studs. I'm using a 4lb hammer. Might be a little overkill, but not much effort is needed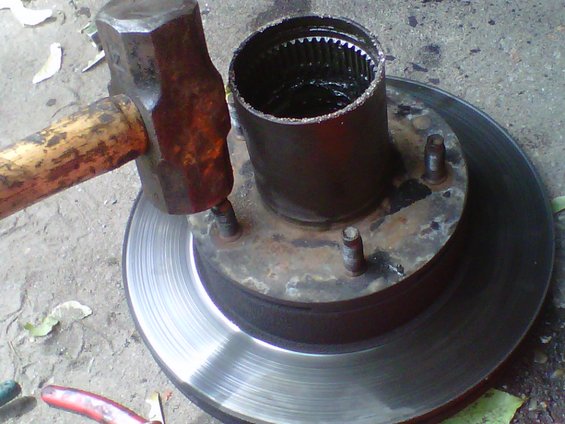 In this picture, you can see the stud almost fully out.......but this rotor is equipped with a tone ring.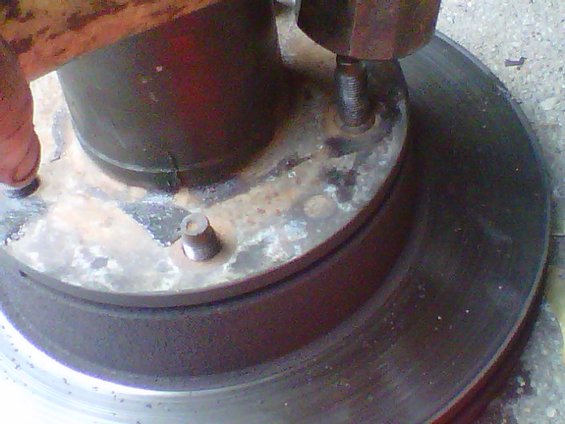 So once the studs are loose, they will then rest on the tone ring like this if you have ABS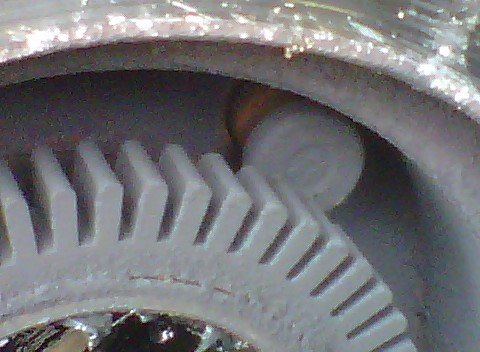 Continue going around the studs and tapping them will a little bit of force and you'll pop the tone ring right off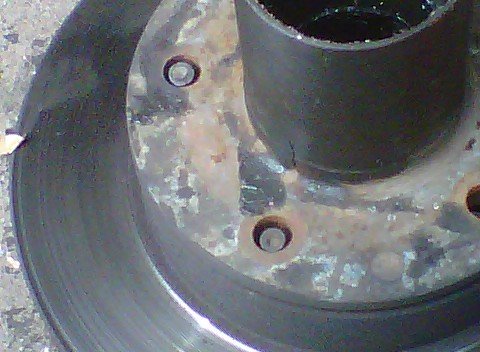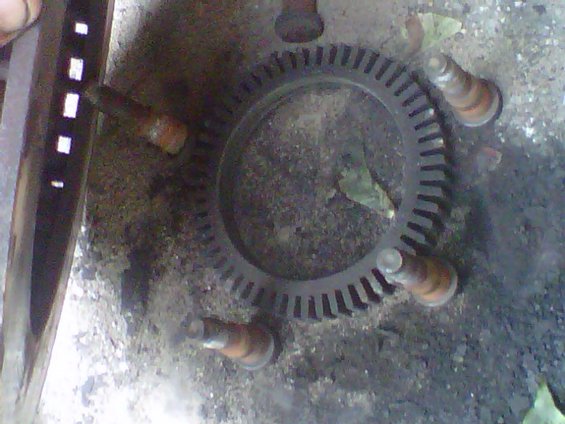 Next step is to remove the hub from the old rotor (it wont be attached no more) and use the old rotor for a base to do the set up.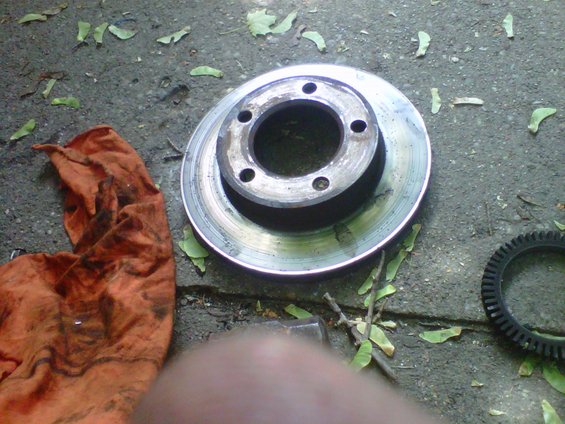 I put the hub into the old rotor upside down
Then I take the new rotor and lay it onto the hub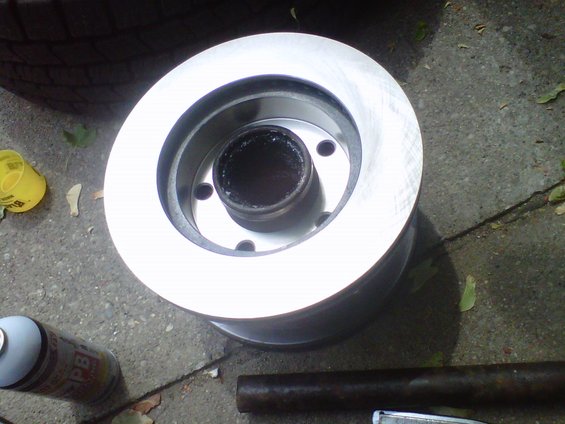 Next step is to place the studs back into the holes and take a punch and drive them in just enough to hold the rotor onto the hub. Then I flip the rotor and lay it onto the old rotor. Now, the raised part of the old rotor fits inside the new rotor and will keep the good surface away from being damaged while pressing the studs back in the rest of the way.
Next you'll need an open lug nut. It can not be a capped lug nut. Tighten it up to pull the stud a little bit through.
This will get the stud up enough to have enough threads to grab.
Now, You'll need to come up with a way to pull the studs all the way through so the shoulders are fully through. Using just the lugnut will not allow the shoulders to penetrate all the way through. This is what I use......
1 1/4" socket, 3/4" drive opening to allow the stud to go all the way through the socket. This socket is perfect to do this job.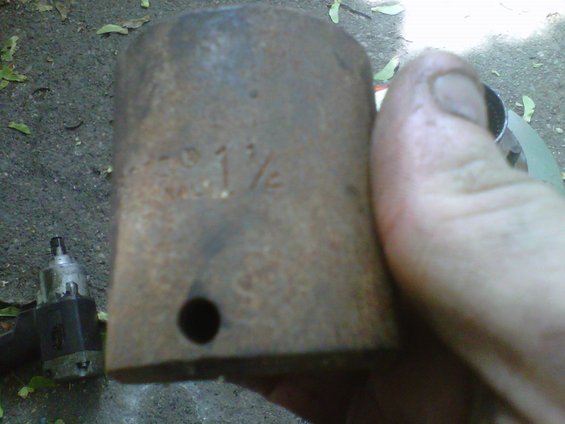 And I place the socket onto the stud that already part way through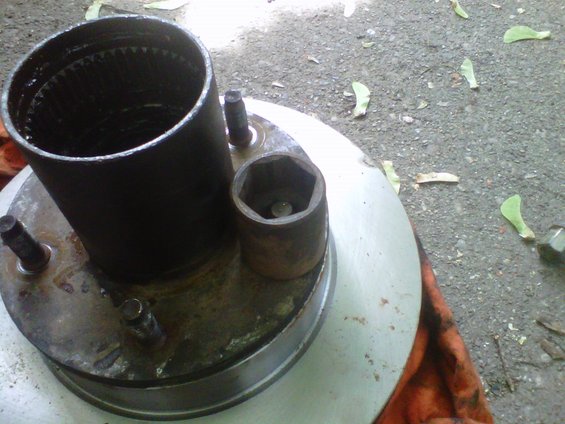 Next I put the open lug nut inside the socket onto the stud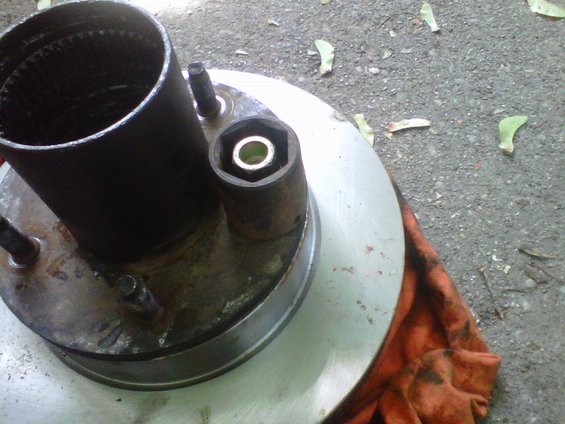 Then I use my impact socket on the lug nut to pull the stud through
You want the shoulder of the stud to be all the way through like this
If it looks like this, keep pressing it through as its not fully seated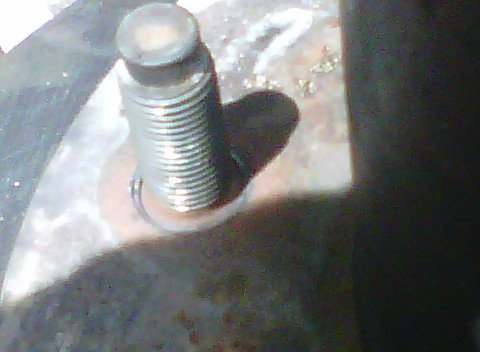 Here's what the stud should look like from the backside if fully seated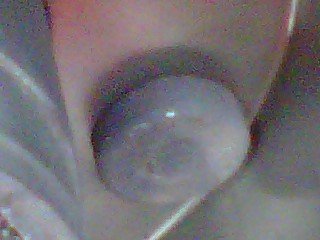 Here's what it'll look like if you need to keep pressing it through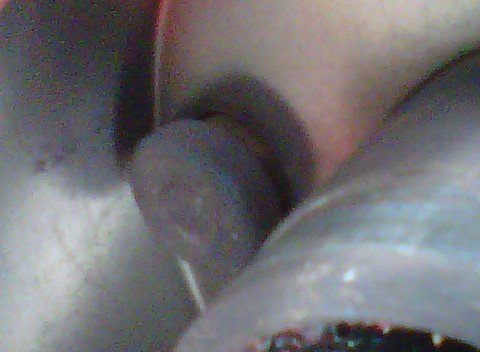 Once they are all nice and tight, it's time to reinstall the tone ring if you have ABS. Just tap it on being careful not to use too much force.
That's it! Now they are ready to reinstall. The machine shop around my house will charge you $30 a rotor to do this simple procedure.
I hope this helps those of you that want to try this yourself. It really isn't all that hard to do and will save you a bit of money too.
---

~ Scott ~
My Tech write ups:
How to Properly Set the Timing on a 302 or 351
Harmonic Balancer Crankshaft Bolt Removal
How to Press Rotors Without Taking Them To a Machine Shop
~E303 w/Flowmaster 40 & 3inch exhaust rumble
~
~ Bronco owner/Driver/Mechanic/Enthusiast for 25 years ~
All I got for X-Mas was a
Join Date: Feb 2004
Location: The armpit of Kalifornia
Posts: 8,233
Bronco Info: '93 Custom 351W/E4OD/1356 4"Susp. 33" Tires. Now rockin the soft top.
I use a nice long brass drift to pound out the studs to avoid mushrooming the ends of the studs. Makes it a little easier too. More accurate than just using a hammer.
Registered User
Join Date: Jan 2006
Location: Katy, Tx
Posts: 1,294
Bronco Info: 1989 F350 XLT Lariat, 4x4, 7.5L SD, E4OD
Instead of using another socket to get the studs back in I just used a stack of washers under the lug nut.
Registered User
Join Date: Feb 2008
Posts: 39
I myself air hammer the bottom of the studs to seat them. Probably not the correct way, but its never failed. And its way quicker then the lug nut trick.

On a side not i also use an old lug nut, thread it on part way then air hammer the old studs out too...
---
1996 F150 5.8
4.10 gears
HD Dana 44 leaf SAS
Sterling 10.25 rear
Owned 21 Years
Join Date: Jun 2003
Location: where havn't I lived? Now in Erie, CO
Posts: 17,271
Bronco Info: 95XLT351 E4OD SAS 44/ARB/Alloy shafts-joints. D60 rear/Detroit. 4wheel disc,35" KO2's, 4.56etc.
an old lug nut on the stud would help make sure you don't damage the stud. not all studs have the little "no thread" at the end, mine don't. Also that toner, that's pretty iffy with using the stud to pop it off. That's a cast piece and it's pretty easy to break one of the little toners off, ask me how I know. And the darn thing used to be like $40, now I'm not sure Ford even stocks them anymore. A puller is a safer way.
---
______________________
Click my supermotors link for tech on TCase, SAS, OBA, Soft Top, Overhead Console, Stock bumper Winch install, much more..:
http://www.supermotors.net/registry/628
Registered User
Join Date: Nov 2007
Location: The White A-Town, Colorado
Posts: 1,677
Bronco Info: 96,5.8, Built E40D, 2.5" Prog. Rate Coils, AAL, Full 3" w/ CherryBomb Vortech, K&N, SCT Custom Tuner
I was in a pinch about a week ago and this thread saved my ass!!!! Thanks Sackman!

Only thing I did different was used an air hammer to press the studs back in. I dont like using the nuts to pull them thru cuz it will stretch the studs some, and they're gonna stretch enough over time anyways.
---
-Austin
Registered User
Join Date: Jul 2003
Location: Big Stone Gap, VA
Posts: 7,959
Bronco Info: 96 XLT/5.0/E4OD
Quote:
Thanks Sackman!, I assume I would need inner bearing seals with those new rotors right....? Anything else that for sure needs to get changes on these rotors?
Thanks again
You do not
need
to change anything out. If the bearings and races are good, the only thing you will end up removing is just the outer bearing (mine usually falls out) so make sure to catch it. Other than that, everything in the hub (seals, bearings, races) can stay in.
Just put a little grease on the two piece wheel seal to prevent squeaking.
---
Quote:
You have enemies? Good. That means you've stood up for something, sometime in your life.
-Winston Churchill
Screw the Jeep Thing
Join Date: Apr 2003
Location: Anchorage, Alaska
Posts: 4,674
I've never used a lugnut to pull the studs through. Just a deep well socket and my BFH. Takes 4 or give hits each to get them fully seated. No problems.

Always seemed silly to me to buy the hub also, when you don't need to.
---
CLICK ON THE BANNER MY 85 BRONCO (RIP old friend)
'84 Bronco (SOLD) - I6 Motor, ALL STOCK
'93 Bronco Eddie Baurer
(SOLD) - 302, E40D, 1356, 6" Lift, 35x12.5 BFG AT's
'94 Bronco XLT - Build to play hard
Lick my balls
Join Date: Oct 2005
Location: far from reality
Posts: 13,134
Bronco Info: 1989 bronco, 3" suspension lift, rebuilt 302 with cam, 33' big-os
I use a drift to hammer the studs back in. You know they are seated when the sound changes as you hit it with the hammer. I also don't condone hitting anything threaded without some protection. If the threads go to the top and you don't have a brass drift, then thread a lug nut back on that you wont miss, and start beating on it.
---
there is no such thing as stupid questions, just stupid people.
Only that in you which is me can hear what I'm saying
No matter where you go or what you do, you live your entire life within the confines of your head
I don't suffer from insanity; I enjoy every minute of it
Screw the Jeep Thing
Join Date: Apr 2003
Location: Anchorage, Alaska
Posts: 4,674
The end of the lug are concave and perfect for putting a small punch in if you perfer not hitting it staight on with a hammer.
---
CLICK ON THE BANNER MY 85 BRONCO (RIP old friend)
'84 Bronco (SOLD) - I6 Motor, ALL STOCK
'93 Bronco Eddie Baurer
(SOLD) - 302, E40D, 1356, 6" Lift, 35x12.5 BFG AT's
'94 Bronco XLT - Build to play hard
Cleaning the trails
Join Date: Oct 2006
Location: Alta Loma Ca
Posts: 933
Bronco Info: 96 Forest Service Retired 188K original miles on the odometer and still going strong
Another way to get the tone ring backon is to cool the hub (you will be asked why it is in the fridge/freezer) and heat the ring. You can either use a torch or thow it in a toaster oven on high for about 15 minutes. The hub will shrink from the cool and the heat expands the ring enought to drop on. Done it twice already with no issues.
Registered User
Join Date: Sep 2010
Location: Selden
Posts: 24
Bronco Info: 1980 351M C6 4" rough country 33x12.5 TSL's
yea that cooling heating things always works
Posting Rules

You may not post new threads

You may post replies

You may not post attachments

You may not edit your posts

---

HTML code is Off

---