Registered User
Join Date: Oct 2015
Posts: 3
Do you know which color the ref ground is?
Registered User
Join Date: Oct 2015
Posts: 3
Registered User
It's the green wire at the TPS, trace it back into the harness and that is the color it is at the ECM
I know this is mustang specific info (my 5.0 and ECM are from a 90 GT) but it will help you diagnose.
Mustang FAQ - Wiring & Engine Info
---
Custom built EFI 5.0, MSD, SpeedShop C6 w/E40D gear set, ATI converter, Trac-loc'd 44HD, Skyjacker 182s springs, RS9000 front shocks, Procomp adjustable rear shocks, SpeedShop triangulated rear shock system, TRE flip, SpeedShop fabricated bumpers, Long tube headers, SpeedShop 2.5 Y-merge to 3in single exhaust, 33x12.50-15
Fullsize Member
Join Date: May 2007
Location: Seattle, WA
Posts: 3,966
Bronco Info: 1990 EB FSB, MAF, 6.7L, E4OD, 4" Rancho, 4.56, 33" on 15x10 Alcoa's
See this link for detailed TPS wiring, testing and replacement. Read to the end of the thread for additional information.
Throttle Position Sensor (TPS) Testing, Replacement and Adjustment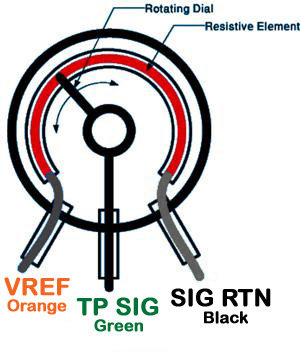 ---
1990 Bronco,
MAF
,
408 Stroker
,
Level 10 E4OD
,
Currie F9+
,
Electric Boost Brakes
,
lots more...
Registered User
Join Date: Aug 2014
Location: The Last Frontier
Posts: 7
Bronco Info: 89-351W, 3" Lift - 33" Pro-Comps
TPS PIGTAIL & which one does my 89 5.8L take -fixed or adjustable?
---
The title says it all ....
FYI when i got the TB removed... only thing attached to TB were the mounting screws and some melted plastic...
I literally have no idea which one to buy new or which way the pigtail faces?
Please advise
Thanks
Registered User
Join Date: Apr 2017
Posts: 2
Very good explanation....Thanks
Posting Rules

You may not post new threads

You may post replies

You may not post attachments

You may not edit your posts

---

HTML code is Off

---