I just made an improvement to my engine stand...and its Ford related...Bronco even. Just got it done and will snap a photo when I go back to the garage. My 2nd hand engine stand was like most others I'm sure...held from turning with a bolt on top of the pivot. I changed that out to a TTB Hub/Spindle/Lockout assembly. I just got tired of fighting the old method and had the parts in the shop taking up space since I can't throw anything away. Now I can lock the motor or trans in multiple positions with a one turn of the lock out. I'm sure that I'll come up with ways I could have done it better now that its done. There is a shortened outer axle shaft welded to the back of the spindle that keeps the assembly from turning. Don't know why I didn't do this sooner.
link to build album
photo soon
EDIT: I'm not sure what is up with Supermotors
trying again for posting.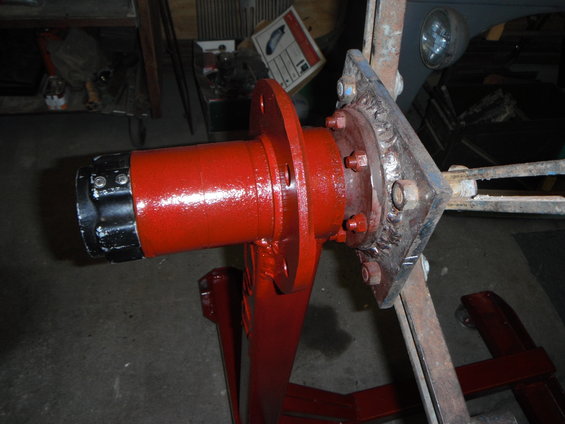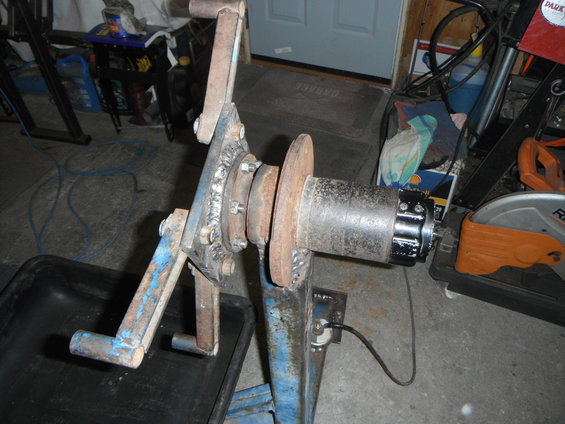 ---
Quote:
2 spares?? Are you sure thats gonna be enough????
Proud to be politically incorrect.
66 EB 5.0-AOD; 90 Locopny 7.3IDI-ZF 5-D60-10.25; 90Beater(2.0)5.8L-E4OD-SAS-14B; 95 Happy2 F150-4.9L-M5OD; F250SD 7.3-Auto CCLB
Registered User
Join Date: Jan 2010
Location: North Florida
Posts: 9,250
Bronco Info: 1994 Bronco 5.0 liter e4od factory MAF, 130 amp 3g, auxillary transmission filter and cooler.
homemade power brake bleeder
---
A bit of background first. Ive never liked dealing with the hydraulics of brake systems, I have a pretty bad history with them. First time I replaced brake shoes I opened the bleeder valve to compress the cylinders and let air in the system. I then went through several quarts of brake fluid trying to bleed them using the bottle of brake cleaner 1 person method. This didn't work, And I've yet to get it to work. Attempts at 2 person brake bleeding destroyed the master cylinder. I never got the new one bled correctly. Ended up taking it to a shop, where a brake fluid soaked rag caught on fire and nearly burned it to the ground. They did bleed my brakes though.
In 2012 I spent some time at a GM dealership, where I experienced the joys of a power brake bleeder. Hook it up to the master cylinder and crack open the bleeder screws, no bullshit. Now I don't deal with brake hydraulics THAT often, so forking over the cash for a name brand power brake bleeder was out of the cards. So I made one with a universal adapter.
Its rather quite simple. The cheapest, smallest yard sprayer I could find holds the fluid, this part is unmodified except for the removal of the spray nozzle. The adapter is a flat piece of metal with a hole in the center and a 1/4" coupler welded to the top for a fitting. There are two eye bolts on either side with wingnuts. A chain runs from one, under the master cylinder, and up to the other. 2 layers of bicycle inner tube rubber with a hole in the center make up the seal. The wingnuts are used to tighten the adapter to the master cylinder. I can bleed all four corners by myself in no time, and flushing is a breeze.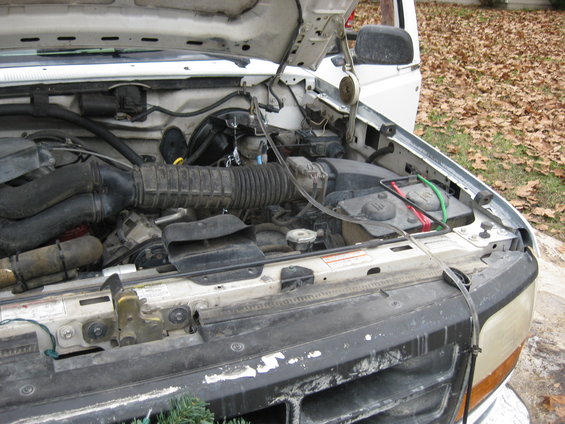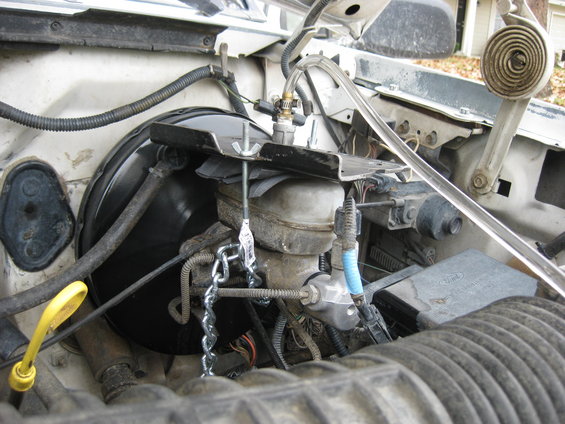 ---
My Youtube:
http://www.youtube.com/user/pfun41#p/a
The going get tough, the tough get debt
Don't pay attention, pay the rent
Next of kins pay for your sins
A little faith should keep us safe
Posting Rules

You may not post new threads

You may post replies

You may not post attachments

You may not edit your posts

---

HTML code is Off

---