Retired
Join Date: Aug 2003
Location: Dallas Ga
Posts: 16,773
Bronco Info: 2016 Road Glide Ultra
Quote:
there is one in summertown called wheeling in the country I think. There is also Coal Creek/winrock
Yeah I have been to both of these. Great places!
Retired
Join Date: Aug 2003
Location: Dallas Ga
Posts: 16,773
Bronco Info: 2016 Road Glide Ultra
Quote:
Did tellico open again or not
Have not seen anything saying that the judge has ruled. I am hoping he is taking his time to consider our side..
Retired
Join Date: Aug 2003
Location: Dallas Ga
Posts: 16,773
Bronco Info: 2016 Road Glide Ultra
Well this turned out to be a big bummer. Ruling was upheld and it stays closed..
Sway Is My Fan Club.
Join Date: Feb 2003
Location: West of Ad-lanna, Jaw-ja.
Posts: 12,729
Bronco Info: '78 Ranger XLT - 429/C6, 4"s/35s. '88 XLT - 351/C6, 6"s/35s
Well, that blows.
---
'66 F100 --
Little Black

'78 Bronco --
Brutus
Retired
Join Date: Aug 2003
Location: Dallas Ga
Posts: 16,773
Bronco Info: 2016 Road Glide Ultra
Here is the article and the
Link!
Quote:
ASHEVILLE, NC (September 21, 2012) -- The United States effectively walked away from its substantial investment in a sizable portion of the Nantahala National Forest as a result of a recent ruling in the U.S. Western District of North Carolina rejecting four-wheel drive enthusiast efforts to re-open some portion of the Upper Tellico OHV System. The ruling, issued on September 19, came in a lawsuit filed by Southern Four Wheel Drive Association, United Four Wheel Drive Associations, and BlueRibbon Coalition. The suit contended the U.S. Forest Service overlooked required procedures and otherwise acted illegally in closing the 39 miles of trail in the System to motorized access.

The Court ruled against the enthusiast organizations, the Court ultimately concluded "[t]he decision of the Forest Service was not arbitrary, capricious, or an abuse of discretion, and it was in accordance with the law. Having conducted 'a searching and careful, but ultimately narrow and highly deferential inquiry,' the Court concludes that the Forest Service followed the proper procedures and that there is a rational basis for its decision." The System represented the remnants of a network of former logging roads and skid trails purchased by the United States in 1980 and officially opened as a "high challenge" area in 1986.

"We are obviously disappointed by this result, but knew that we faced long odds in this case" said Roger Theurer, Past President of Southern Four Wheel Drive Association. "We realize the agency has broad discretion, but are incredibly frustrated that they exercised that discretion to walk away from rather than find an effective management solution for the System. It should concern more than just four-wheelers when the federal agency would rather run for cover in the courts than craft a solution on the ground," Theurer observed.

The System was located in a remote and difficult to access portion of the Forest which historically received little attention other than from the four-wheel drive community, who came to attach iconic significance to the Tellico System. As part of the closure decision, a Forest Service contractor has obliterated the former trails and left a maze of boulders and fallen trees in their place, making the former routes inaccessible to all but the most determined hiker.

"We released an update to our enthusiasts during this case called 'Tellico - Alamo' which today seems sadly prescient" stated Greg Mumm, BlueRibbon Executive Director. "Within and beyond our land managing agencies exist strong opponents to meaningful human access and recreation, and we would be wise to learn from Tellico and heed their next project," Mumm concluded.
Retired
Join Date: Aug 2003
Location: Dallas Ga
Posts: 16,773
Bronco Info: 2016 Road Glide Ultra
Umm did anyone else get this email??? I know Steven and I did!!
Quote:
Official Press Release for Durhamtown Tellico
1265986_10200809835592220_1077650769_o
On October 25th, 26th and 27th there will be a limited Inaugural ride at the new Durhamtown Tellico Park located in Murphy NC which is approximately 2 hours north of Atlanta.
About the Park
Durhamtown has partnered with landowners whose property adjoins the Original Tellico ORV and includes some of the private trails that were above the original ORV Park known as upper Tellico.
The facility will be managed, organized, and will not be a free for all riding park like the original ORV Park was operated. The disorganization resulted in the Park being closed by government officials due to damage of the natural ecosystems. All riders must stay on designated trails and these rules will be strictly enforced. Currently, there are approximated 4000 acres of mountainous trails and rock climbing.
Many trails will be 2-way, used with caution, and not a high speed facility! The areas consist of over 40 miles of existing trails. More are being added as the leaves fall to expose many old logging trails with many challenges. There are waterfalls and many mountain tops with 270 degree panoramic views. We have a 50 acre area that was clear cut 4 years ago with access to some very large and promising challenges including many large rock faces. The locals have called it:
"School Bus's Granddaddy" For those of you that don't know; School Bus is famously known Rock Crawl.
This area has many boulders ready to climb and more will be cleared when the leaves fall and we can see them more clearly. There is a 13 mile trail that travels along the ridge tops that begin on the main tract and end at Tellico's old trail # 4. This trail is one of the most exciting trails I have ridden in a Side by Side.
This property consists of some of the most spectacular scenery in the Southeast and has been managed for 15 years as a trophy trout destination. We will continue to maintain the standards as planned. There are 5 trout ponds and 4 miles of managed streams; with one stream designated as a catch and release only for 18"-26" Rainbow Trout.
Camping is permitted in designated areas along the streams at no charge for the Inaugural Ride Weekend. Camping is Primitive with: No power, fresh water in the streams and a port a potty will be onsite for Campers.
We will be enhancing the camping sites over the next few months and fees will be charged for Camping at that time.
The closest lodging is in Murphy at Motels but those needing reservations should call immediately due to prime leaf turning season in the area.
The Inaugural Ride Info and Reservation
The inaugural Ride:
For this event we are limited and all of those that interested in participating will need to contact Mike directly.
Reservations Contact:
Mike McCommons
The best way is by emailing Mike with "Tellico" as the subject line to:
mikemc@durhamtown.com
or you may call him at the office 706-486-4603 or 706-486-4664
For the 1st ride, only a small group of riders will be permitted, to show the land owner we can ride respectfully on his land and continue to enjoy it by not throwing trash on his property and staying on designated trails. We are looking forward to many years of developing one of the best off road destinations on the east coast.
Cost for this 3 day ride is: Paid by Credit Card in Advance (1st Come, 1st Serve)
$50 per registered Rider
$10 for any passenger or guest
Once registered, you will get a confirmation, info, and directions etc. We will provide maps on site at our designated meeting point.
Looking forward to seeing you there!
Mike McCommons
Durhamtown
Registered User
Join Date: Sep 2007
Location: North Carolina
Posts: 2,094
Bronco Info: 1979 w/400, 4" lift, 35's, 3.55's
Well that would be a helluva step in the right direction. Invite only??? I see first come first serve in your email, but I'm not on the distribution.
---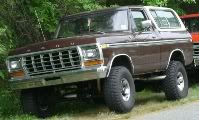 Ben
Retired
Join Date: Aug 2003
Location: Dallas Ga
Posts: 16,773
Bronco Info: 2016 Road Glide Ultra
Yeah its an email list to people that have visited their park. It is also on their FB page.
User Registered
Join Date: Apr 2011
Location: Cleveland, TN
Posts: 1,307
Bronco Info: 87 EB,C6,1356
Keep me in the loop, Tellico is at my backdoor.
Sway Is My Fan Club.
Join Date: Feb 2003
Location: West of Ad-lanna, Jaw-ja.
Posts: 12,729
Bronco Info: '78 Ranger XLT - 429/C6, 4"s/35s. '88 XLT - 351/C6, 6"s/35s
RITS 2014.
KTO17 started a thread in the Dixie Chapter.
click
---
'66 F100 --
Little Black

'78 Bronco --
Brutus
FSM Lifetime
Join Date: Apr 2005
Location: an island near Maryland
Posts: 4,154
Bronco Info: '66-'78 bunch o' Broncos...and one Filly
Awesome news!
---