Registered User
Join Date: May 2010
Location: Oak Ridge, Tennessee
Posts: 66
Bronco Info: 1979 Custom
79 bronco 400CI Ignition Timing
---
Few problems here. First, Anyone have pics of what the timing marks look like on these 400s? I cannot see anything that resembles a timing mark. Also, once I find the marks, what degree/rpm do I set it at? Do I need to plug any vacuum lines?
Another question as I'm not familiar with carbs(before my time).
Do I need to adjust my carb (post a link on this info?) first, or do my timing first?
I plan on getting a new coil, plugs and wires and gapping them to .50
Any advice on getting my ignition/carb set right would be great.
Thanks in advance.
gone fish'n
Join Date: Feb 2003
Location: Maggie's Nipples, Wyoming
Posts: 23,654
Bronco Info: pile of parts
there should be a emissions sticker. autos vs manuals had different timing and I think .50 for the plugs is not going to be correct.


you need to unplug the vacuum advance to the dizzy and plug it so you do not have a vaccum leak. and at the same time I would verify TDC #1 on your piston stroke and timing marks at the same time. Balancers have been known to spin.
---
'01 F250, 444ci of straight piped oil burning fun. 4x4, 6 spd, GTP38R noise maker, Stage 2 injektorz. Lotsa fun!
Let's Go Fishing.
Registered User
Join Date: May 2010
Location: Oak Ridge, Tennessee
Posts: 66
Bronco Info: 1979 Custom
Yeah there is no sticker, It came with the 351. The guy i bought it from put this 400 in it from a junkyard 77 pickup.
Registered User
Join Date: Sep 2007
Location: North Carolina
Posts: 2,094
Bronco Info: 1979 w/400, 4" lift, 35's, 3.55's
Alright...10-12*BTDC is where manuals need to be and 12-14*BTDC is where autos need to be on a stock engine per Ford. I agree with jopes, verify TDC first...if that's sticking your finger over the #1 plug hole or pulling the passenger side valve cover and making sure that the pushrod side of both rockers on #1 are down. Then I would get it timed accordingly. As jopes said, pull the vac advance, I plug the dizzy with a golf tee. Then I'd worry about the carb. I dunno the specs on the carb if it's new or been used. Typically what I do, is set the carb's choke to factory index, then adjust the floats, then hook a vacuum gauge up to the port on the intake...and adjust the mixture screws to the highest vacuum reading. This should get you pretty close to dialed in.
---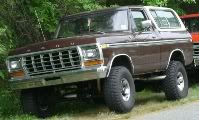 Ben
Registered User
Join Date: Aug 2010
Location: Los Angeles, Ca
Posts: 12
Bronco Info: 400M, Dual exhaust, C6 trans, 3.50 gear posi
here you go! 12 degrees @ 600 RPM
Posting Rules

You may not post new threads

You may post replies

You may not post attachments

You may not edit your posts

---

HTML code is Off

---