Eric
Join Date: Dec 2012
Location: Phoenix, AZ
Posts: 1,538
Bronco Info: '88 Bronco XLT, 5.0L, AOD, 33's
I have them in 33x10.5's, but, I've been playing around with my new General Grabber X3's. They get superb traction in rock and do okay in sand. I would, probably, be happier in the sand if I aired-down, but, I wasn't wheeling in too far.

Just my $0.02,
Eric
Registered User
Starting to look at some 33x10.50's now. Might look better on my 15x8" wheels that have 3.24" BS?

Found some Dick Cepek Extreme Country 33X10.50R15LT for $179 each. They are wider then most of the other brands of 33x10.50's
---
1994 Bronco XLT, 5.8L, 33x12.50 Mickey Thompson MTZ's, 15x8" Raceline Rockcrusher wheels, Moog824 coil springs, Redhead steering box, (6) KYB shocks,
Harley's & Bronco's FTW!
If you're going 8" wheel, 10.5" wide tire is the best choice.
I honestly don't get the overwhelming desire some have to stick a 12.5" on an 8" wheel... but too each their own.
Registered User
On my old 1975 Bronco I ran my 37"s Swampers on 15x8" and love it. Just don't have enough option in the 33x10.50 size range. BFG's, General's, and Dick Cepek Extreme Country's in all I could find.

So I just bit the bullet and ordered (5) Mickey Thompson 33x12.50R15 Baja MTZP3

$1009.00 which includes mounting and balancing from 4WheelParts
---
1994 Bronco XLT, 5.8L, 33x12.50 Mickey Thompson MTZ's, 15x8" Raceline Rockcrusher wheels, Moog824 coil springs, Redhead steering box, (6) KYB shocks,
Fullsize Member
Quote:
I know I said I wasn't interested in an AT tire, but the Falken Wildpeak A/T3W look like a good priced tire. They have great reviews too.
I'm running the Falken Wildpeak A/T3W, 35x12.5x15 and so far so good. They're holding up good on the rocky AZ trails, for the price ya can't beat 'em!
---
Giving condolence is like masturbation. It feels good for the person doing it - But it does nothing for the person who they are thinking about
Registered User
Join Date: Oct 2015
Location: Dunwoody, GA
Posts: 59
Bronco Info: 1993 Bronco XLT, 5.8L, E4OD, Manual 4x4, Auto Hubs, Magnaflow 93312 Y-Pipe & 12636 Muffler, Soft Top
I just picked up a set of the new BFG TA KO2 from Tire Rack for $162 per tire. The new KO2 is slightly different than the previous KO. Size is 32 x 11.50 r15.

I didn't wait for a BFG mfg. rebate, so I could have saved some cash by waiting for the next rebate promo, oh well. Total out the door for a set of 4 was $697.36 and I picked them up at the Doraville, GA distribution center to save on shipping.

A local shop mounted and balanced to my 'new to me' non-riveted OEM bullet hole rims for $10 ea.


(admin edit: sales go in the For Sale area after you get 75 posts. anything else is asking for trouble.)
---
Last edited by BikerPepe`; 03-01-2017 at

01:51 PM

.
Registered User
Join Date: May 2017
Location: north of england
Posts: 3
BF Goodrich Mud Terrains?
Fullsize Member
Swamper Irok ND's are awesome.
I'm currently running Centennial Dirt Commanders which have been great too. $659 for 4 shipped on eBay. Awesome sidewall protection.
Sent from my iPhone using Tapatalk Pro
Registered User
Join Date: Nov 2013
Location: Georgia
Posts: 209
Bronco Info: 92 EB, 351W, Auto, Softopper with 4pt Cage, Remote Start and locks
I am running new 33" KO/2's on my Bronco. About 200 miles in and very pleased. They look good and ride quietly and smooth.
---
92 EB Full-Size, 351W. Autolocking hubs for 4WD. Softtop Conversion. 4pt Rollcage. Custom painted interior.
Harley's & Bronco's FTW!
Recently got another set of Goodyear Wrangler DuraTracs myself. I've got a matching, studded set for winter and the ol' lady liked mine so much, she picked up a set in 31's for her Yota too.
After I got my first set... I drove over to see a friend in the middle of winter. He has a 1/4 mile long driveway that hadn't been plowed out yet and the snow was up to the top of the bumper and the driveway under was rutted out and nasty. I got out and turned my hubs, jumped back in and drove in to see him. Pushed right on through, "plowing" through piles with the bumper and tooling along like a dry summer trail. When I got back out... I went to unlock the hubs and realized, I hadn't even engaged 4x after turning the hubs. I was so impressed, I haven't looked back. The duratrac is a really nice mid-point between an AT and an MT and that's what I really want/need up here in the PNW. On par and imho, a little better than the BFG KO2's on my rig right now.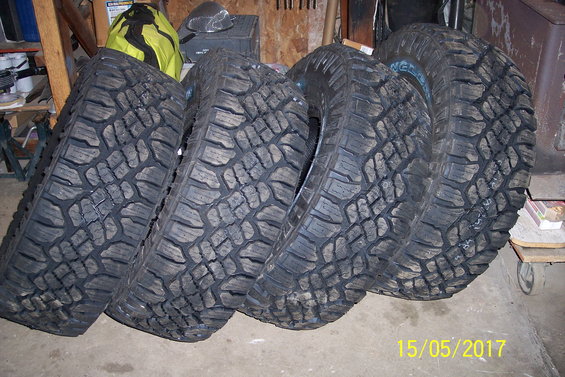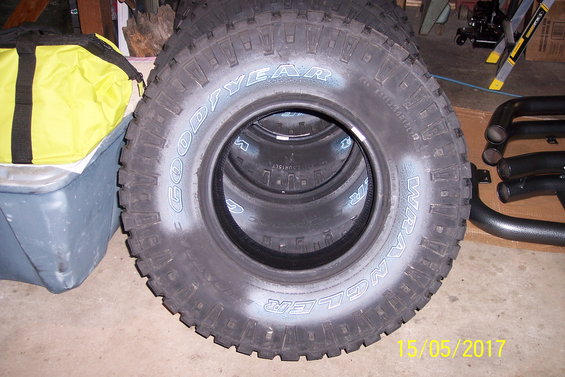 Registered User
Join Date: Mar 2017
Location: Auburn, CA
Posts: 76
Bronco Info: 90 w/a 95 roller 351 auto, E40d, manual 1356, Warn hubs, skyjacker kit, fully locked
What brand of 33x12.50
---
I'm really digging the 33" tall E rated micky Thompson deegan 38's I picked up for my f250 about 8 months ago. Here was the delivery I got to my warehouse at work.
They are a good highway mt as the center lugs are close together and actually do really well in the rain. They've done great for my towing purposes thus far.
I run 31" Toyos that are in the back stack On the lady's awd 5.0 expo and those perform perfectly for what we need out of them. and the 33" km2s on my dezert truck. I don't like the km2s on the steeet but they do great in the dezert so that's all that matters as I trailer it.
I run the 33" kenda mts on my explorer and like those better than the km2s on the street but they ru a bit small.
Posting Rules

You may not post new threads

You may post replies

You may not post attachments

You may not edit your posts

---

HTML code is Off

---