Registered User
Join Date: Sep 2009
Posts: 25
351 windsor vacuum lines
---
does any one know where the yellow vacuum line goes on a 1990 bronco 351 windsor its the one that is close to the vacuum container that has the red & black line connected to it.
---
1990 Bronco 6" lift 36's 351 rebuilt windsor
Registered User
Join Date: Jan 2010
Location: Splendora Texas
Posts: 472
Bronco Info: 1989 4X4 351W C-6 3.54/3.55
The factory vacume-route diagram was missing off my ('89) truck when I bought it. Some of the line-colors have become faded over the years and I have since changed all the rubber hoses, so none of mine have the original color stripes.
Having said all that, I THINK that the plastic line you are describing goes to the plastic valve which sits next to the passenger-side (RH) exhaust manifold, which is part of the thermactor pump hose routing.

If that don't work, and if no one else pops in with a better answer, try to post a photo.

Hope this helps.

DGW
---
1989 Bronco 4X4 351W EFI C-6 3.54/3.55 Gears.
Fullsize Member
Join Date: May 2007
Location: Seattle, WA
Posts: 3,946
Bronco Info: 1990 EB FSB, MAF, 6.7L, E4OD, 4" Rancho, 4.56, 33" on 15x10 Alcoa's
On my 1990 ex-5.8L, the
Yellow Vacuum Line goes
from the TAD Solenoid (driver's side forward solenoid)
to the TAD (Diverter) Valve
located at the rear of the Intake Manifold. You have to climb up onto the engine to feel the Diverter Valve or remove the Intake Manifold.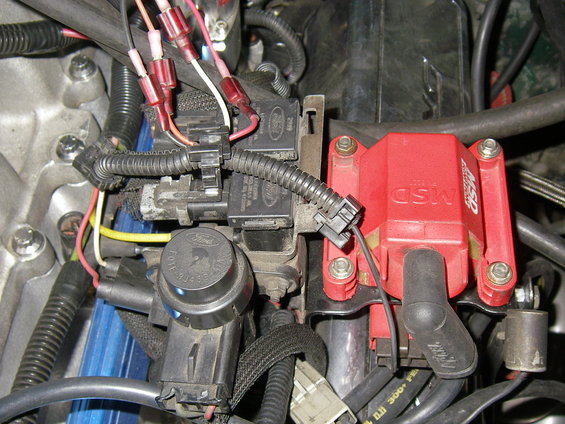 The
Pink Vacuum Line goes
from the TAB Solenoid (driver's side rear solenoid) to the passenger side (adjacent to the Vacuum Reservoir Can) and down
to the bottom of the TAB (Bypass) Valve
. Note that my Pink Vacuum line appears Yellowish in this pic and is not yet connected to the base of the TAB Valve as I was working up a solution at the time.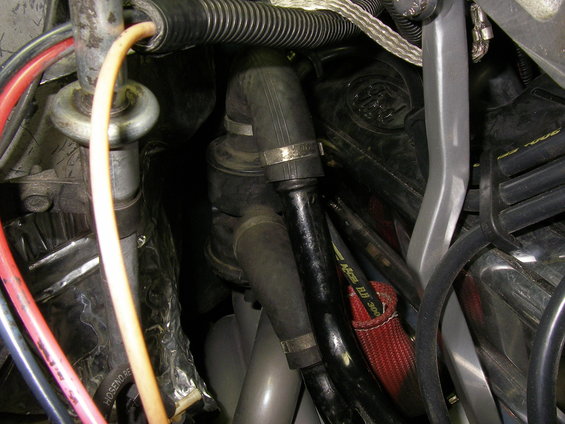 Here is a pic of my VECI (Vehicle Emissions Control Information) Label for a 1990 5.8L Bronco. Be advised that the
ACV
(Air Control Valve) is the TAD (Thermactor Air Diverter) Valve and the
AIR BPV
is the TAB (Thermactor Air Bypass) Valve. The
VRESER
is the Vacuum Reservoir Can where the red & black vacuum lines plug into and the
EGR
is actually the EVP (EGR Valve Position Sensor).
I hope that this helps!
---
1990 Bronco,
MAF
,
408 Stroker
,
Level 10 E4OD
,
Currie F9+
,
Electric Boost Brakes
,
lots more...
Registered User
Join Date: Sep 2009
Posts: 25
Thanks man good info ! this helped me out a lot.
---
1990 Bronco 6" lift 36's 351 rebuilt windsor
Posting Rules

You may not post new threads

You may post replies

You may not post attachments

You may not edit your posts

---

HTML code is Off

---