I am looking to swap my bucket seats for 2000 f150 ext cab 40/60 seats. Not much on here about the next series of F100s. 97-2004 I think. Any prior experience from someone would be helpful. thanks.
---
95 Eddie Bauer 351W
---
Last edited by KACorder; 03-19-2017 at

02:53 PM

. Reason: correction
Harley's & Bronco's FTW!
This one time... at band camp, I stuffed an '08 vinyl bench seat into a '73 F250.
Have you looked through the whole thread? Have you tried to search this and other areas?
I've seen a few King Ranch seats here and there, some off-brand installs too but not that many bench installs.
Not that it matters... it's all roughly similar and we can always use a fresh write-up.
You might have to read up to get some ideas and be the first to document that particular combination.
---
"When life throws you a curve... LEAN INTO IT!"

SuperMotors - Since 2002
I'm OBSessed
Quote:
I'm going to be doing the Mustang seat swap shortly. Since most of the pictures seem to have aged off the thread or just plain vanished, I'll try to document everything and post it here. I'm starting with these cloth seats out of a 2002 Mustang V6 coupe - the driver's is power and the passenger's is manual.
I hope to get the swap done over this weekend and will report back.
Any word on how this turned out?
---
1994 Bronco XLT 351w e4od
1995 Bronco XLT 351w e4od
Registered User
Join Date: Mar 2016
Location: Texas
Posts: 663
Bronco Info: 1989 Bronco 5.0 AOD w/ 3G alt, more to come
Thread Killa
Join Date: Jan 2011
Location: Orlando, FL
Posts: 8,864
Bronco Info: 1994 Bronco Eddie Bauer edition, 302 MAF, E4OD
It seems somewhere earlier in this thread someone asked if anyone made replacement King Ranch Seat covers. Someone replied and said it was dealer only due to licensing of the King Ranch Logo. Apparently that is NOT the case. This came in with my new seat covers from Richmond Auto Upholstery. They clearly show the King Ranch Logo on the seats and in the AD.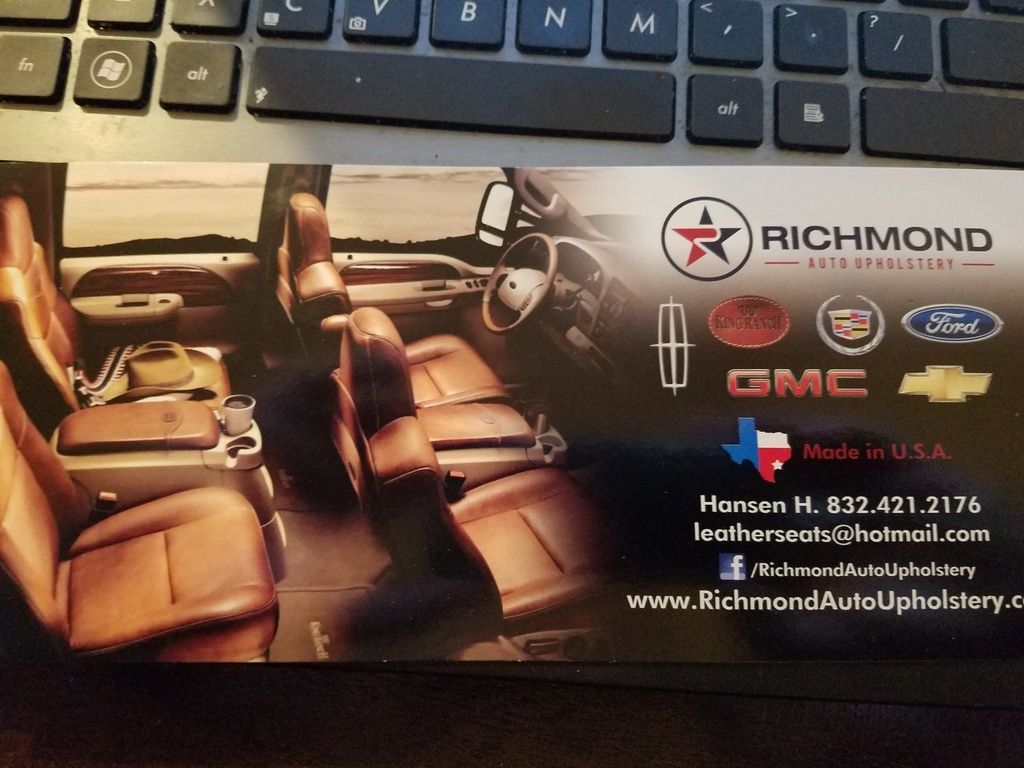 Registered User
Join Date: May 2007
Location: Colorado
Posts: 601
Bronco Info: 95 XL 302-M5R2-1356-3L55-31's
Confirming some seat information here. The following link is accurate:
Explorer seats are a bolt in!!!
The driver's seat in my Bronco was completely dead. I'd been stuffing foam in it for a while until I finally got sick of how bad it looked and performed. Today I made a trip to the Pick-and-Pull and got a hold of a set of front seats off of a 1999 Ford Explorer. Just to make sure I got ones that worked, I first searched around for a Bronco or an F-150 extended cab that had bucket seats. Came across a '94 that had what was left of the driver's seat already in the truck bed. I promptly removed the seat track and started hunting down some new buckets. Finally found an Explorer that had been rolled, and removed the driver's and passenger seats. Surprisingly, they were in really good shape. I have a blue interior. Had I needed tan seats, I'd have had no problem finding any. Just saying.
Removing power seats with no power is not all that easy to do BTW, but I got it done despite dealing with the "Flippers" (Mexicans that pull parts and sell them on E-Bay). A small group of them wanted the seats I found.
In any case, after getting the seats out I followed the instructions and removed the 4 10mm bolts that hold the seat to the seat track. I then lined up the "Bronco" seat track, and sure enough, it fit like a glove. Just to make sure, I threaded all 4 bolts. Removed that seat track so I didn't have to pay for it, and off I went with my Explorer seats.
Now, the Explorer I removed the seats from was a 1999. I did find some later model Explorers, but they either had the wrong color seats, or had a mounting system that was different enough not to bolt up to Bronco seat tracks. The compatibility seemed to end in the 2001 model year. 2002-and-up seats did not look like they were going to bolt up at all, although had I had the desire I'm sure I could have fabricated something.
Another thing to note is the fact that the passenger seat not only flips forward to allow access to the back seat, but it also slides forward. The mechanism to do this is unique to the Bronco seat track, and to the Bronco seat latch mechanism. There is a rod connected to the stock Bronco "hinge/latch" mechanism that operates the release pawls that allow for the whole thing to slide forward. The Explorers do not have this feature as far as I can tell. In order to preserve this functionality, I also had to swap the seat "hinge/latch" mechanism (from old seat to 'new') but I only did so on the passenger side. But consider this before you toss the old bucket seats. Although the mechanism is slightly different from Bronco to Explorer, they mount up identically.
Also, the Explorers did not come with arm rests. But then again, the Bronco I have didn't have any on its seats either (must be super-base-model seats), so I didn't really miss them.
The 1999 Explorer seats feel like they're about 2" higher than the ones I had. Some of this may be due to the (lack of) padding in what was left of the stock seat. The seat base is also longer than the original. If you have an automatic, I'm sure this wouldn't be an issue. I, however, have a stick shift to I can feel my calf rub up against the front of the seat base. Not a big problem for me, though.
Bottom line here is that this swap works great. I encourage those who are looking for a better place to park their booty to at least look at an Exploder for a source. Many different styles available, also.
--Flomaster
I'm OBSessed
---
1994 Bronco XLT 351w e4od
1995 Bronco XLT 351w e4od
Registered User
Join Date: Jun 2005
Location: Cheraw, SC
Posts: 947
Bronco Info: 1979 Bronco
Flomaster now you have me wondering if the bucket seat bases I have for a 78-79 Bronco have the slide feature. I remember it does have the tilt but been so long since I look at them I can't remember the slide feature. If they were not buried so deep in the parts storage I would dig them out.
Posting Rules

You may not post new threads

You may post replies

You may not post attachments

You may not edit your posts

---

HTML code is Off

---