Discussion Starter
·
#1
·
I have a dumb question (only dumber if you don't ask) so here goes:
Putting on new calipers, pads, and hoses. The inner brake pad anti-rattle clip is giving me some grief.
The basic issue is that my passenger side and driver's side do not appear to have been installed in the same way (I lost the passenger side reference because it fell off before i could get to it). My manual seems to indicate one orientation while another internet resources indicated a different orientation. The intent of the clip seems to indicate one install method, yet the condition I received the clips in the kit doesn't mesh with the former well.
Picture is of my driver's side pad (right) versus the new spring and pad on the left. Note that the old passenger side clip looked exactly the same, which is why I originally installed the pad like I did. But after seeing driver's side, I'm wondering if I need to bend the heck out of it to make the tab sit against the bottom female fit of the knuckle? It would seem to function more like a spring in this configuration - I guess what has me thrown is how far off the current spring geometry is relative to the driver's side installed spring. Also, my manual seems to indicate a part of the clip that would extend outside the female fit of the knuckle, unless I can't digest the print?
Passenger side as installed. I feel like the tab should be sandwiched between the female fit and bottom of pad. But the tab is so far away from making it as it is now that it didn't seem right to make it fit.
Ford manual instructions. Leaves something to be desired, or perhaps my knowledge does.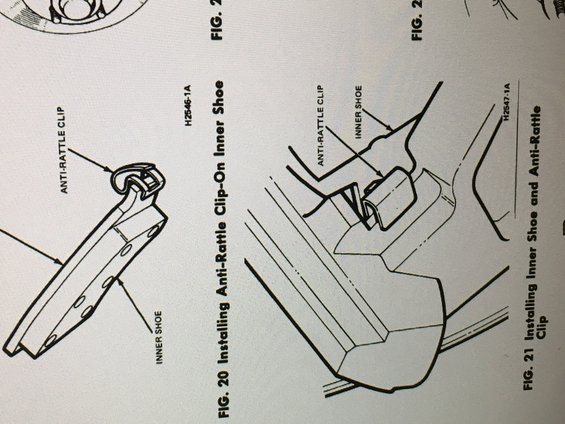 Thanks!