1985 Ford Bronco. H.O. 300 I6. ZF5 transmission. 4.11 gears with Detroit True Trac. Nodular 9".
So, as some of you know, my '81 was rear ended a few months ago.
http://www.fullsizebronco.com/forum...ronco-wheeling-related/474274-built-last.html
http://www.fullsizebronco.com/forum...ng-related/476545-sad-day-but-undeterred.html
I found myself a nice '85 while I was visiting friends in Seattle. It was in nice shape, but just a little rough. I could just tell it was very solid (doors clicked closed nicely, no rips or tears in the interior), just some cosmetic stuff that needed work, like a broken wing window, cracked windshield, some body rust, etc. Bought it for $1800 and drove it 500 miles home. It has 50,000 on the odometer and I'm imagining considering it's condition, that it's probably 150k. It also hasn't been registered since 2011.
Over the next few months, all of the goodies from my '81 will be going into the new '85. My family tells me I should call it the Phoenix since it'll be bringing the other back to life.
Time for a build thread!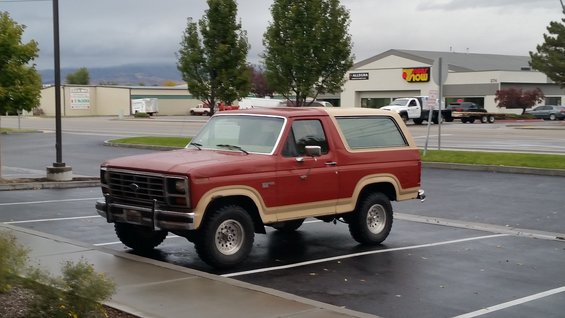 It's a 1985 Eddie Bauer edition with all the bells and whistles. I had looked at several other Broncos, and found a few I liked, but despite the issues it had, this one stood out. I also like that it has a tan interior, which is about the only other color aside from the awesome black interior of my '81 that I could stand. (I even passed up some nicer Broncos because I knew I couldn't stomach the pimp red interior for the next who knows how many years. :toothless)
Another set of pictures I took half way home from Seattle. Had to stop and commemorate the new Bronco. I'm hoping the original Ford Bronco tire cover will fit over 32" tires, but I have my doubts.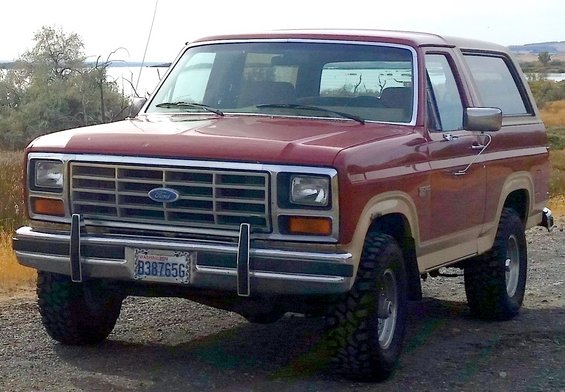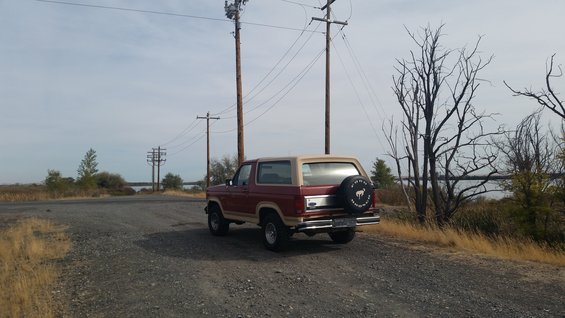 Here it is sitting next to my '81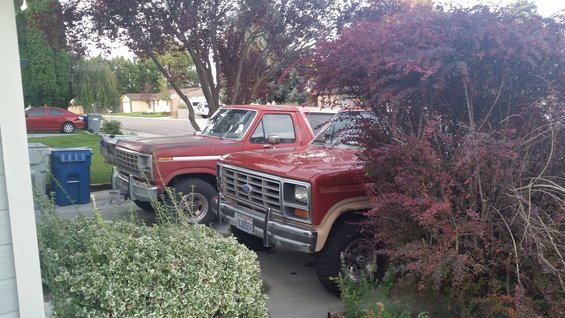 I just finished building my 300 in April, so it'll definitely be going in in the near future. It currently has an EFI 302 and an AOD. I'm debating between the NP435 I have in the '81 or getting a ZF5. The 3.00 worked great with the NP435 but the 3.55s in the '85 might be a bit much on the highway. An overdrive is much needed.
http://www.fullsizebronco.com/forum...builds-only/408513-performance-300-build.html
I'll also be keeping the EFI pump and installing a fuel injection kit of some kind. I think I'm checked out on carbs.
Immediate things I knew it needed
Tachometer is all screwed up. Just sort of flops around and points wherever.
AOD shifts hard
Cracked windshield
Rust in the body panels and rotted tailgate
Fuel gauge doesn't work
Headliner sagging