This will be my feet first jump beyond simple "bolt-on" type automotive stuff. As I said in another thread, I've got
X Man's writeup
bookmarked, and I've got a Haynes manual and almost enough ego to think I can do this. :brownbag I've got a lot of basic tools, plenty of local stores if I need something, and I've got the ball joints in hand, so there's no longer any excuses; I have to do this.
I will try to remember to take lots of pics, especially when I run into problems, and hopefully I will chronicle enough detail that other novices will feel informed enough to do their own as well.
First few pics...
Spicer "Professional Grade" Ball joints.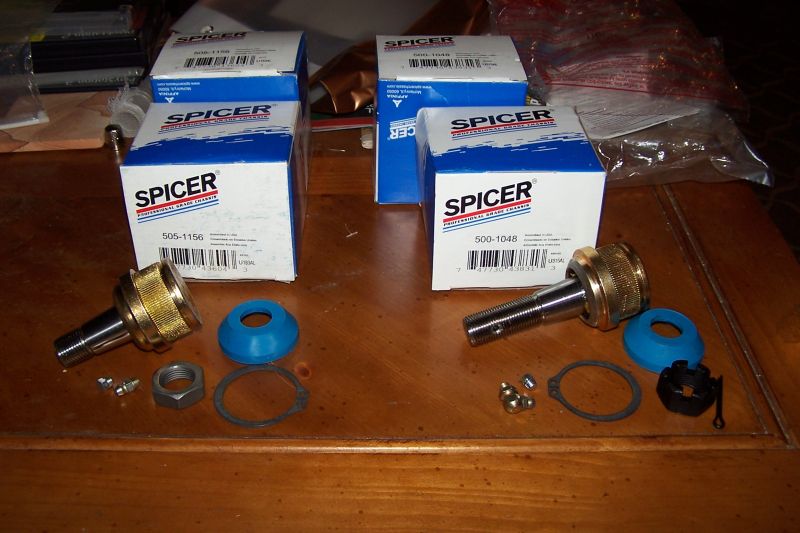 I jacked it up and pulled the wheels tonight in prep to start in the morning. I spent a little time figuring out how to coordinate jacking up the truck, and placing the jack stands; I was thinking I needed to have the stands pretty far forward on a flat horizontal spot in the frame, and was having problems making room for the stands and the floor jack in almost the same place. I finally went with moving the stands back a couple of feet, and it still seems pretty solid. I slid some bags over the hubs just to keep the local kids from messing with anything this evening.
Ok, first problem... WTF happened here? Sway bar pulled loose on full extension? All I did was jack it up and pull the wheel!!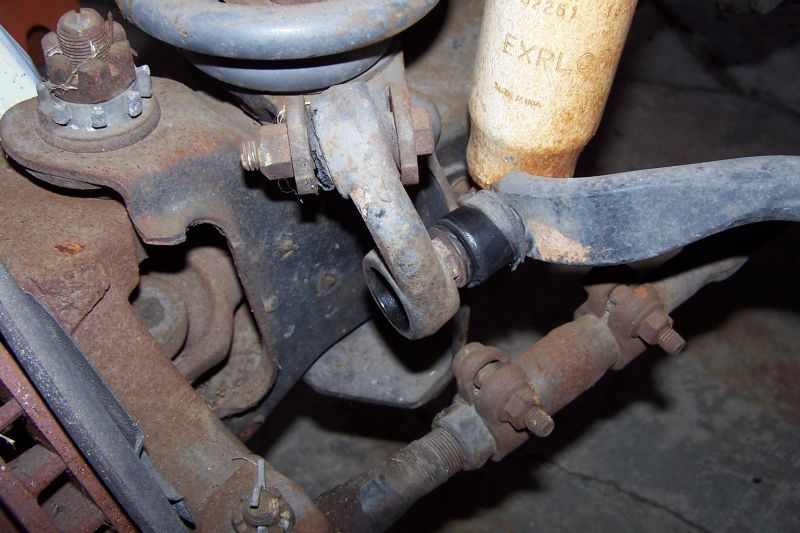 Does your truck have a sway bar drop bracket installed?
Yes, although it looks like a 4" extension on a 6" lift. :shrug
==================================================
The patient is on the table, and been opened up. There no turning back now! :shocked.
First up, a pic of the rotor. The rigs been sitting for a substantial amount of time, and the surface shows it. Should this be resurfaced?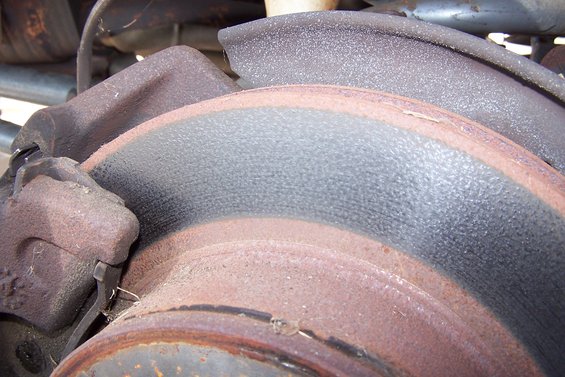 Ok, so... on with it. Like I said before, I'm going to detail things so that another novice like myself will know what to do; I'll try not to leave anything out.
The Haynes manual said to remove some of the brake fluid to prevent overflow when I compress the cylinder.
This is as far as I could go because of the filter in the top.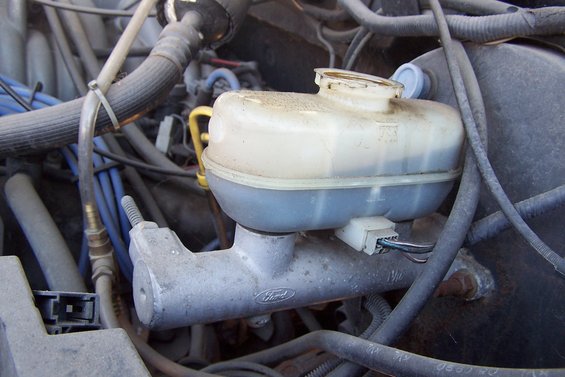 from the looks of the brake fluid you need to flush the system, if you havent used the truck in a while it probably has a lot of water in the system as brake fluid loves water. second i would take the time and remove the rust from the rotors , take the brake pads and rub them around on the cement then look at them ,for cracks ,even hair line i would replace. or turn rotors and purchace new premium brake pads :thumbup
Next, using a c-clamp (which I had to run out for; mine weren't big enough to fit around the assembly) compress the cylinder so that you will be able to pull it off the rotor. It won't move far; all you're doing is loosening it up.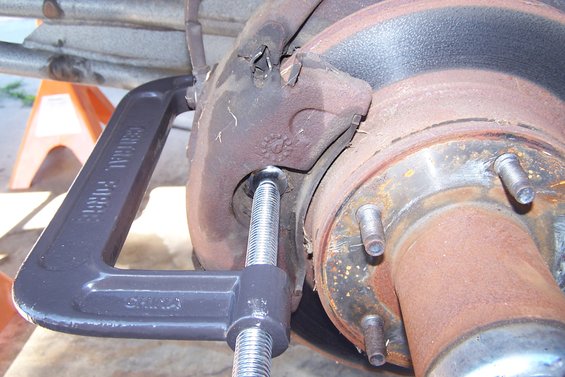 Next, you need to take out these pins.
If you look at them closely, you'll see some bumps on each side that hold it in place; they need to be compressed to clear the edge, while at the same time pushed through. Squeeze them with some pliers, while prying at them like so. Once you've got both pins pushed in, push them through with a punch if you've got one - a big ass screwdriver if you don't.
Now you can lift the whole thing off and suspend it out of the way. Careful with the brake line, and watch the brake pads; they fell right out. I looped the wire over one of the shocks; and yes, I tightened up the hook so that it wouldn't slip.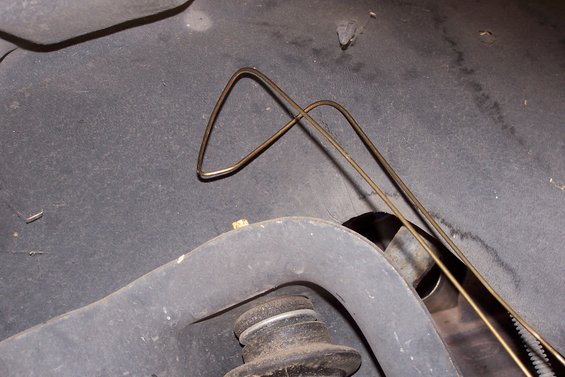 And this is what you have left.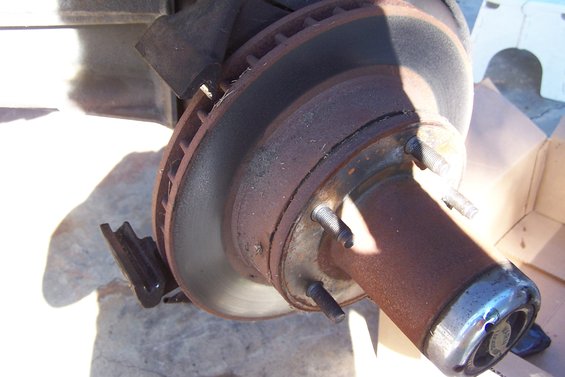 Now's time to pull the manual Warn hub. Find the right allen wrench and pull the cover. Watch out for the spring that's behind the cap; it'll fall out while you're trying to keep the bolts in the cap. :rofl: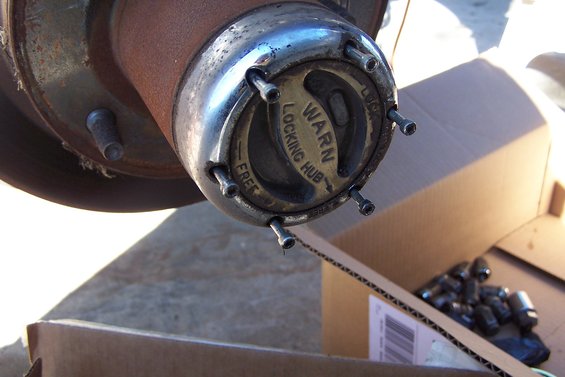 Next pull the axle shaft snap-ring and the hub lock ring around the inside edge. The lock ring took a little doing, but a small flat-head and an awl got it out (I'm not sure which actually got to it, but they were both in my hand at the time).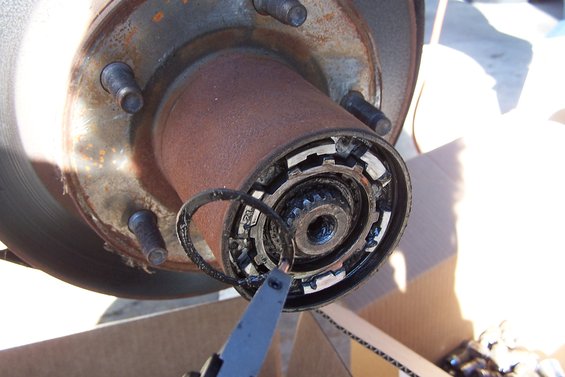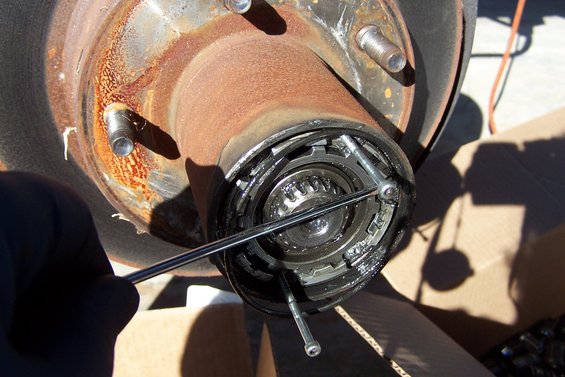 The Haynes says next to remove the stop screw next, and has a picture of where it should be, but after a close examination, I decided the Warn didn't have one, and just pulled the hub out. A couple of the Allen bolts helped out here.
Now you're ready to pull the Wheel bearing lock nut...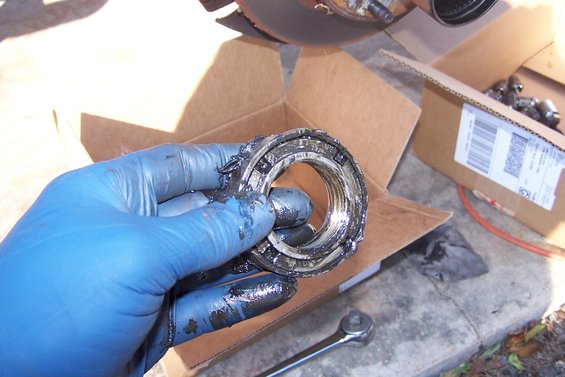 ...with a tool like this.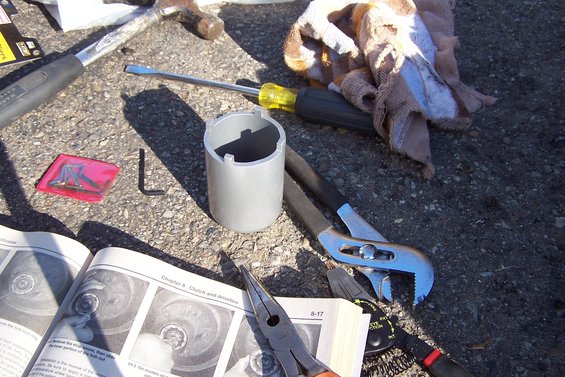 There should be nothing else holding the rotor in place now. Pull it off, and watch for the outer bearing; it'll be loose and will likely fall out of the rotor if you're not careful.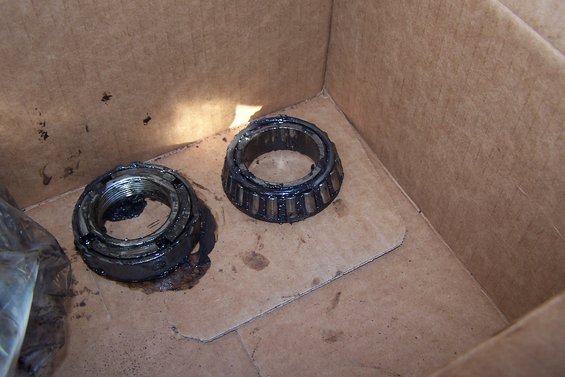 This is what you should be seeing now; you just pulled everything off of the spindle. That's next.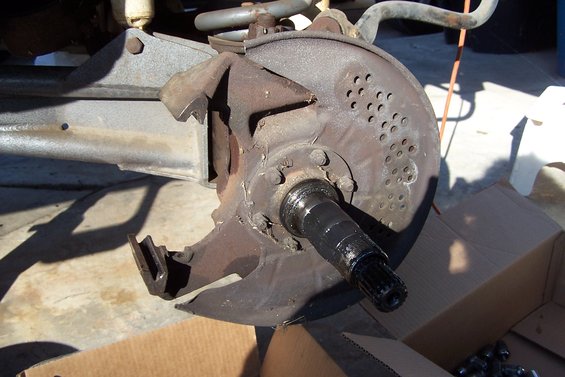 Next, pull all those nuts surrounding the spindle, and take the spindle off. Apparently, a lot of people have serious problems here, and have to get a special tool to pull the spindle off.
Courtesy of X Man..
https://www.fullsizebronco.com/forum/23-technical-write-ups/141208-1990-ball-joint-replacement.html said:

Spindle puller AutoZone p/n 27104

Slide Hammer AutoZone p/n 27033

They ran me $45 for both pieces.
I, however, had no problems. I just used a hand sledge and a piece of plywood, hammered the outside a few times around, and started wiggling it back and forth 'til it came off.
Now pull the shield and set it aside.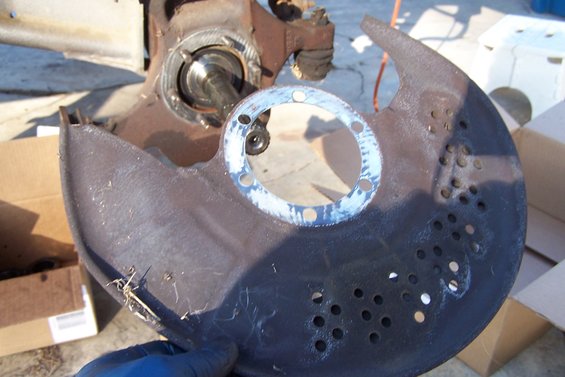 Next up is pulling the axle shaft. I think the driver's side axle just pulls out at this point, but there's one more step for the passenger's side. It's mostly loose right now, but you'll need to crawl under the front end, pull the boot clamps...
I'm guessing these are single use items? Can I replace them with hose clamps? It would make replacing the axle on a trail a lot easier.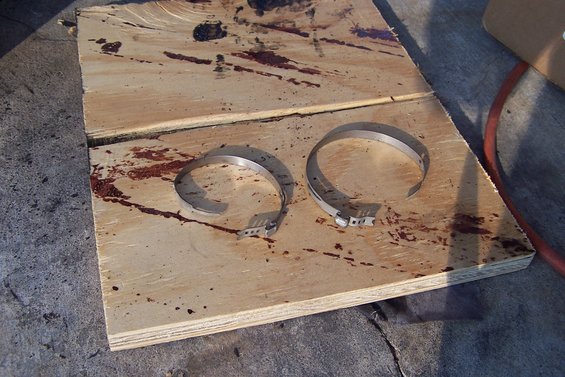 do not use hose clamps on the axle boot....replace it with the correct bands....you can pick them up at autozone....
you can get those metal bands at harbor freight or home depot.
They're called "keystone clamps", and they're used because of their MUCH lower clearance requirement on rotating boots than a screw-type hose clamp needs. They also affect rotating balance less.

They CAN be reused if you're careful about straightening the keystone section, and then use the correct pliers (or small end-cutters) to re-crimp them.
...and slide the boot over onto the stub coming out of the differential.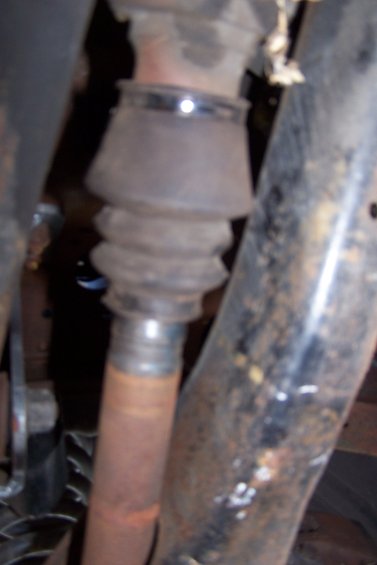 Now you're ready to carefully pull the axle shaft out.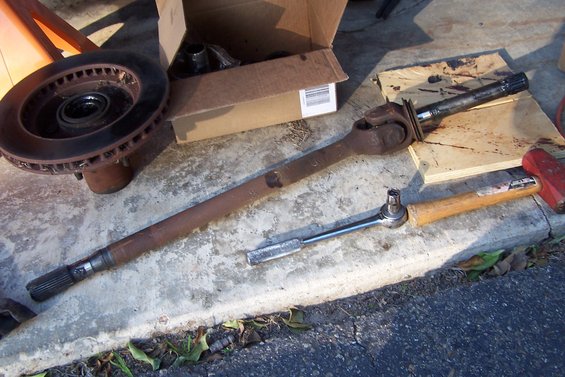 Next up, remove the tie-rod. Pull the cotter pin and take off the castle nut. Again,
https://www.fullsizebronco.com/forum/23-technical-write-ups/141208-1990-ball-joint-replacement.html
had a problem with this being stuck (rusted), and apparently it can sometimes just spin as well, but I didn't have any problems with the nut.
Getting it to come out though wasn't aparently optimum. Steve83 says to hit the joint on the side and it should flex enough to drop out, but I hit it hard enough to dent metal (which you can see if you look close), and nothing happened; so I did what
https://www.fullsizebronco.com/forum/23-technical-write-ups/141208-1990-ball-joint-replacement.html
X man did - flipped the castle nut over, screwed it back down some, and hit it with the hammer a few times. Dropped right out. :toothless
That was pretty much it for today. I'm at the ball joints themselves, but I've found out that my tools don't go up that size, so I'll be heading over to HD to get what I need.
I'm a little worried about getting a socket on that nut; it's awfully close to the spring.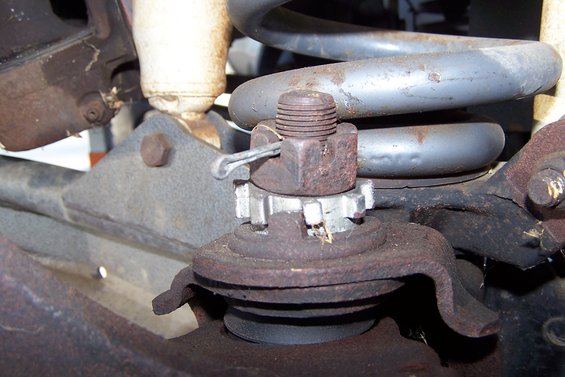 This is your first time doing this? Great job and in 3-4 hours too! The ujoint looked pretty rusty, you DID inspect it while you were there, right?
Not really; I was more concerned with disassembly at that point. Aside from rattling inside the cups and needle bearings falling out, what should I look for?
make sure it moves freely. If it is even slightly stiff, replace it, unless it is greasable then regrease it and loosen it up. secure one end in the vise and twist the other end side to side to try and get movement, it can be slight so look carefully.
Looks good Iolaus.

Yes, PB blaster or any good super penetrating oil
Yes, as Six said now is the time to clean and grease the spindle with a synthetic, good grease. Also check ujoints, and the hub/bearings/racings. get all that old grease out and look over your bearings, if timken and in good shape you can re-grease with the synthetic and put them back in, otherwise spring for new timkens and knock this sucka out while you're at it.

when you go to reassemble stuff like spindle to knuckle, do you have a little jar of antiseize lube? This helps ensure that if there is a next time getting into this it comes apart just as easily as it went together. I even used a bit of this in the knuckle bores where you will be pressing your new BJ's back in.