Discussion Starter
·
#1
·
Getting my all my build thread info into one thread - since I hope to God I'm not buying anymore Bronco's anytime soon.
So last Summer - I'd been on the lookout for something to throw together for my son in college. He's got a 2WD '11 Silverado, and while it's been a good truck, he tends to fish out his kayak with what little free time he has (Div I scholarship athlete) and he doesn't want to mess up the Silverado. So an excuse for a project vehicle? He knows his old man pretty well.
I've always been mainly a GM guy - but I always like the Bronco's. And while I wasn't actively looking for a Bronco - I ran across a '96 XL on Facebook marketplace. Owner said it ran fine, her husband drove it everyday to work (he worked at the Ford Dealer Parts counter - that will become relevant later). One day it wouldn't start when he went to leave work. Replaced the battery. Still no start. Had it towed home. Where it sat, for almost TWO years. All the while they kept insurance on it and kept renewing the tags.
They bought it from the original owner in Texas before they moved to VA. No rust truck. The Driver's 1/4 panel has seen better days. The story I got was the previous owner had an incident with a trailer he was towing. Likely true.
Got it for a pretty good price. Half of what she wanted originally. Clean title. Of course it busted a brake line coming off the roll back when I got it back to the house.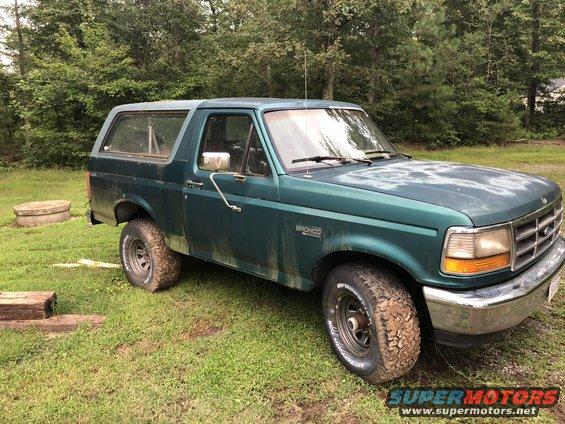 Low miles (less than 120K if memory serves).
Zero Rot - just a bit crusty underneath and the surface rust from the 1/4 panel damage that was apparently never touched
The 1996 - Number One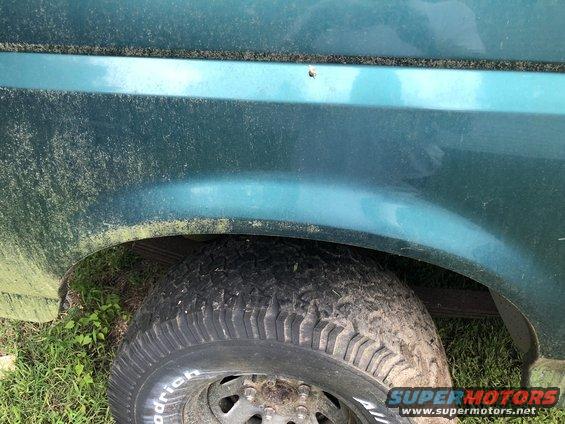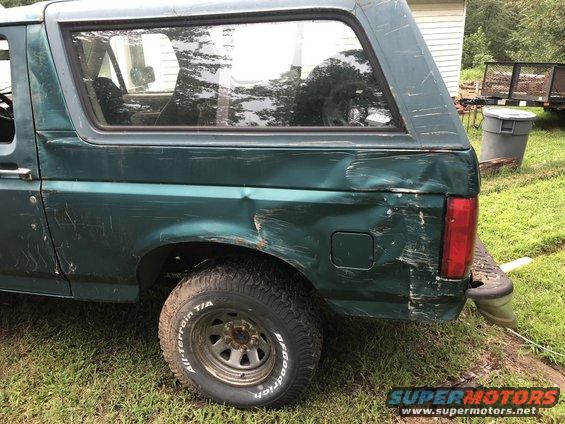 Interior was even pretty clean - but a stripper XL model.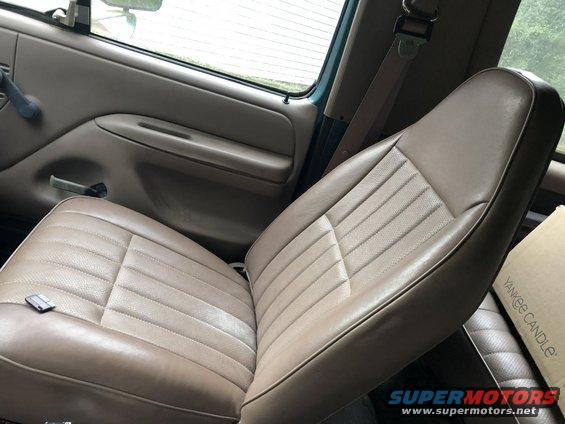 So I was in the midst of moving into a new place with my GF. Moving stuff out of her house (sold) and moving stuff out of my old house, trying to get it ready to sell, all while working on the new place. Almost 5 acres and two detached shops. With a 3rd coming hopefully next Spring. So needless to say, not much got done. However, after cutting grass and working on the land one day - took a break and decided to see what was up with the Bronco "bad starter". Surely the previous owner - who worked for a Ford Parts counter - checked the solenoid...right?
Put a new battery in it. Jumped the solenoid. Nothing. Posts were really corroded. Cleaned 'em off a bit. Tried again.
Let's just say it's a good thing no one was there watching me. I almost jumped three feet in the air. It fired right up and idled like nobody's business, albeit loud since it's got virtually no exhaust past the mid pipe.... No rattles, no squeals, no knocking. I shut it off, checked fluids (all good) and fired it up again. Hell, the AC even blows cold!!!! :ford
So I get a notification on Facebook marketplace about a Bronco - since I'd looked at several before buying this one.
1993 EB - no engine. No rust. Went and checked it out and pulled the trigger. For the price I couldn't NOT buy it.
Again, super clean wheel wells.
Story on this truck was pretty simple. Current owner (had several project Fords at this place) bought it to swap an engine into. Previous owner had it in a barn. Engine went bad, they pulled the engine and were going to replace it. It sat.
Last inspected in '03.
Undercarriage of this one is actually cleaner than the '96. Interior is dirty but surprisingly in GREAT shape. Power buckets aren't even ripped. Does need the armrests fixed though.
When I called him he had several offers, no one had showed up with the cash. Drove there that night, looked it over, handed him the cash and got the title. Showed up two days later with my buddy's F150 and a Uhaul car trailer (my '84 GMC was down with a busted rear brake line). So of course no engine and no winch, my son was wondering how we were going to get it on the trailer. I decided to go old school.
Backed trailer up to the Bronco and lined the ramps up. Unhooked trailer, tied a tow strap to the F150 and the front crossmember of the Bronco and pulled it up on the trailer. Haven't tried this in years, and it worked a lot easier than I remember.
Maybe 3 miles from where the Bronco was, one of the trailer tires decided to blow out. Luckily these were backroads and I was going maybe 30mph when it went. Luckily found a large pull off, called UHaul and waited.
Hour and half and one new tire / wheel later, we were on our way again. @ 60 mile trip to the house was uneventful.
The 1993 (Number Two)
Where it was sitting when we picked it up: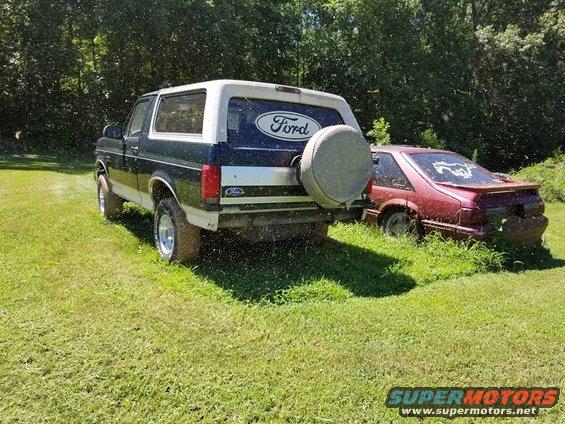 Got it back to the house - of course this one busted a brake line too getting it off the trailer: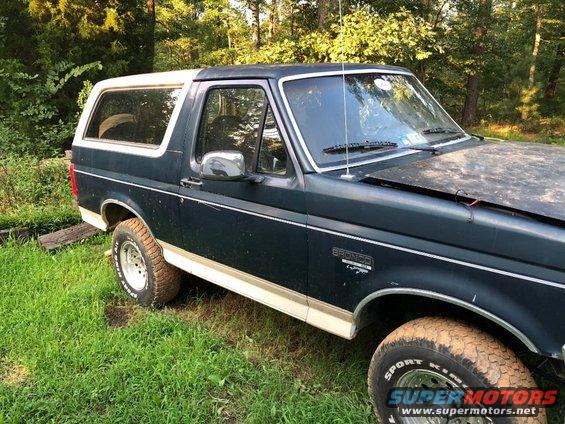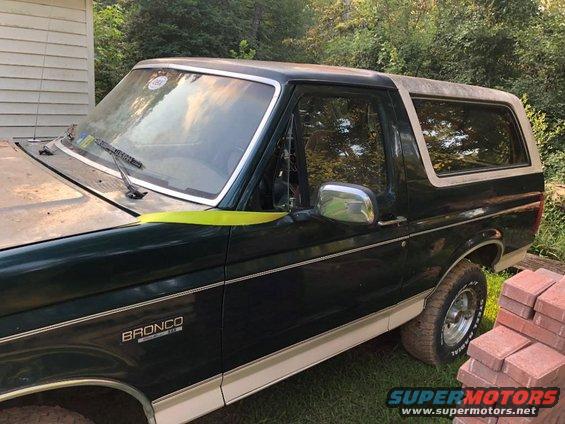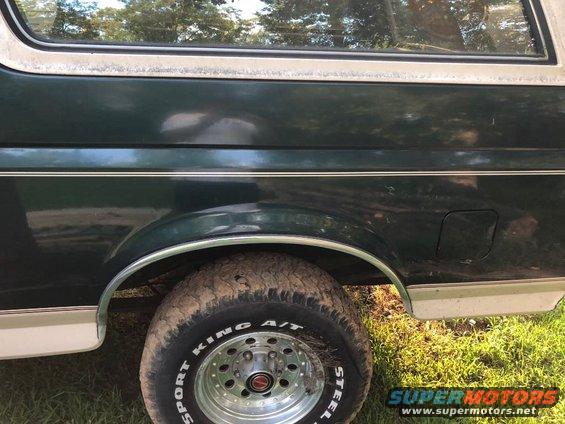 So the plan was to use the drive train from the '96 in the '93. Then it would get a 6" lift, 35's, go through everything etc.
Then life got in the way. Getting my old house ready to sell, work, working on new house and other more important things getting in the way of wrenching.
Then I got a notification text from an app I had on my phone for Craigslist. When I was still looking for Bronco's.
1995 EB. ZERO Rust. (most are rusted here in VA). 6" Lift. Recent 35" BFGs, Mickey Thompson wheels.
Yeah - I bought another one.
1995 EB - No rust. Guy I bought it from was keeping it at his shop where he works (not the best part of town - especially after dark) and a while back someone decided they needed it more than he did. They broke the passenger window, and butchered the steering column, stole the face to the stereo - but couldn't manage to actually steal it.
6" lift. He just did all new shocks. 35" BFG's, M/T wheels. Interior is actually mint with both seats being power. Paperwork in a folder on the truck show where the previous owner paid over $5K in 2011 for a crate engine, and a rebuilt E4OD. Not to mention locker and gears. From the way it goes - I'm assuming they ditched the 3.55's for 4.56's - but won't know for sure until I get inside the pumpkins for a check and fluid change.
The current owner just installed new Ball Joints, all new tie rods and steering linkage and new exhaust.D
Thing runs really well for having a monster exhaust leak (Cracked manifold I'm betting)
Got it for a good deal. Let's just say I paid less than half what someone paid to put in an engine / trans and other work a few years ago.