I'm considering selling/trading my favorite 4wd I've ever owned! Many have followed this buildup on FullSizeBronco.com by GKR. I traded a fully built 1974 Bronco for this in February, and since have only used it a few times. This Bronco has everything (as seen below), can wheel up anything, rides perfectly smooth down the road up to 80mph (haven't gone faster), blows ice cold ac in the summer, perfectly reliable to drive across country and take you wheeling.
New PRICE $22,000!
(Was $32k) or part trade for less expensive wheeler (must seat 4) or machinery: mini excavator, dump truck, trailer, etc. as I'm starting to get into excavation work.
Call cell 541-441-8154 or email
[email protected]
, all offers considered!
Onto the specs:
MOTOR:
1996 351W Roller block
408 stroker w 4" crank and Probe 6.0 rods
All bearings coated upon assembly
Fluid Dampner crankshaft pully
Ford Motorsport crank girdle
Canton Oil pan
Canfield CC'd & port matched aluminum heads
Roller rockers
Crane Compucam
Comp valve springs
Edelbrock upper / lower intake, port matched to heads
BBK throttle body
80MM Mustang Mass Air Meter
Custom UMP air cleaner matched to Mass Air Meter
24lbs Motorsport injectors
Bassini Headers and High flow Y pipe with hi-flow cats
Custom mandrel bent 3" exhaust w/ high clearance tip
All exhaust components were ceramic coated from header flange to tip.
Heat shields and high temp sleeves on all plug wires
Accusump Pre-oiler, oil pressure monitor
Remote mount oil filter
Custom dyno tuned by Blood Enterprises
TRANSMISSION:
Built E4OD
Twin Disc Billet converter
All internals upgraded with Powerstroke parts if available
Trans Go shift kit installed and set up by Trans Go Engineer
Deep oil pan
B&M Supercooler with aux fan
All cooler lines are braided stainless steel
Manual converter lock up switch
T-CASE:
Atlas 4 speed transfer case
Rourke rear support
Custom rear flange with VSS sensor for speedo and trans shift points
DRIVELINES:
Tom Woods one ton driveshaft, all 1350 except rear at 14 bolt which is 1410
Spare set of High Angle one ton driveshafts
AXLES:
Front is Dynatrac Pro Rock 60 with Superior chromolys
Stub Hub kit
Dynaloc hubs
5.38 gears
ARB with HD air line
One ton brakes
Rear is 14 Bolt
Shaved and plated
Custom HD rear diff cover
Yukon Chromo rear shafts
Blue Torchu
Fab rear bridge fully welded and tied into front flange with yoke skid
5.38 gears
ARB
Rear disc brakes with integrated parking brakes
SUSPENSION:
Duff front radius arms with Ballistic Fab 3.0 joints
Fox Racing 14" remote resi coilovers with 7/8th shaft,
Triple rate springs
Fox Racing hydraulic bump stops
Poly Pro limiting straps
Currie Anti Rock Sway bar
Rear is dual triangulated 4 link
Lower links are 2.25x.375 wall DOM
Upper links are 2.0x.250 wall DOM
Ballistic Fab Forged 3.0 Joints for lower arms
Ballistic Fab Forges 2.63 Joints for upper arms
Ballistic Fab 4 link brackets
Superlift 400 lbs/inch coil springs
Duff rear buckets
Custom lower buckets, spring captured top and bottom
Fox Racing 2.0 remote resi shocks
Poly Pro limiting straps
STEERING:
PSC hydro assist setup including new pump, steering box, assist cylinder and remote resi.
PS fluid cooler
Tie rod, drag link and track bar are all DOM. All steering joints are FK 7/8 rod ends
WHEELS AND TIRES
Spyderlock 20x10 beadlocks
RADS valves
40x15.50x20 Toyo MT's
MISC:
New front leather "Bronco" script bucket seats
6 pt cage tied into frame
Mild boatside with UHMW sliders
Autofab Fiberglass quick release fenders
Cervini Fiberglass hood
Custom high clearance mirrors
Dual thermostat controlled E-fans with manual switch
CRL slider windows in rear top
Soft top
Full skid plated underside
F350 Master cylinder and booster
Steel braided brake lines
All breathers routed to engine compartment
Mastercraft rear suspension seat
Custom Tuffy locking center console
Art Carr gated shifter in custom console
Auto Meter gauges
Painless Aux fuse box
Uniden Pro 520 XL CB
Optima Deep Cycle Blue Tops
Painless dual battery control
Alpine head unit with DVD/Sat/GPS
3 amps built into floor with cooling fan
Focal 3way speakers in doors with tweets
3 ways in rear seat area
2 10" subs in custom enclosure in rear cargo area
LED rock lights
LED interior lights
Warn 12000 lbs winch with synthetic line, aluminum fairlead
T-Max 9000 lbs rear winch with synthetic line, aluminum fairlead
Mobi-Arc 150 on-board welder with high output 3G alt
LightForce HID lights with 2 sets of covers/difussers
PIAA foglights
Compustar long range alarm with remote start
Tuffy lockable rear storage
NEW PICS HERE AS OF 11/7/2011:
http://s754.photobucket.com/albums/xx187/zdaily/The Black Pearl - 1996 Bronco/11-7-2011/
Here's a few pics: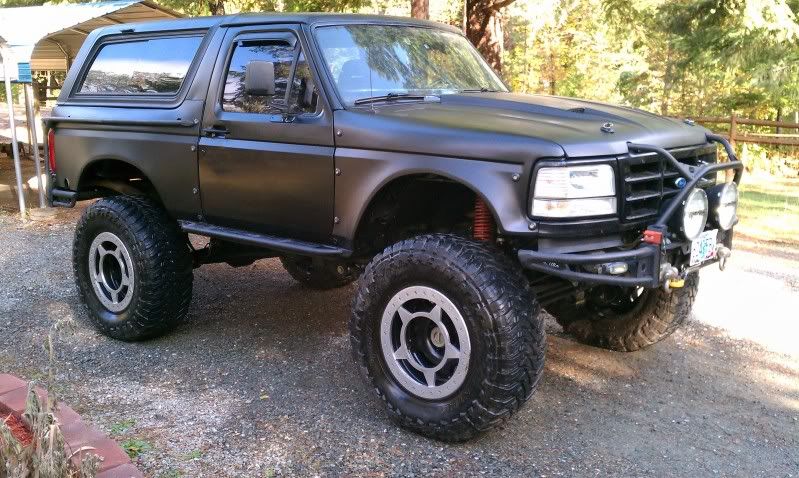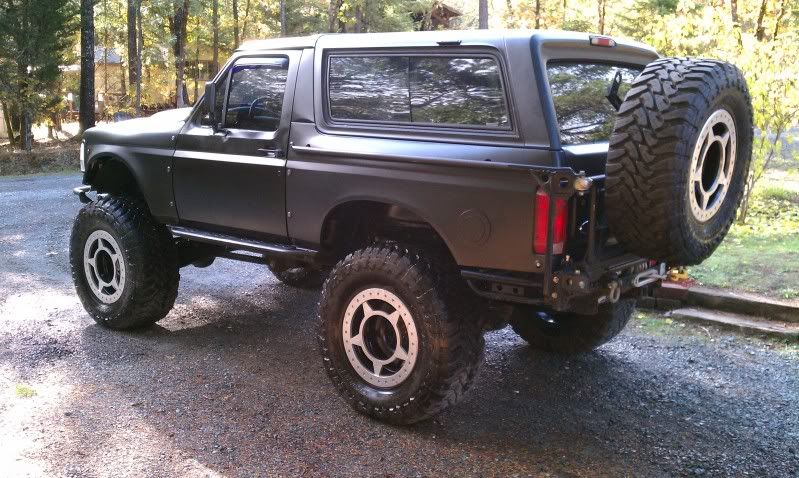 Some various pics from photobucket:
http://s754.photobucket.com/albums/xx187/zdaily/The Black Pearl - 1996 Bronco/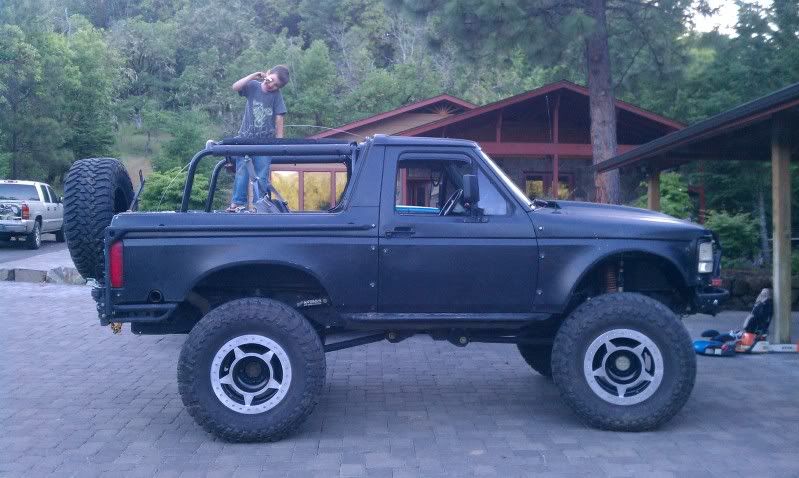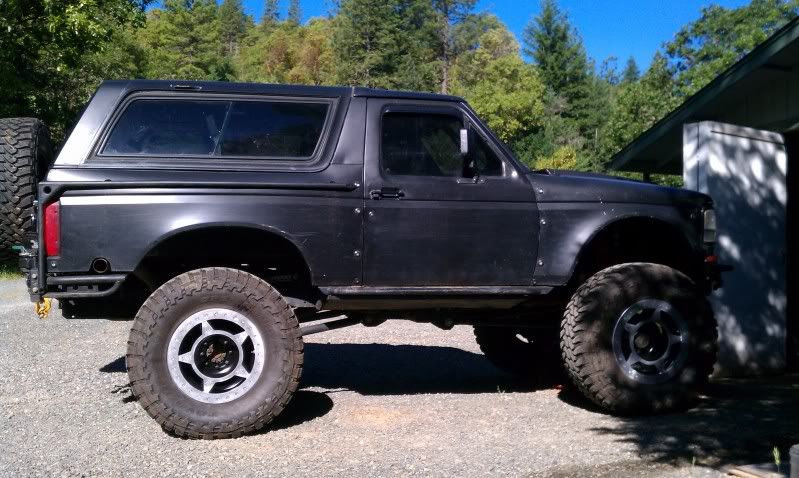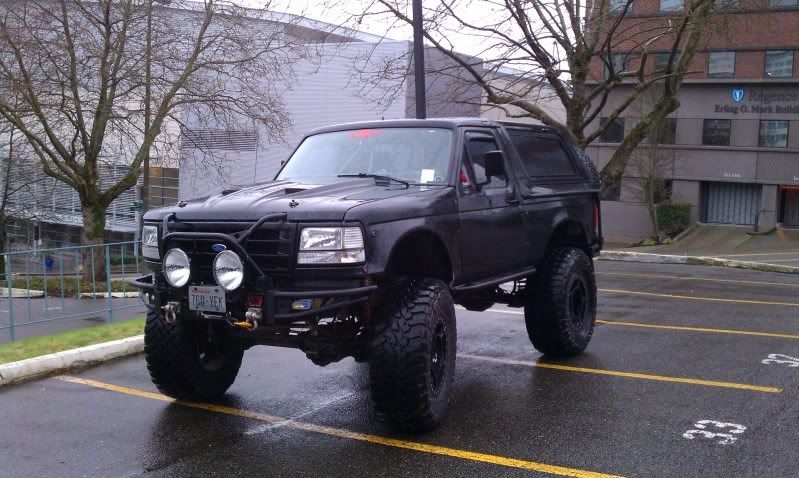 Rims are not solid black like this pic