85 Bronco, 309ci I6 w/4bbl, np435, 4" lift, 37" Irok NDs, 4.56 w/ Detroit Locker and tru trac
Discussion Starter
•
#1
•
I noticed a leaking head gasket a week ago on my 85 bronco. Had a few spots that were boiling coolant out. So I've been discussing it in this thread. I got the engine out today, so the build thread can begin!
http://www.fullsizebronco.com/forum/7-1980-96-bronco-tech/422938-85-300-not-running-right.html
So after removing everything from the 300, and unbolting the mounts from the crossmember, I was ready to pull her out. Hood had to come off too, lol I kinda like the visor look.
This shows just how BIG the six really is. It would not come out of the engine bay straight. It's hitting on the firewall and the radiator. Had to take the radiator out, and spin the engine to get it out.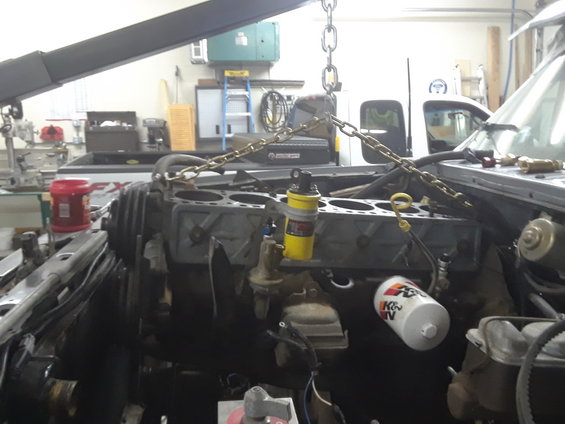 Managed to get her mounted to my new HF engine stand.
Most of the bores have vertical scars in them, but they aren't real bad. Number one cylinder looks pretty clean. Pistons come up to about .031" in the hole(using a depth micrometer), as best measured without knowing exact TDC. I do have most all the correct measuring tools for this stuff though.
My goals for this engine is around 300 hp and 400 ft/lbs. Going to have the head worked over with larger valves, a good port and polish, and roller rockers. Shooting for a 9.5:1 compression ratio. New pistons, cam, and timing gears as well.
Already have a Clifford single plane intake and split 3 into 1 headers. Running a QFT 450 4bbl slayer carb currently, and as it's brand new I'm hoping to reuse it. Backing it up will be the factory NP435 transmission, np208 transfer case, and locked 4.56 gears on 37" tires.
I've been reading builds over at a couple more 300-i6 specific sites as well, and they are far more detailed than I'll get here. If you have questions feel free to ask, as long as we don't get off on some weird tangent.