Discussion Starter
·
#1
·
:thumbup Today turned out to be a good day! It all started when i got a call from the yard boss tellin me to come down cuz hes got something for me. Knowing them it usually means its something i cant use or dont really need at the moment, but this time it wasnt 1 but 2 lucky finds an then i stumbled on 2 diamonds in the rough......well, ill shut up an just start with the pics....
find#1 78 ford f250 leaf sprung with a 4 inch lift an some decent BFG 35's
popped open the hood an what do i see? why its a 460 with a holley 4 barrel carb, edelbrock intake an valve covers, an heddman long tube headers:thumbup
As im walking to the far back corner of the lot to see my other surprise i just happened to glance over an saw an oddly colored green roof..... something just told me to investigate an look what i found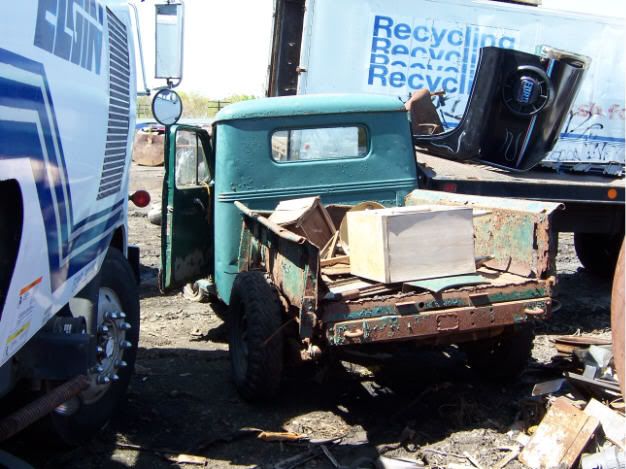 oh yea:thumbup
im also considering making that street sweeper into a racecar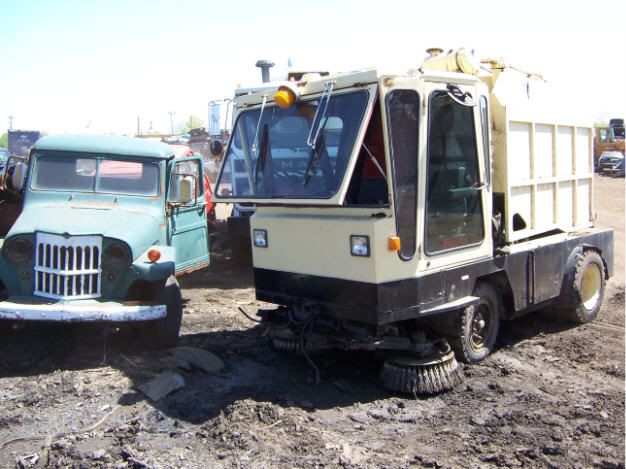 now not only was the weather getting warmer an my day was already made by that 250 but then i ran across this:shocked an FJ cruiser with a plow
i told my self i wouldnt stop to get pics until i finished my trek an ill see it when im on my way out which was a good idea cuz as soon as i got to my destination i saw what he was talking about:rockon a totallly rust free 79 bronco ranger! look at the hood scoop....:rockon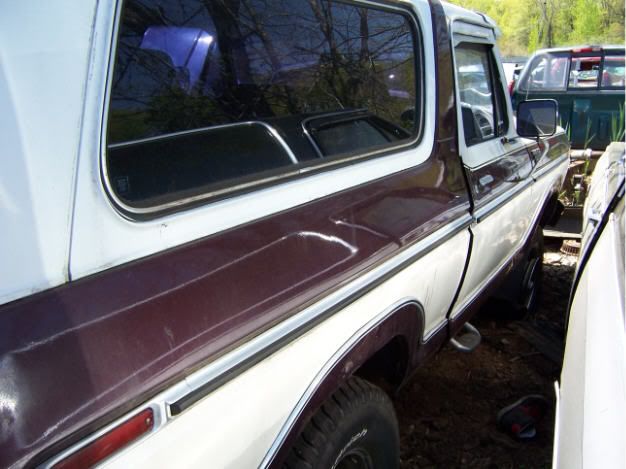 cool
looked like a 460 but im pretty sure its a 400 also a holley 4 barrel carb, edelbrock intake, ford motorsports valve covers,and long tubes
so anyways after all of this i came out with some side handles for my trucks so my 5'2 girlfriend can get into my trucks an the bronco ranger emblems, some mudflaps, mufflers from that f250, some junk my buddy grabbed from a suburban...overhead console trim stuff etc. for about 20.00$ :goodfinge
oh an if your asking what the hell??what about the f250?? italked to the yard boss about pulling the motor an front end an hell do it for 450$
Now heres the question.....i have my choice of either a leaf sprung dana 44 im guessing or a coil sprung 44 from that 79 bronco..... Now im going for the most easiest to maintain an the strongest application for a SAS on my 83, BTW the 460 is going in the 83 as well........im leaning more towards the leaf sprung. im not gonna need all the flexibility of coil sprung axle since i see mostly mud.
and no i cant just buy the bronco cuz i already have 2 broncos as it is.....though i will inquire about the FJ:toothless