Discussion Starter
·
#1
·
HI all, this will be a brief story about my low cost SAS. Low cost is relative, of course, largely based on luck of finding parts. I wasn't trying to build a rock crawler or show truck, just get my vehicle back on the road.
About 6 months ago, on the rusty red 96 that I bought for its engine (and have kept as my POS/winter vehichle), I noticed that one of my rear leaves was broken. I fixed this by getting some F250 rear leaves from the junkyard. Afterward, I noticed that the rear sat way higher than I wanted. I thought one way to remedy this would be to throw in some E350 front coils that I had. While this lifted the front end a little more, it also exposed the fact that my passenger side radius arm bushing was worn out. When trying to remove the large nut that held it on, I broke the stud and ruined the RA. I tried swapping in another one that I had, but in doing so, exposed larger rust issues in the front TTB assembly. It would not be an easy fix.
Now, about a month or two before, I saw an ad on craigslist where a guy was selling a 79 dana 44 for all of $75. When I went to look at it, he also had a 79 supercab that he was getting ready to scrap. I asked what he wanted for that axle, and he said since it was complete and working, he'd let me have it for $150. That included the leaves, brackets, shackle bars, and about anything else I needed from the same truck. I was also able to get three radius arms and 4 caps for the coil sprung axle.
I decided that I'd use that leaf sprung supercab axle to replace the rusty TTB. I also decided that I'd rather keep the narrower spacing of the old axle after realizing that it would be easier to fab a front crossmember and 'brackets' for the rear shackles than it would be to find or fab rear spring hangers and relocate the spring perches on the axle.
I measured the leaves several times to make sure they were parallel, then built the crossmember. This involved removing the sway bar brackets, 'boxing' the crumple zones with heavy angle, and locating the cross bar based on the spring length, centerline of the axle and the wheel arches.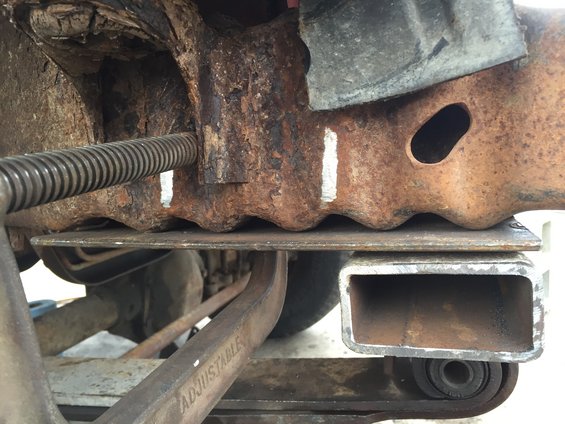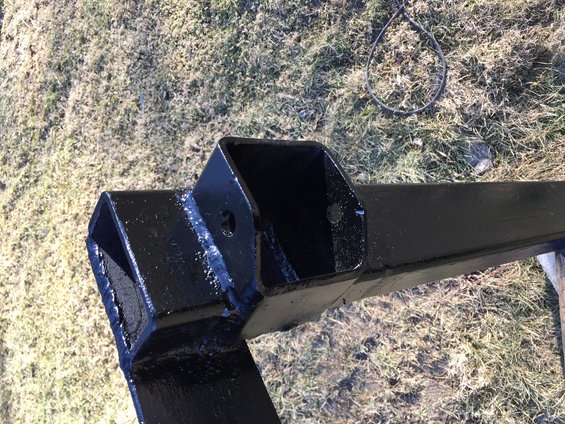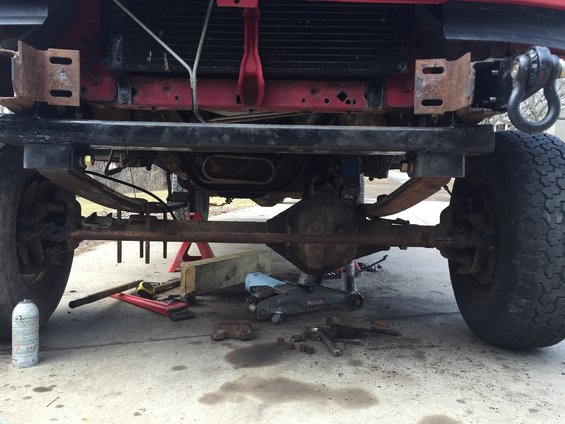 I should also mention that since I was really just wanting to replace the TTB and not create a monster lift, I tried to make it as low as possible.
Getting it bolted in, I found the location for the rear shackles and where the would land on the frame, and made simple brackets to pass the shackle bolts through.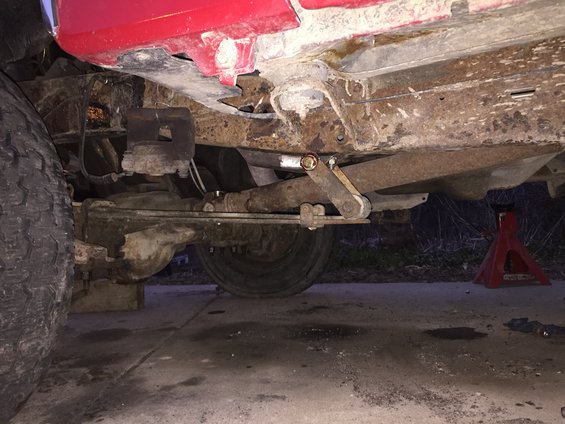 Heavy wall, I think 1.5"x3". Cut a notch to bend and match the bend in the frame. Pretty much just eyeballed the angle of the pumpkin and shackles.
Once it was bolted in, I had to trim the crossmember. This was a quick and dirty 30 minutes with a cutoff wheel.
For shocks, I bolted on shock brackets from an F250, the same shock mount plates, and bolted those down with the 79 U-bolts.
I didn't want hi steer, so I finally ended up with a 4x2 Ranger pitman arm (since it has no drop), and 90's F350 links (TREs, Drag, Center). That story can be found here:
http://www.fullsizebronco.com/forum...410610-d44-leaf-spring-steering-question.html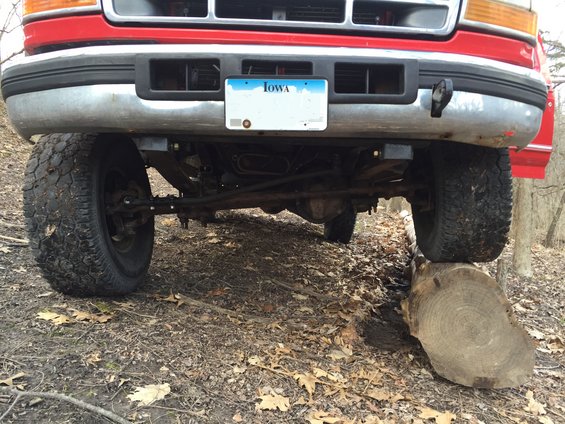 Since I did it all cheap in the interest of getting my truck on the road again, I'm guessing my costs were:
axle, springs $150
metal from the scrap yard for crossmember, maybe $50
F350 steering, cheap from rockauto $100
new brake hoses, wheel bearings $100
other $50
total, less than $500. It would have been much more expensive if I'd rebuilt the axle, regeared, or used higher quality steering parts.
I'm really glossing this whole thing over in the interest of time. There are several more pictures on the supermotors page where most of these pics come from. Bottom line is, it drives straight, flexes little, and rides pretty harsh. I'm considering trying some bronco rear leaves with a few removed, to hopefully get a softer ride, but I don't want to go any higher. Oh, and the front is 3.50 and the rear is 3.55. Less than 5% difference, and since I'll only ever engage it when I'm slipping through snow or mud and low speeds, I'm not overly concerned about it.