Discussion Starter
·
#1
·
EDIT: 9/16/08 This is back for sale!
***Added new pics, scroll down to see***
Unsure at this time what brand this soft top is. It is the "Full Top Style", not the fastback style, or pickup bed style.
The top is older, but functional. Doesn't have any rips or tears in the canvas. A few of the snaps have pulled from the canvas, and a few of the zippers have pulled away as well. If your wife/mom/sister is good at sewing, you could have it back in shape in no time, otherwise just take it to a zipper repair place, etc, and they could do it for you.
The windows are tinted, and somewhat fogged from age. Few light scratches, etc. but nothing major.
As I said, overall it's a great top. Use it as-is, or have someone stitch a couple snaps back on, and stitch a few inches of zipper track back, and you'll have a really nice top.
Decided to keep my '95 as a "weekend warrior"/ beach truck, and it fits in the garage nicely, so really don't need a top for it. Would like to give you guys the chance at a soft top instead of it sitting around, and I can use the money to invest in a lift for the Bronco.
I will get much more detailed pics of the top itself tomorrow, showing mounting brackets, bows, etc. But for now, here is the best pic I have.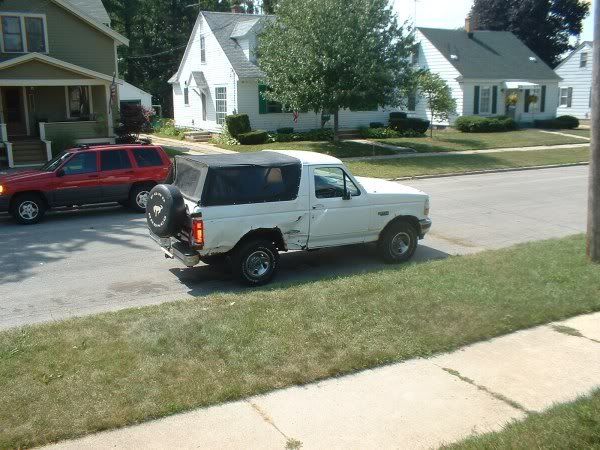 The top was not supported 100% in the pic. Does not sag that bad, I just didn't have the bows secured as they should be.
The mounting hardware does not bolt to the existing hard-top bolts. They mount to the railing with screws, and they have snaps mounted on them. Will get detailed pics tomorrow.
$350