'92 Custom w/ '95 MAF 5.0 M/T, 33's, 4.10 LSD

It's been a little over a week since I purchased my first truck of any kind, a '92 Bronco Custom 5.0L A/T. As I continue to bite off more and bigger car projects, I've been finding myself increasingly in need of rides various places to pick things up. I decided it's time to get a proper setup for towing when needed, plus general utility for hauling stuff. I don't have any off-road plans, but you never know.
Someone who was assisting me with a few of those trips suggested I follow the Copart and IAAI auctions for a donor vehicle with some of the parts I was in need of. So, I tested the waters on Copart last week, looking for vehicles of interest and getting the hang of the system, and ended up with the Bronco! I don't know how long they leave completed listings up, but here it is:
Copart USA - Online Live Vehicle Auctions - Bid & Win
(The auction link lasted 4+ years until Copart's 2021 site revamp in conjunction with eliminating free memberships. Oh well. Everything about their service went down the drain simultaneously.)
As you can see, it was an ex-forest service vehicle. Carfax showed only 16 records for the VIN, so it must have been in the gov't fleet up until fairly recently. I didn't order a report to see exactly when it switched over to private ownership.
I had the opening pre-bid at $70, with a max bid of $350 or so. After reading up more on the Bronco, I decided to up my max to $600 or $650. No damage and no mechanical issues listed, so it seemed worth a gamble. Only one other person bid, pushing me up to $90 at auction close. (I've since found enough loose change in it to offset 3.0% of the high bid.) At that point, the reserve price of $675 was revealed. I got a $625 counter-offer shortly after. I hoped to get it just below $600 to knock ~$30 off the buyer fees, so I countered at $550 and the seller countered back at $600. I decided not to push my luck, as it felt like they were drawing a line in the sand. The other one I had bid on previously didn't hit reserve and was pushed back a week.
$600 seemed like a steal, but then there's the $210 in buyer's fees, $59 gate fee, ~$40 credit card fee (I planned to pay by wire transfer for the "low risk" option, only to discover that you can only pay by credit card online, and $107 delivery fee. I was convinced by friends to not get a ride up and risk trying to drive it home, which is a good thing because the lack of mechanical issues in the listing turned out to mean zilch.
I purchased it on a Wed and was told I would hear from the delivery company in ~5 business days to schedule drop-off the following day. To my surprise, I came home Fri evening to see it sitting in front of my house! Keys in the ignition, no sign of the title... They dropped it off at 7:30 pm. I had to wait until Mon to call for more info. They had the title still and were putting it in the mail, but here it is Fri and I still haven't seen it.
The auction photos didn't show how messy the interior was, but I'm more than happy to go parts picking and learn how to fix things up. The frickin' hardtop is held on by c-clamps! All but two of the bolts are missing or snapped off.
Troubleshooting picked up later in the post...
Summary of Improvements:
Engine Stuff...
Driveability & Serviceability Stuff...
Exterior Stuff...
Interior Stuff...
GT40 heads & Comp Cams 35-512-8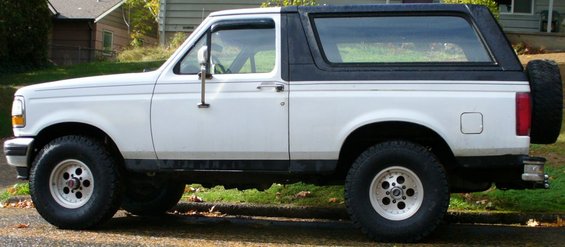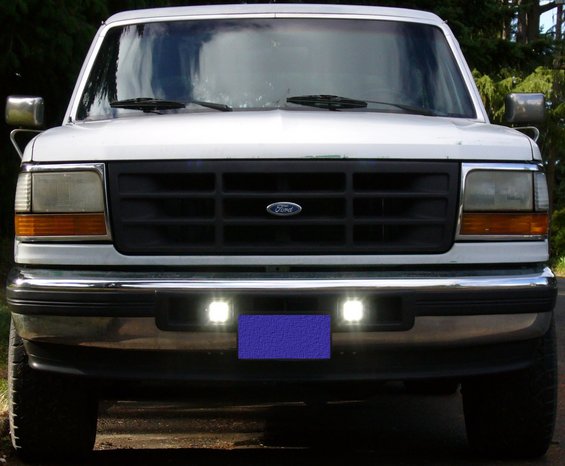 ---
Other issues and oddities (previously the meat of this intro post):
First things first, the truck wouldn't start. I put the battery on the charger overnight and had it at full juice, but just a single click on key turn. The starter relay tested out okay, so I got a new starter in and it fired right up. However, it wouldn't idle unless I kept my foot on the gas. Once I let it die, it was pretty much impossible to start back up until cooled off. I've got about a dozen threads bookmarked of similar problems that I'm working through.
One of the first things I found was a big span was cut out of the black line to the vacuum reservoir. I did a temporary patch job on it, with new silicone vacuum hose on the way to replace all the thin plastic crap, but that didn't really change the start/idle symptoms.
- Throttle Position Sensor has 2 of its 3 wires bare. Motorcraft CX1228 replacement on order.
-
Mystery box in engine bay
, wired up to starter solenoid and an add-on distribution block. One end goes to cab, other end under the truck. It turned out to be some sort of monitoring device, wired into the speed sensor. But, it turned out worse, as they clipped the speed sensor wire instead of tapping into it, and it was quite difficult to patch a new piece in.
- Lots of moisture in air intake, downstream of the filter. Quite a bit of oil, too. I'll have to read up on what the thinking is behind the oil filler having a relief valve to the air box...
- The gear shift indicator doesn't work. I discovered that the white plastic piece that bolts to the right side of the steering column was broken, leaving it with no spring tension to move the indicator. I found a donor cluster at the junkyard, replacing my badly cracked/fogged/faded lens with a nice clean one, but the white plastic piece was broken on that one, too. So, I've got mine epoxied up and setting overnight. We'll see if it holds solid tomorrow when bolted back on, but if not, I figured out how to remove it from the cluster if I find a replacement.
- The dome light doesn't come on with driver's door, and I've got the base model with no map lights, so pitch black unless reaching across to open the passenger door. The wiring to the door plunger is a chopped up mess, so that'll need replacing. I picked up a
Mustang dome light
, which if I can get wired up with the addition of a +12V line, at least I'll have manual control of the map lights.
- The Grant GT steering wheel has no horn, just a dummy button... I'm hoping the PO didn't clip the horn wires when they installed it.
- The HVAC panel was faded to the point of being almost completely illegible unless the headlights (backlight) were on. I picked up a replacement at the junkyard. I still need to find a matching knob, as one of my three is broken. Ditto for the headlight knob, but I found a replacement for that. Much broken dash plastic from people yanking it off without knowing there are bolts behind the horizontal trim pieces. I should be getting some "new" interior stuff this weekend.
- Hazard button only brings on 1 of the 4 lights, but all of the turn signals work. You'd think they'd be one and the same.
- No cargo area light, just a blank cap on the interior side of the center brake light with wiring to it. I assume I'll be able to plug a light straight into that when I get one.
- Tailgate lock cylinder was missing, and
my dash switch is defective
, working in only one direction. I found a spare tailgate cylinder yesterday and checked with a locksmith about getting a key made for it ($35; can't key it to my key because it's from an '86 with different key profile), but am still hoping to get a full matched set this weekend.
I've got Ford Racing M12259R301 spark plug wires, AutoLite 25 plugs, MSD 8227 coil, MSD 8482 cap & rotor, and fuel and air filters on order. It sucks to do all the tune-up work without knowing if the "drive" side of the "runs and drive" equation is carrying its weight, but so it goes. I pulled the ECU (F2TF-12A650-AHB ... '92-93 Bronco F150 5.0L AT E40D) and didn't see any indication of capacitor leakage or board damage that might explain the startup behavior. I cleaned the IAC, but it wasn't particularly gunked up or sticky. The throttle body doesn't look bad, either. Someone must have been in there fairly recently.
The cargo area is pretty much gutted, with the fiberboard side panels being in horrific shape and the spray painted back seat not being anything I would want to sit on, let alone waste all that space having in there. Even the back side windows were spray painted black... I thought that was just bad window tint in the auction photos. Hours of scraping later and I've got them good and clean. I plan on putting 40/20/40 F250/F350 seats in up front, and maybe building side storage units with jump seats in back.
This got quite lengthy and text-heavy. I'll come back through and add some photos to liven it up.
So far, I've only taken pics of aspects I'm diagnosing or fixing.