Discussion Starter
•
#1
•
hello everyone!
i have read every thread about wiring off road lights on this forum, and i thank everyone for the help.
i still have a problem with my wiring...i keep blowing 30amp fuses.
heres a bit of info:
- 2 x 6" procomp lights
- 2 x 8" procomp lights
- each set of lights has its own 40amp relay and wiring harness.
- the 40amp relay has a circuit breaker between it and the battery.
- the switches are 30amp, (with little red indicator light)
- the switches are powered, therfore, i have a 30 amp fuse between them and the battery.
Here's my Wiring Diagram: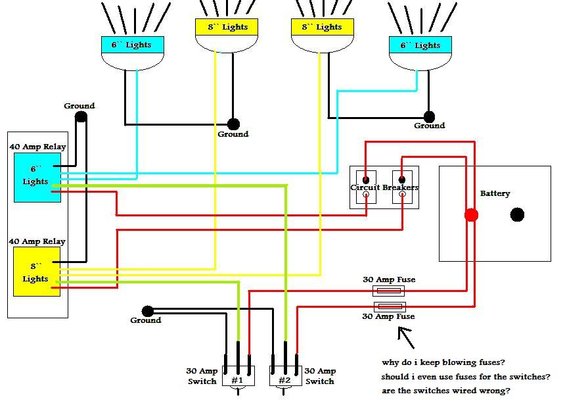 symptom:
when i "beleive" everything is finnished and completed,..i turn the lights "ON" to test if everything works....it does!!! whoooh hooo! :beer
however, when i think everything is fine, i turn them back "OFF", i blow my fuses for the switches! :banghead
i am not an electrical expert...but i know a resistor between the battery and the fuses will lower the voltage,..but is this really necessary?? has anyone else taken this route???
POSIBILITY #1
i think i wired my switches wrong, and that may be the culprit.
i'll post again, after i try tinkering with that.
POSIBILITY #2
instead of running a seperate power-wire from the switches to the battery, should i try tieing them into the relay power-wire instead??
i'm thinking of just getting circuit breakers for the switches too, so that i never blow another damn fuse! but is that really necessary?
can anyone post a picture of their wiring job? how it looks in the engine bay?
if anyone has any input, it would be greatly appreaciated.