Discussion Starter
•
#1
•
Hey, guys. Don't know if this goes in this forum, or, not so educate me if it doesn't.
So, I needed a new battery earlier this week. There's a guy I work with who used to work in the industry as a commercial battery installer/tech for 13 years. I'll spare the details of who he worked for because I don't wanna get anyone in "trouble". Anyways, he told me there were certain batteries available, called "seconds" (2nd's), and they're much cheaper than retail.
For example, if the posts have not been molded perfectly and some of the lead has spilled onto the case, it's a "2nd". If the case has a minor blemish, it's a "2nd". If the battery had been sitting on the shelf for too long and needed a re-charge, it can no longer be sold as "new" and is considered a "2nd".
These types of batteries can be found at most battery stores and are, usually, a significant discount over retail. You just have to ask for them. They have to be identical in fit and function to be sold, though. They just have some, minor, blemish to where they can't be marketed as "new", despite, for all intents and purposes, they actually are.
I ended up getting one of these 65 series AGM batteries for $55, out-the-door, because it had sat on the shelf and needed a re-charge. Also, for some reason, it didn't even have a label on it, yet. It had come straight from the manufacturing plant. It's a Deka 9A65. It
retails
for, around, $165-$215 when "new". Nothing in the world wrong with it: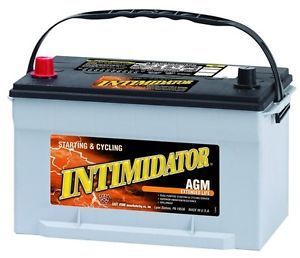 Just thought I'd share some money-saving tricks-of-the-trade from the battery world.
Eric