Discussion Starter
•
#1
•
Ok, first... I was telling Saltlife about this and figured I'd post it for everyone who has a dog and likes to take Doggie out in a topless Bronco, but doesn't want poor Doggie to jump out...
Go to hardware store, buy 2" ring. I think its 2", may be 1.5". Removed the seat latch bar, put the ring on it, reinstall bar.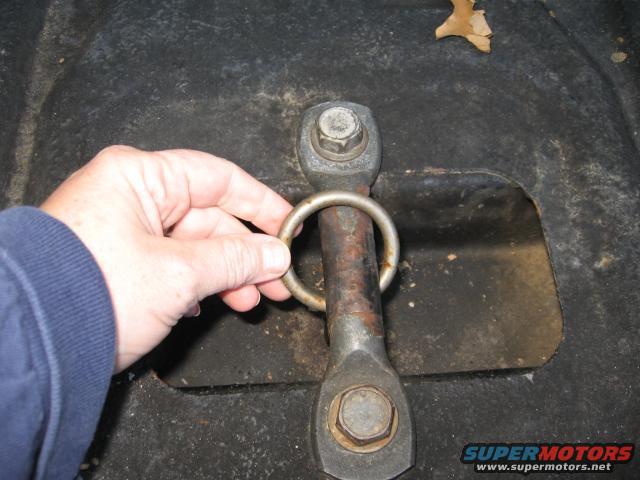 And no, it doesn't get in the way of the latch... I've had the seat fall backwards and land on the bar unintentionally... the ring has been on there for years and I've never had a problem with it being in the way...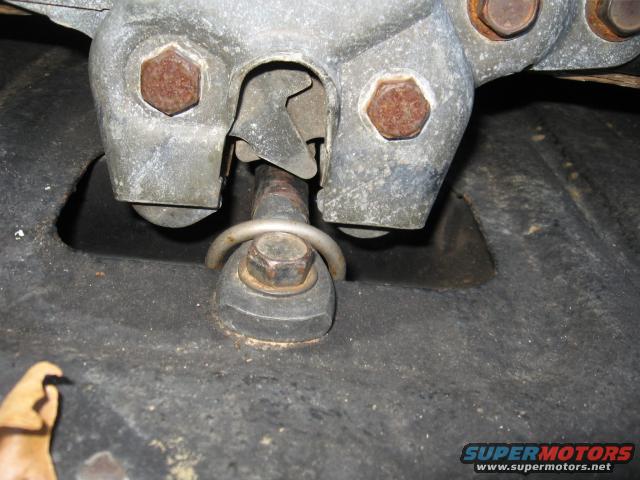 Now all you need is the short length of whatever to secure Doggie.
I use the yellow rope, I'll explain it in a minute. I've also used the chain - eh, chain is noisy and stuff, but it'll work in a pinch.
If you're a real Boy Scout and can tie knots, then buy some rope at the hardware store and tie the rope up to two snaps... with swivels! The swivels on the snaps/hook is important...
Its a little over 2 foot long.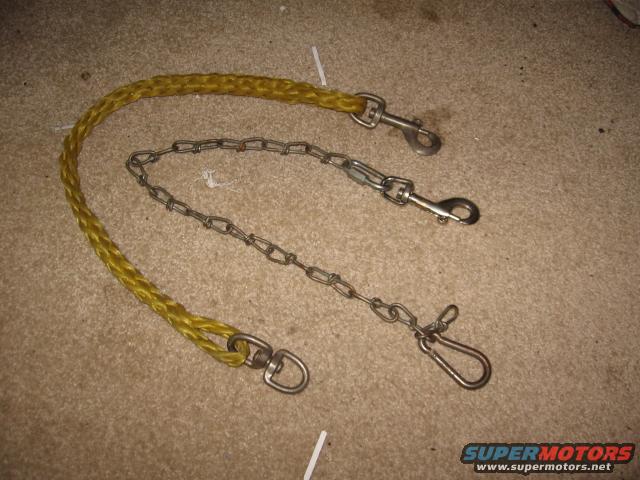 Obviously the yellow one needs another snap on the end, to get it on the ring... der.
If you're super lazy, go to your local feed store, Tractor Supply, or other horse supply place that sells horsey stuff and ask for a trailer tie. It has a nifty "panic snap" on the end that can be released with one hand. These come in 2 foot and 3 foot lengths.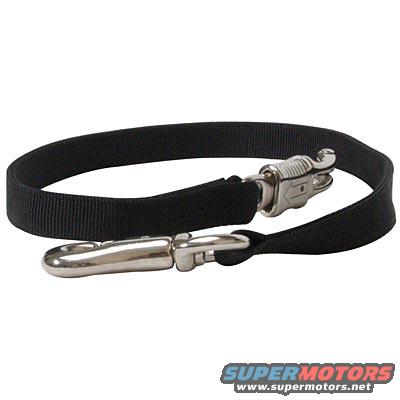 Ok, the yellow rope is super cool. Its nylon I think, the stuff you can burn and it melts and sticks together...
When you push it together, the weave opens up... you can kinda see the other end of the rope inside the open weave.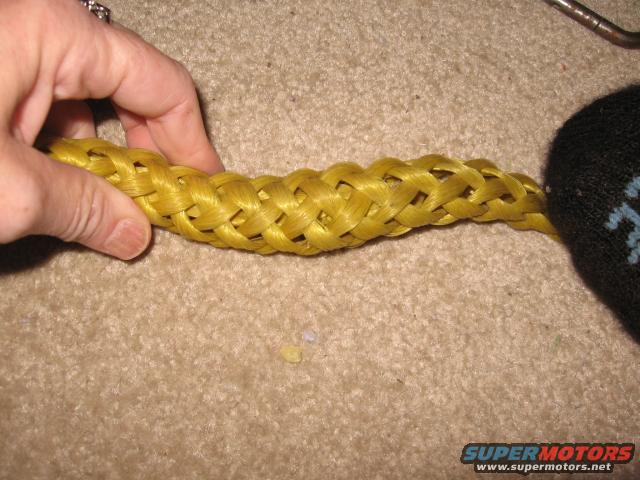 You can stuff the end of the rope inside itself and then when its pulled tight, there's no way its coming apart like Chinese finger trap. I think you can get this stuff at again, the horse place that sells bulk rope, or the hardware store. Its good stuff, we make all our trailer ties and cross ties for the horses out of the stuff.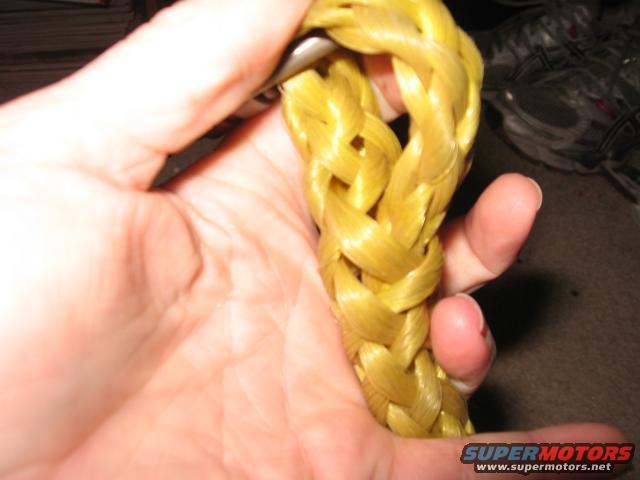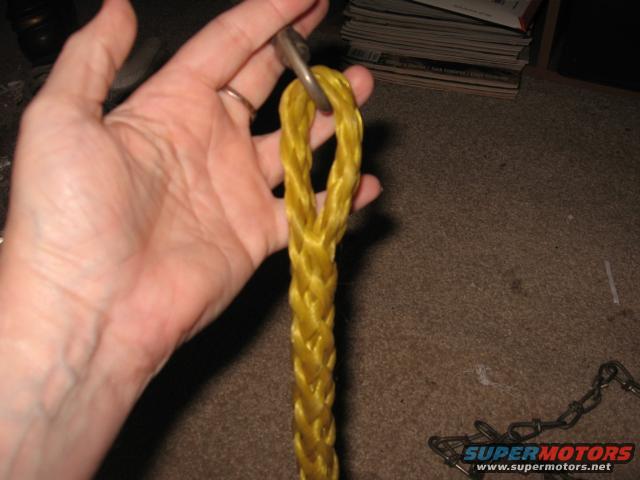 Pulled tight...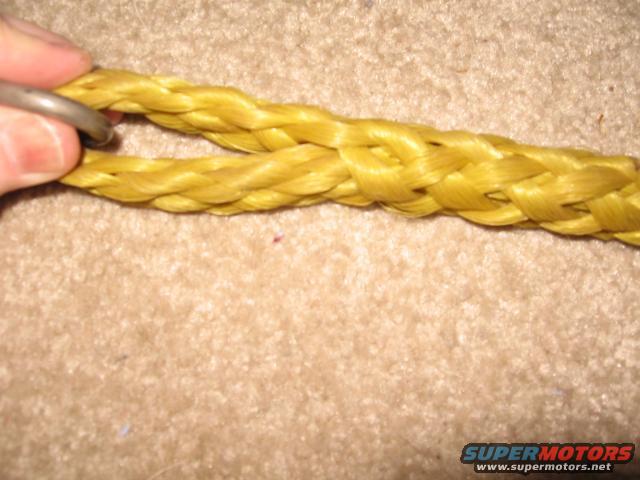 Ok, here's some super secret sneaky Bronco pics...
Skyjacker shocks...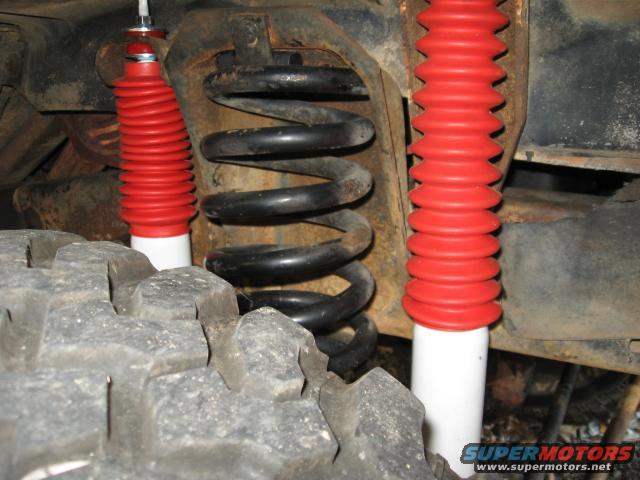 Procomp 6" leaf springs... :toothless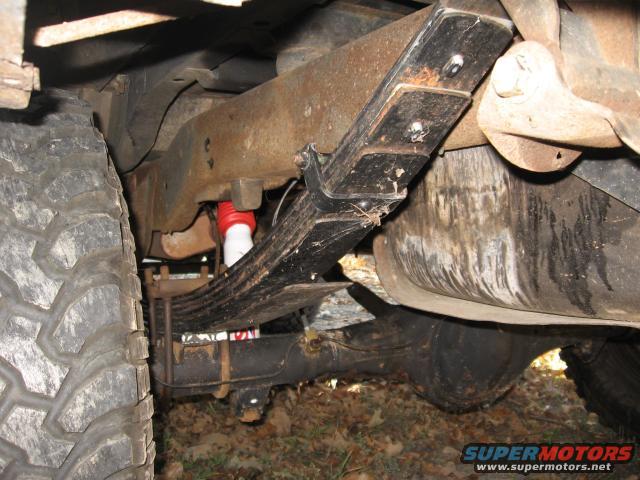 Lifted Brutus Bronco... :haha