OK, my clock spring arrived today from rockauto.com and of course I was totally gentle when opening it cause I thought it would jump all over the place and unwind and all that crap . . . didn't happen! It's secured with this while tab that you'll see in the picture. Again, sorry about the camera quality.
What you will need:
Mines were all metric so I needed a 10mm, 15mm, a puller (I tried, couldn't, ran to store, picked one up for 15.99), Phillips screw driver, pliers and that's it! My truck is a 1994 with cruise control and an airbag.
So, here's the kicker, I DID NOT disconnect the battery! I know, I was shitless too but since I read here that you could do it without it I thought I might as well put an end to all the discussions once and for all. You'll have to read on to see if the airbag popped or not! Actually, not only did I not disconnect the battery, I had the radio on cause I thought if I'm gonna get busted up I might as well go out in a song.
Here is just the steering wheel, nothing special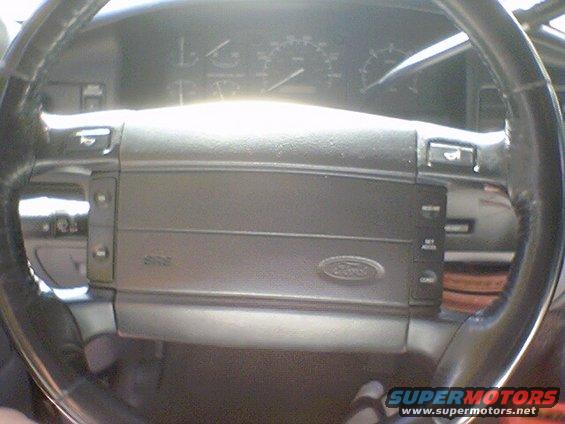 There are 4 screws in the back of the steering wheel, they aren't that tight so just start loosening them up one by one using a 10mm (I used deep socket to make the reach easier but you don't have to).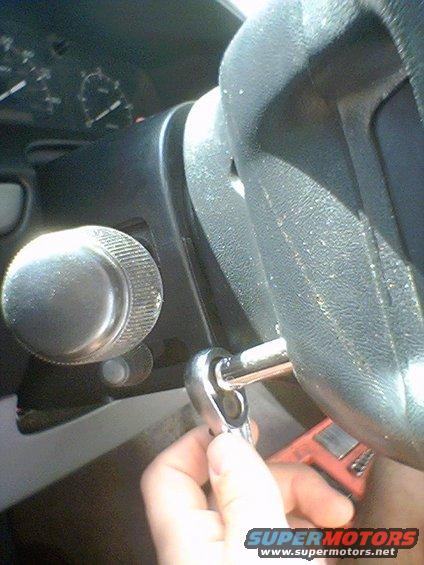 Next, GENTLY pull the airbag module out. I say gently because you don't wanna pull so hard to rip the connection out and mess up the wires. You can see the yellow wire which goes to the airbag from the clock spring. And another goes on the left side which you'll see in another image slightly better.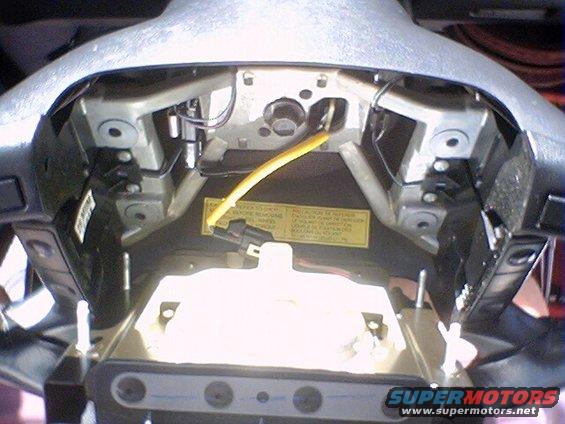 Here is another angle so you know how it looks.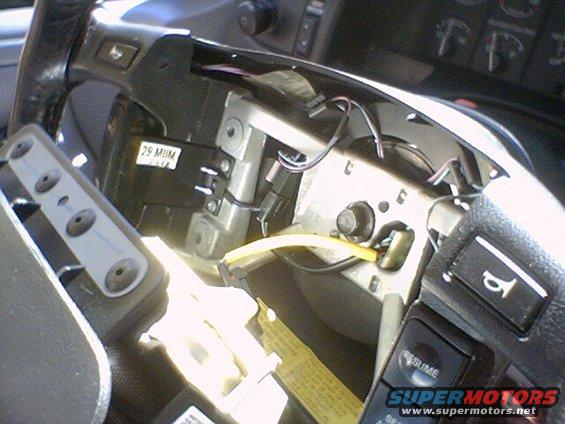 And here with the red circle is the other connection to the clock spring I was referring to. It sits on a shiny metal tab that you can just slip off before you can disconnect the wire.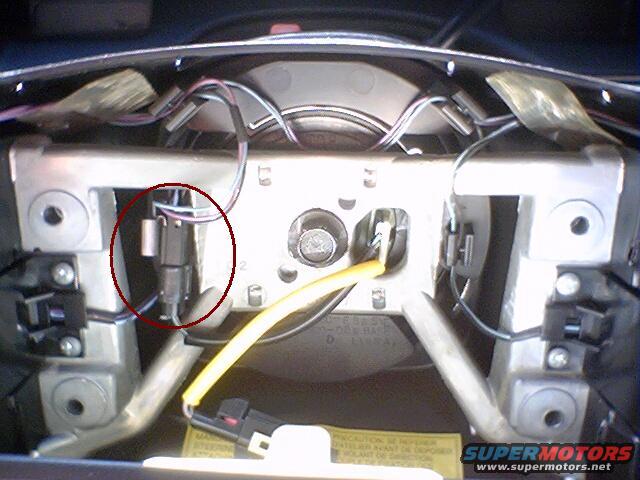 Here is the part I ordered from rockauto.com, the new clock spring which is identical to the one in my car. Notice that white three pronged thing sitting on the clock spring? That's the piece that keeps the thing from unwinding which you'll be taking off right before installation.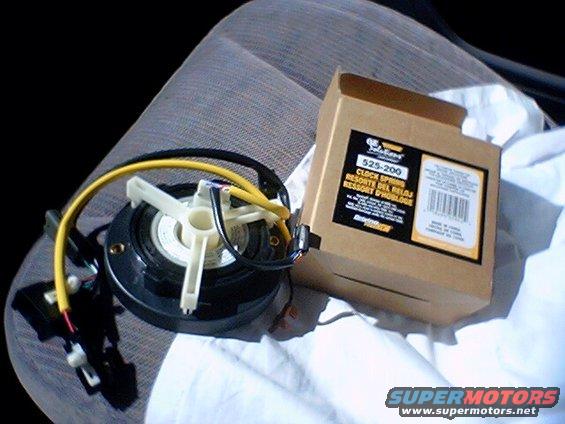 A little closer up of the box in case there is any useful info for anyone.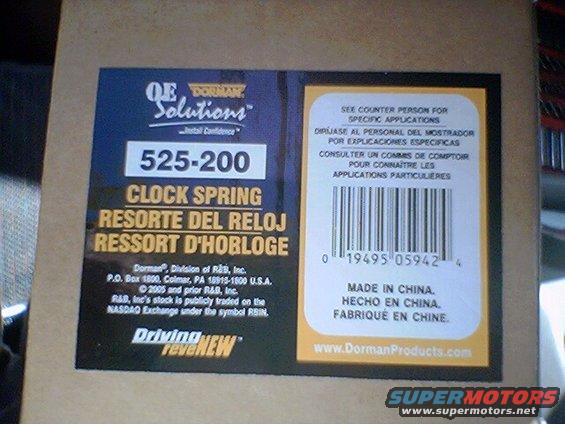 Here is that metal tab I was referring to. Just slip it off first.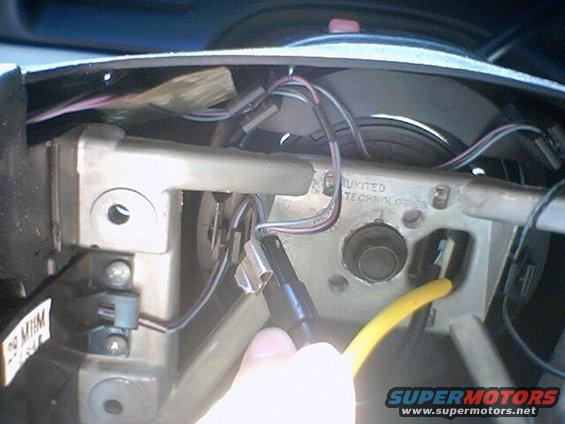 Then you can just disconnect it. It has a little plastic tab that you can lift with your nail to help separate the two harnesses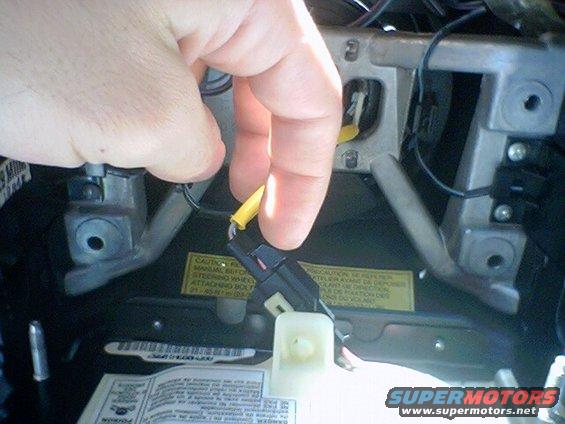 This is the one for the airbag, just undo it by pressing down the plastic tab that is sitting right under my finger. Here is when I took off my glasses, moved my body out of the way and prayed to all Gods from all religions!!
And…. Nothing happened! I hold the airbag module victoriously in my hand.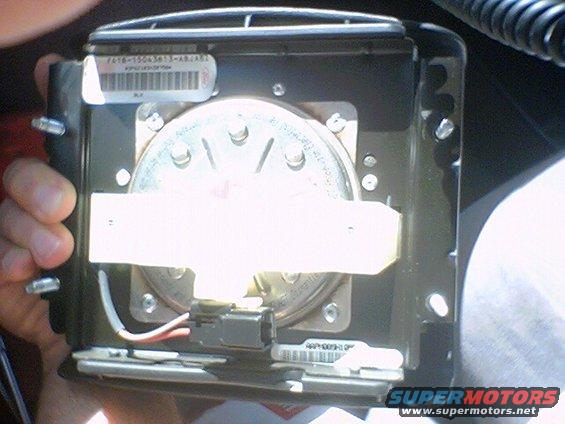 This is what it will look like when that airbag thing is out.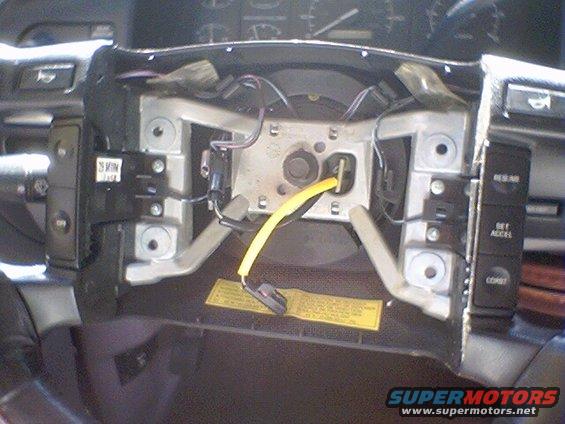 Ignore all the other wires, they look like they would prevent you from pulling the steering wheel out but they come off with the wheel, no sweat! Here is a 15mm for the center bolt.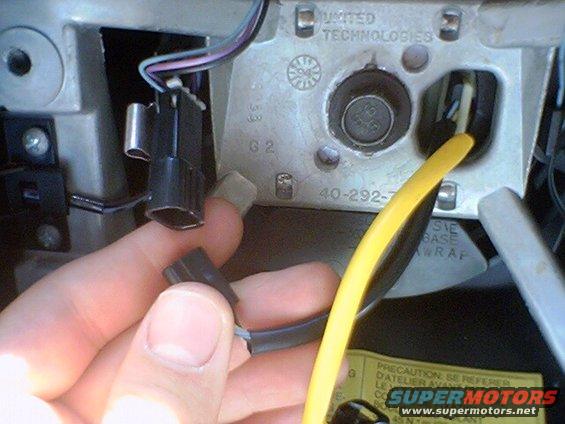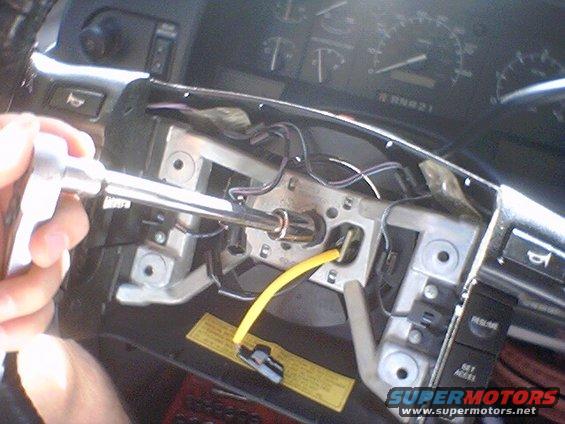 I tried, I used every muscle in my body and couldn't get it off. I didn't want to break the tilt wheel so I really just gave it a good couple of tugs and pulls and even hit the top and then the bottom like someone else suggested and it wouldn't budge. So I drove over to pep boys (I hate them but kragen was too far in LA traffic) and got this baby for $15.99.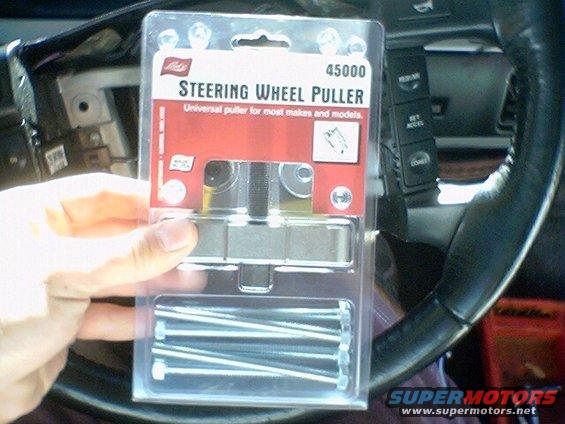 You'll see two holes where the long silver bolts will go into. I had to leave the center bolt in to make this piece of crap work because the head was so small that it would have messed up my threads. You'll know exactly what I'm talking about once you do it, don't worry, nothing fancy. Once you have it in there just gently using a 14mm turn it clockwise and you'll totally feel the steering wheel loosen and you're done. Take it off and put it on ebay!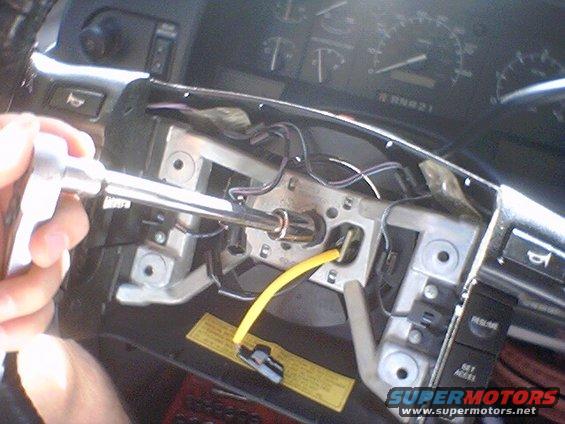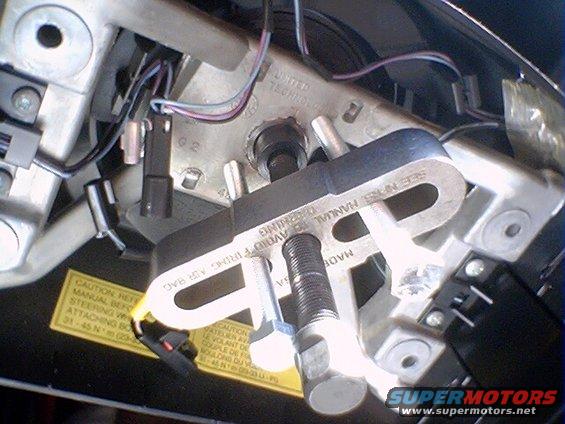 Here the steering wheel is totally loose. Before you can put it away you have to get those two wires (black and yellow) through that hole they are coming out from and that's that.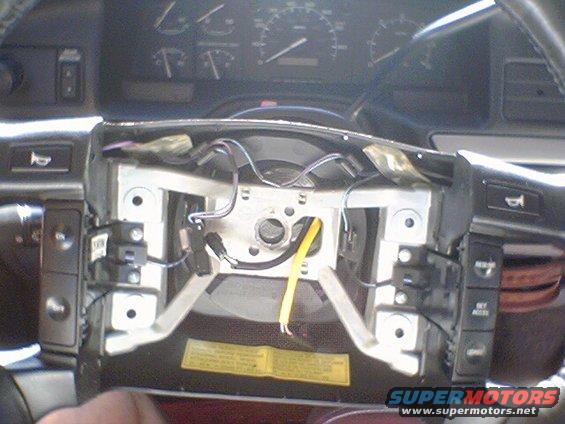 This is how it will look. Those are three gold torx screws you are looking at. Don't know what size, sorry. Definetly small though and very little torque on them.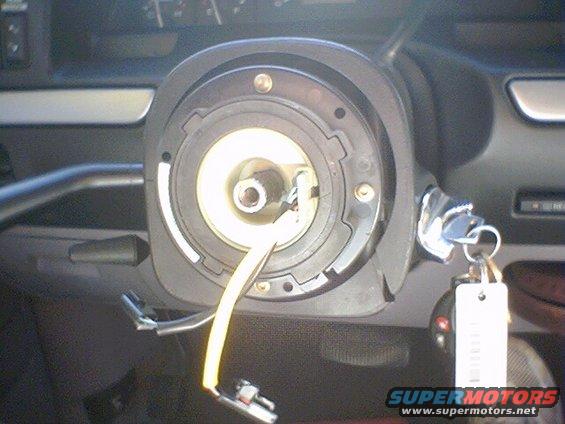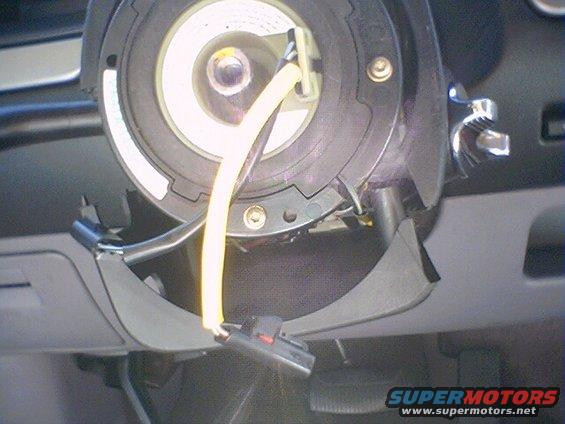 I didn't know I had to undo the steering column too but I think you might want to do that ahead of time. There are 3 screws on the bottom which are Phillips. Pretty simple right? Well, this is what you'll get if you don't listen to Steve . . . for some reason the bottom piece wouldn't come off and then I remember reading that Steve said that there is little fVcker Philips screw hiding in the back. You can't see it here.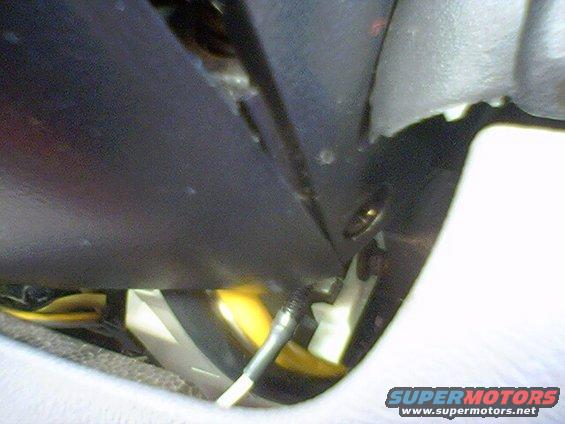 Voila! You see it? It's holding the two black panels together. I'm catching it at a tight angle. And of course that is why the lower dash needs to come off. Don't worry, real easy!
There is one on the right I think maybe 7mm? I don't remember.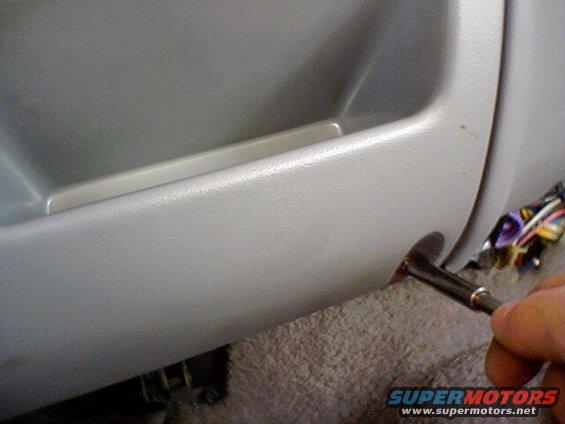 And one on the left, below the fuse panel and above the brake release. Once you take those bolts out just gently yank on the panel. There are 4 places where it clicks into. I found it easier to take out the fuse panel face and then reach in there and undo them because I can't stand breaking plastic interior panels; it's like breaking teeth.
See how easy you can get to that little %#@# now?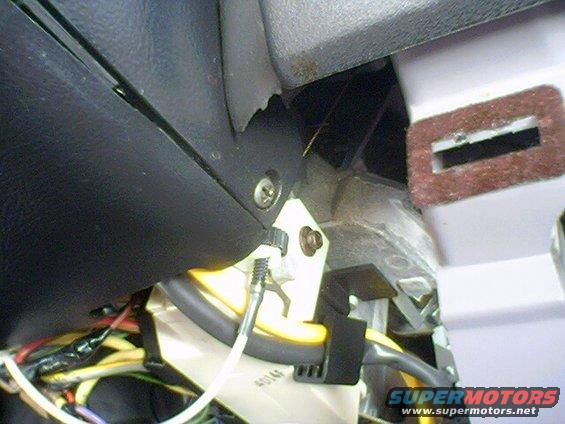 Next, using the pliers grip the metal part of the tilt wheel lever and turn it counter clockwise. I kinda took off some paint which bugs me cause I'm anal like that but oh well, maybe a cloth next time would be smarter.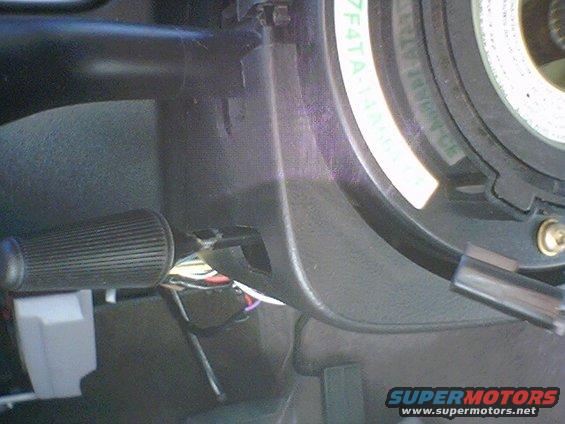 Here you see the lower steering column panel off. And these two harnesses I circles are the ones that the clock spring connects to. You need to undo them. They each have that little plastic tab that allows them to be held in place to the metal frame, I pulled those off first before disconnected the harnesses.
Here you see both unplugged. Now start snaking the wires out of their little hiding spots so they can come out.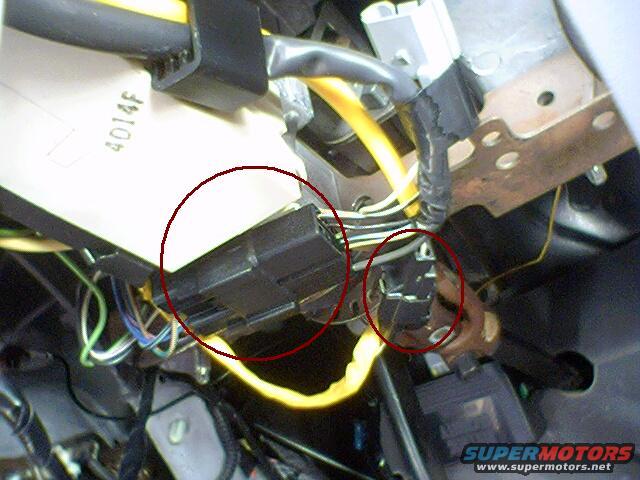 Here is a little plastic thing that just snaps open with your finger. Undo it and take the wires out of here.
Now, the key harness needs to come out too, I know, what a bitch and I didn't know that either but easier than I thought. Just put the keys in and brace yourself for a few minutes of that annoying sound that you get when keys are in and door is open. Anyway, just push a little pin or something into this hole you see to allow for the key cylinder to be release and then pull out and turn clock wise with the key at the same time and it'll come out. Let me know if this doesn't make sense and I'll describe better.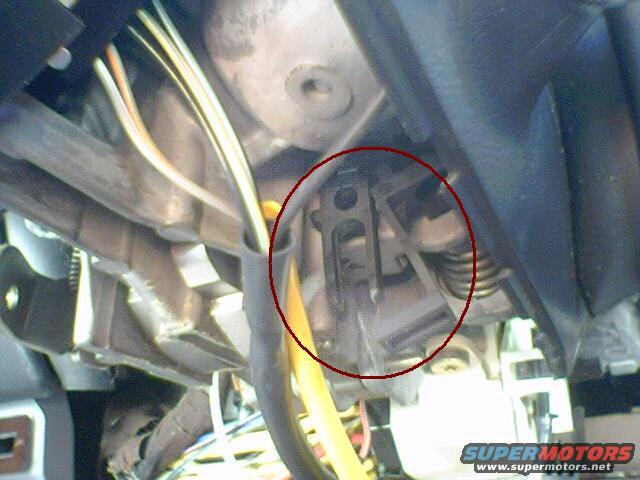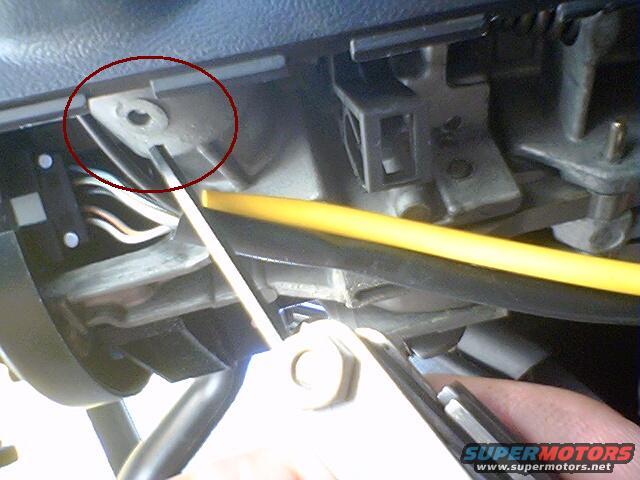 Here you see the whole cylinder comes out pretty easily. Not that it'll happen but remember the orientation so you don't waste time later figuring out which way it goes.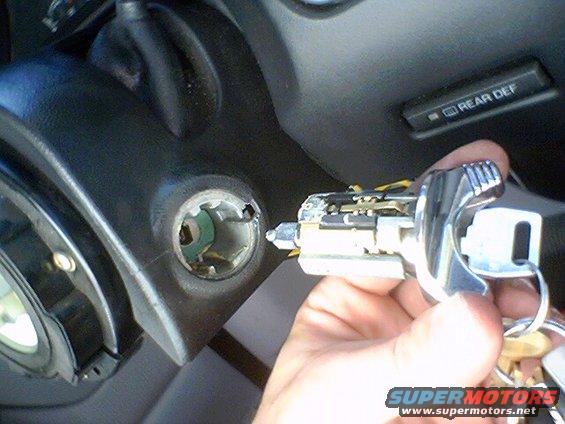 Awesome, hardest part is done. Your wires should be dangling like your bulldog's balls and you are now ready to remove the clock spring.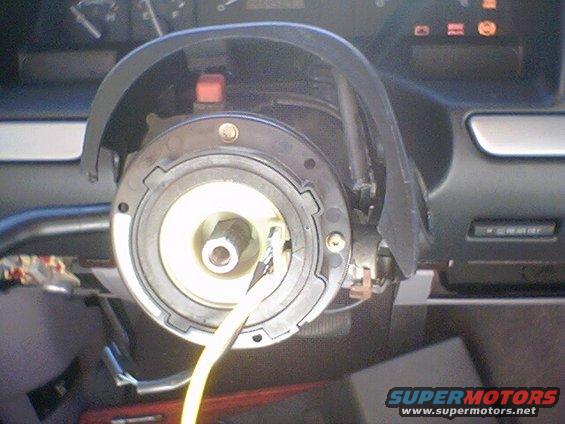 Notice that there is this little brown plastic thing left behind from removing the key cylinder. This just slips out easy.
Unplug using the torx driver undo the gold screws.
Here is the old clock spring after removing it.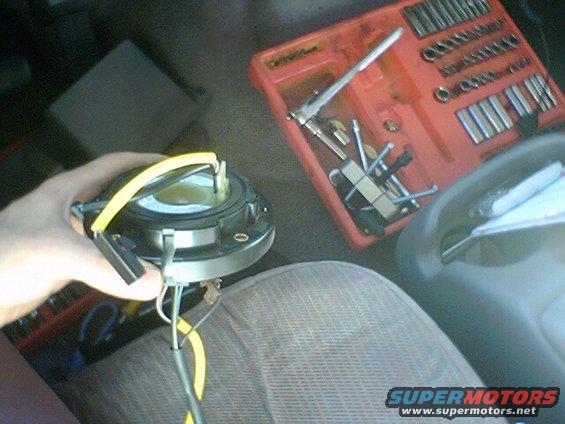 Now put the new one in just the way the old one was on and line up the holes for the torx screws. After you tighten those screws you can take off that three prong plastic piece. Just gently squeeze the bases (no need to unscrew it at the screws) and it'll come right off.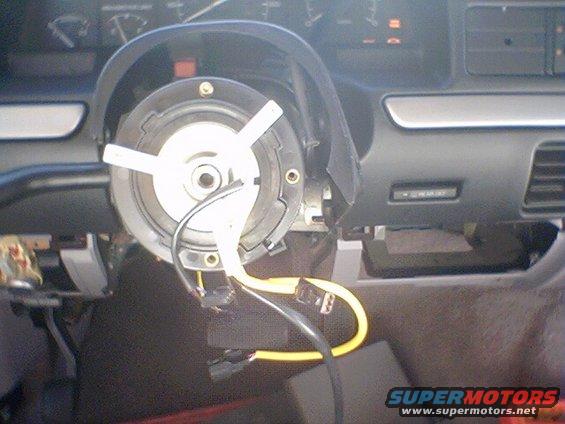 Don't forget to put that plastic piece back in the key cylinder housing.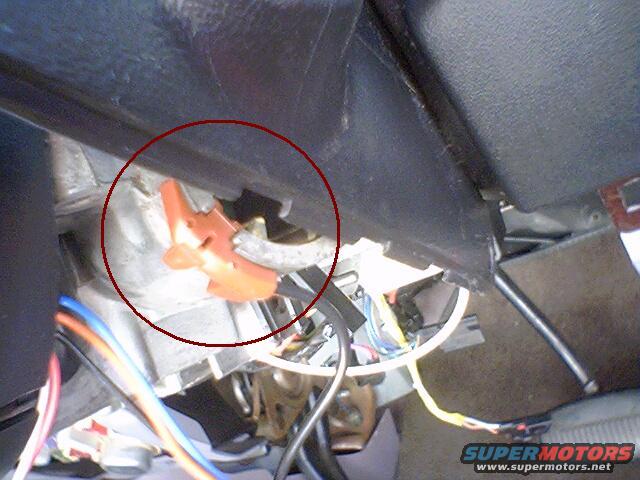 Nothing fancy left, do everything in reverse. Put the key back in and turn it until it clicks into place. Then run the wires down under the steering column nice and neat. And connect the two harnesses under the column. Then run the wires through the steering column, tighten the center bolt back (torque to 35-40 which is what my steering column said). Then connect the two harnesses to both the airbag unit and the other harness and screw the nuts back in behind the steering wheel and you're done.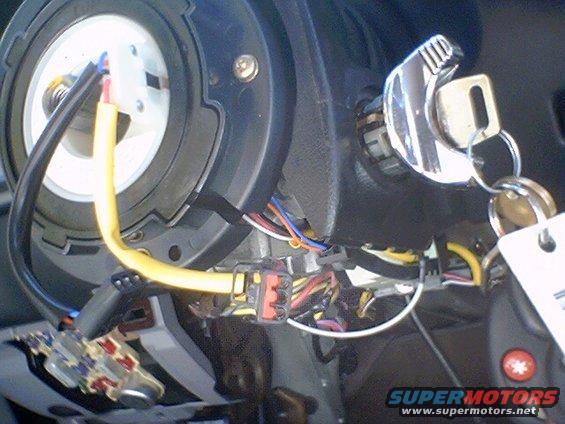 You can't hear it but first time I've ever heard the horn since buying this car. Watch out you slow drivers, now I can actually let you know what I think of your driving! :beer j/k