Discussion Starter
·
#1
·
Column Shift 4wd, w/pics
Back story:
The truck in my sig started off as an automatic 4x2. I converted to manual 4x2 with parts I had lying around, and then converted to manual 4x4 when I got ahold of another TTB housing.
The driveline that got swapped in was the 435 and twin stick 205 from the red truck in my avatar. However in the wreck, the twin stick shifter got all bent up, i assume from the guys leg hitting it.
So being out my shifter I put the truck together with a shifter only on the rear output. It gave me 2wd hi and lo, and if i needed 4wd I could pop under the truck with a screwdriver to shift it.
Well, the vibes my truck gets from the front DS got annoying so last night i decided to hook the automatic column shift linkage up to the front shift rail on the 205 deciding it would be the cleanest and easiest setup possible since adding a second stick to the 205 would involve dropping it out- not fun.
So here it is:
Turnbuckle and tabs of 1/4 plate is the linkage from the t-case to the bellcrank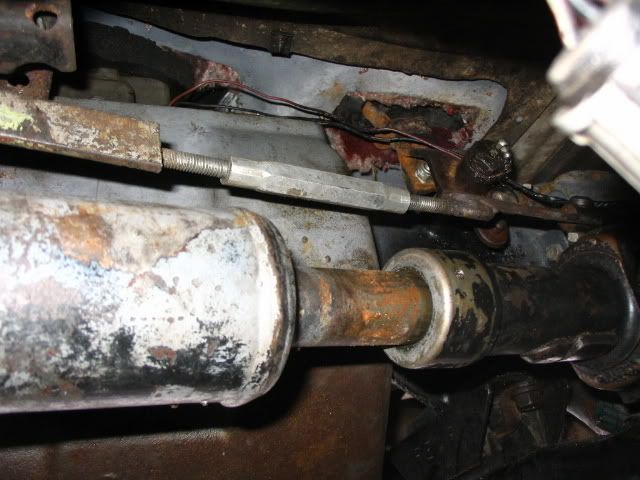 red bar is the factory AOD bellcrank
Here you can see where I extended the factory column to bellcrank linkage 3" to achieve clearance between the clutch fork and the linkage that goes to the t-case itself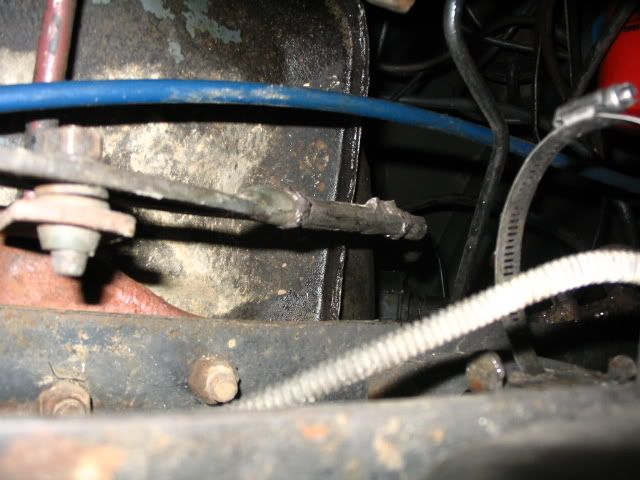 I still have to do a little tweaking, i can't quite hit low range on the column. To fix that i'm going to have to rotate the tab on the bellcrank that attaches to the linkage from the column so it is a little more horizontal.
Justin