Discussion Starter
·
#1
·
Short version of the long story......
Took the Bronco in for State Inspection and the garage called and said my blower motor was bad and the truck won't pass without a working defroster.
Since I was New Mexico for a conference, I told them to go ahead and replace it, I'd be home in a day to pick up the truck.
Got home, went to get the truck and the guy at the counter says that it wasn't the blower motor, but probably the heater resistor. Hmm says I, "What about the blower motor you just put in?" After some talking, I got a new blower motor for $25.00 (no labor) which is cheaper than I can buy one at Advance Auto. (Twenty year old motor replaced... what the heck :thumbup)
The other day, I got around to replacing the resistor and it still didn't work?
Must be the blower switch thinks I? So I pulled the heater panel out and found this plugged to the back....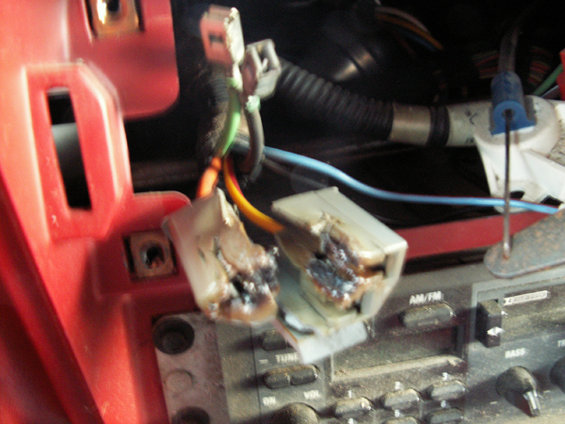 Sorry for the blurry pic..... but as you can clearly see, the harness end of the plug is burned to a crisp!
Went to the junk yard looking for a donor end for the harness and of the 2 F-150's and 2 Broncos (87-89 range) I pulled apart, 2 of the 4 were also burnt up and one showed excessive heat signs. :scratchhe
I hadn't used the blower in a while, but it started like a lot of other issues folks on FSB have complained about.... low speeds quit first, then eventually it quit altogether.
So... moral of the story, next time you're in there messing around or if you've been having heater problems, it might be worth while pulling the trim off and twisting out the four screws and taking a look at your blower plug harness?