Discussion Starter
·
#1
·
alright, so i have meant to start this for a while but have been busy. i bought this in late january in tucson, az. it was nearly exactly what i wanted, which was a nearly stock 1996 with gray interior, 351, and manual windows & 4x4. and, most importantly, it was in my very modest budget. so i flew out and drove it the 930 miles back to dallas. it ran great. i averaged 15-17 mpg doing up to 75 mph, as speed limits allowed.
the stats:
1996 Eddie Bauer
351w / E4OD transmission
Tow package
Electric windows & 4x4
"red" & tan
223,000 miles
relatively new & good shape BFG a/t
newer warn hubs
k&n intake
newer radiator
good brakes
good:
rust free
straight body
stock condition
door windows work
doesn't seem to burn oil
doesn't seem to leak any brake or transmission fluids
if it was a house, they'd say it has good bones
bad:
leaky rear-main seal
no a/c
back window/tailgate sensor problem
leaky back window
incredibly soft steering
engine won't warm up properly
no heater
only one speaker worked
airbag light is on
worn out interior
front bumper is damaged, needs to be replaced
i don't have a lot of pics but i'll post what i have. i took the bronco to three different locally respected 4x4 shops to look at that roll cage. i told them my goals for the truck and asked if i should have them tie it to the frame. the consensus was this: they could do it, but it was unnecessary. the cage was well built and would be sufficient for a basic rollover.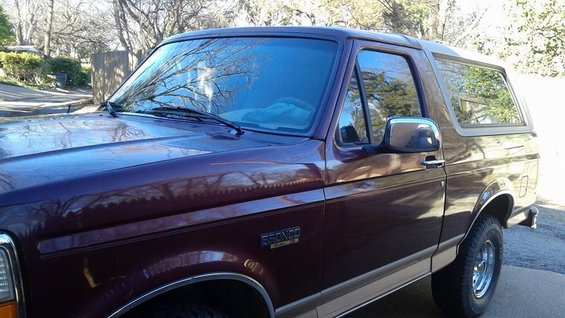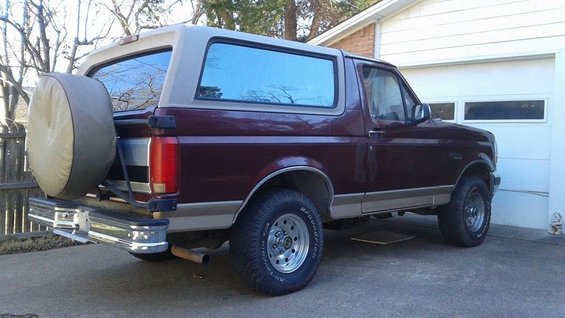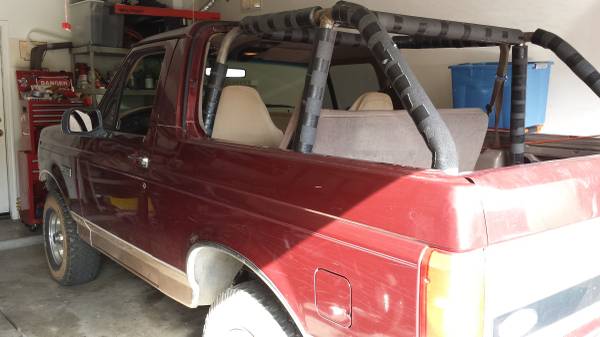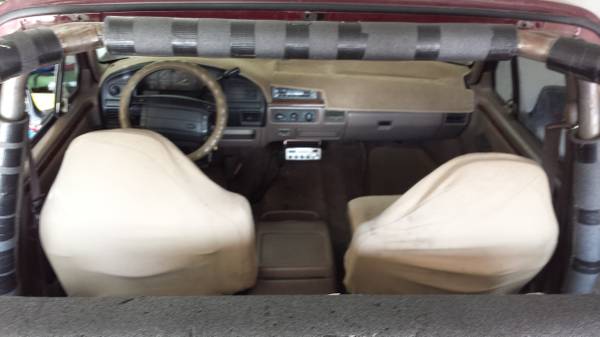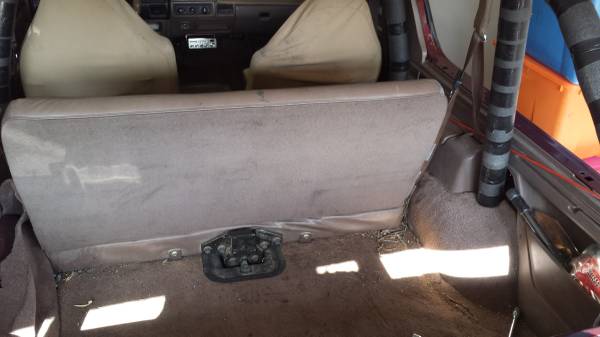 the updates below are as of this posting, so between january and march 2015...
*toss dash cover
*replace front seat covers
*pulled K&N intake and replaced with stock intake
Did a tune-up
purolator air filter a24378
summit high power ignition coil 850507
plug wires - taylor spiro pro spark 74058
distributor cap napa FA134
distributor rotor bwd D214
spark plugs motorcraft SP501
pcv purolator pv68c
fuel filter purolator f64711
the wires looked like the originals but the plugs had been replaced. cap & rotor were worn but not horribly. I did the ignition coil just because, really.
It was running super cold, so I pulled the thermostat to discover it was installed backwards. Replaced that and it helped, but still runs colder than it should. when the engine warms up, the heater works. so, thankfully, i was right that they were directly related and i don't have a separate heater core problem.
thermostat 195* stant 45359.
*pulled radio & door speakers, replaced with marine radio & speakers with fresh speaker wires. back speakers are waiting to be installed.
Did some serious suspension & steering repairs
*new moog radius arm bushings (the PO had replaced the radius arm bushings but they left out the spacer. so the bushings were loose.)
*1 moog axle pivot bushing. i need to do the other axle pivot bushing.
*new moog tie rod ends and drag link
*remanufactured a1 cardone steering gear box
*checked rear window motor, and the motor is good. i got the window up once with someone pushing on the driver side of the tailgate. i'm thinking window sensor. as a stop-gap, i've wired leads to the motor and run them outside the tailgate. for now, i hot wire the motor with my makita 18v battery.
*back window leaked. discovered the tailgate skin was sheered on the passenger side. when the spare tire was not attached to the tailgate, the window sealed. when i closed the tire swing, the weight pulled on the skin and it pulled the seal away from the window. i got the skin welded (no, i can't weld) for $20 and now it seals. we'll see how long that lasts
this was my first attempt to fix the leaky rear window
here it is welded back together. i need to do some clean up, but for now at least the window shouldn't leak. and that was job 1. you can also see the leads for the rear window motor coming out of the back, too.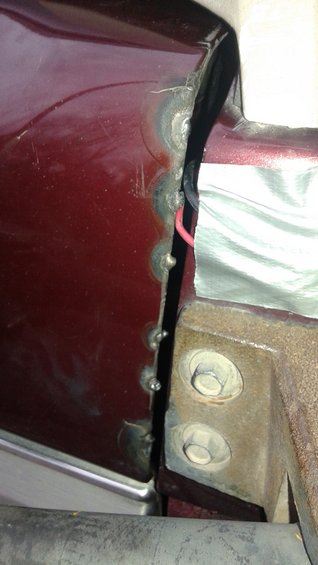 *investigated the airbag light. it's flashing code 21, which is a sensor not attached properly. i looked and found the sensor was not attached at all. the guy who built the roll cage removed it to run the cage there. i have to sort out what i'm going to do with that later
*replaced the driver seat belt latch because the old one was not stock and fit very poorly
*mounted the CB antenna to my tire swing.