·
Some assembly required!
Discussion Starter
·
#1
·
I've been working on this for a while, so I thought it was about time to start a thread on my SAS. I'm doing a coil SAS using a '79 Dana 60. Here is some of the hardware that I'm using.
First off, the star of the show; a '79 Dana 60, shown here in the very rough condition it was in when I bought it. I only paid $617, which is a steal, but it was cheap for a reason. Busted ring and pinion, bad king pin bearings, axle tubes completely full of crap, missing some brake hardware, some broken bolts, and the vent tube snapped off. The previous owner apparently decided that it would be a good idea to pound the brake rotors with a hammer for a while, then spray paint over all of the built up grime and crapiness so it would look good on eBay.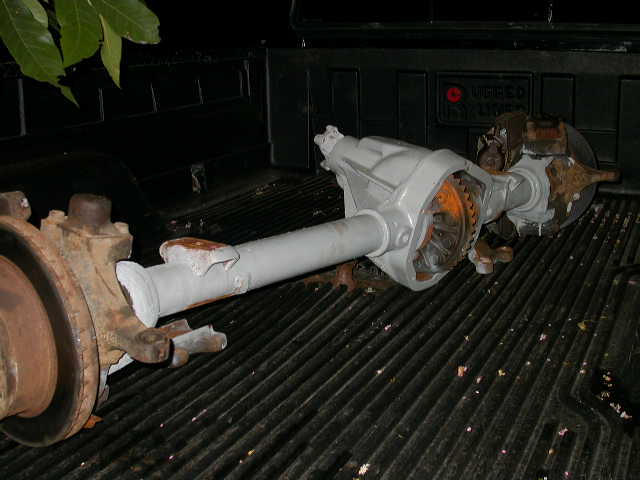 So the axle was in an extreme state of nastiness. I disassembled the whole thing and stripped it all bare with a wire wheel, then repainted it all. Let me say that I highly recommend the use of a respirator while doing that many hours of wire wheeling. I would look up from it and there would be a fog of rust particles hanging in the shop air. That
can't
be healthy to breath. Hanging the axle from the rafters like this makes it way easier to paint it, because you have access to the whole surface at the same time.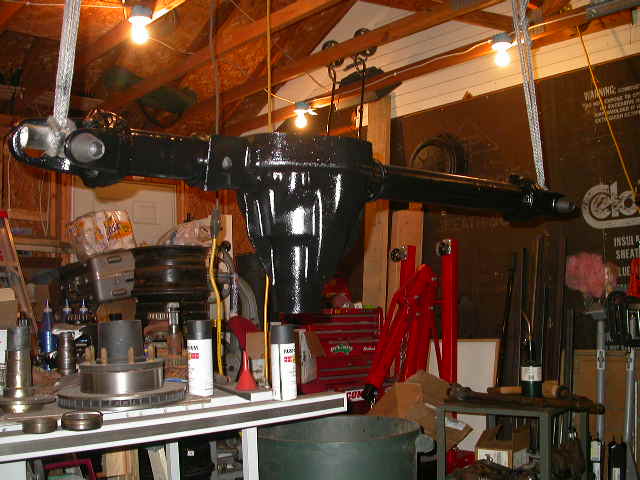 I'm installing an ARB and 4.88 gears. Let me tell you that it doesn't make you feel any smarter to drop your brand new ARB on the floor and bend the air grooves on the end cap.:madder In fact, it makes you feel homicidally angry, just in case you were curious. I do have to say though, the guys at ARB were great to deal with and their customer service is top notch. Apparently that end cap is a part that is commonly damaged in shipping and they generally have them in stock. The box that the ARB is shipped in is...less than impressive. Anyway, right now I have repaired the carrier, but I just haven't gotten around to actually finishing the gear setup.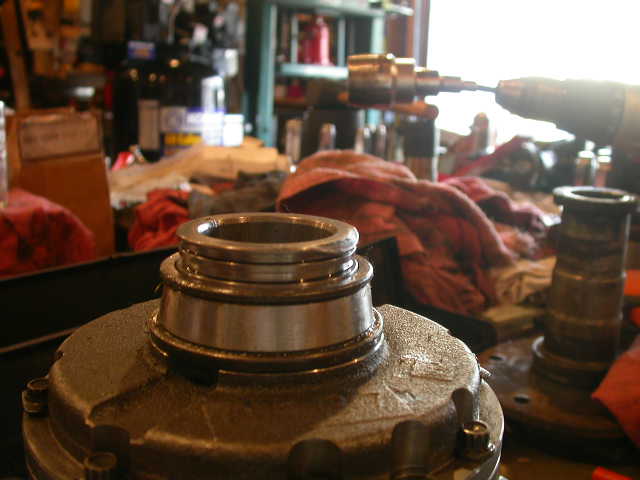 So anyway, back to the hardware. I'm using the perennial favorite, Cage radius arms. I bought these from a guy over on Pirate whose project never quite got off the ground, so I saved a
little
money over buying them new. The down side to that was I got the old style frame mounts instead of the new ones for our C-frames. No big deal, it's just a little more fab work to do the frame boxing under the mounts. Also in the pic, 14" Bilstein 5150 shocks for the front. I'm going to finish the SAS before I buy shocks for the rear just to make sure I get them the right length.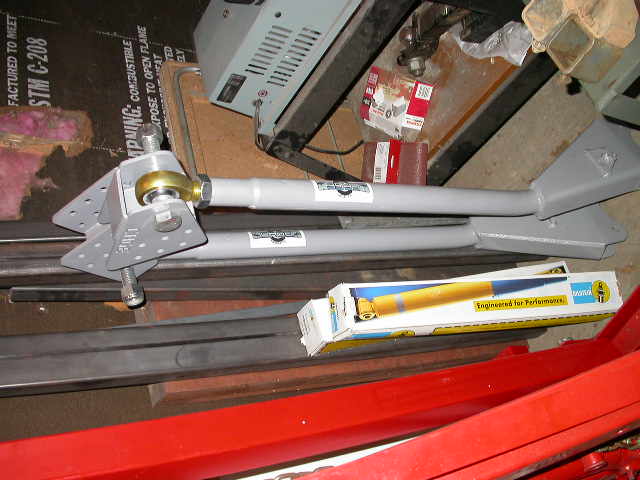 I'm using Cage's weld on axle end radius arm brackets instead of wedges. That should save me quite a bit of time I think.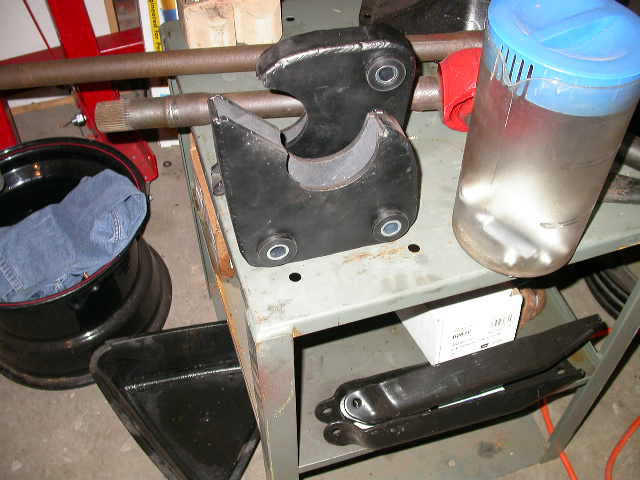 Alloy USA 35 spline outers, stock inners, and Spicer U-joints for the axles with Warn Premium locking hubs. Ruffstuff Specialties excellent 3/8" thick diff cover.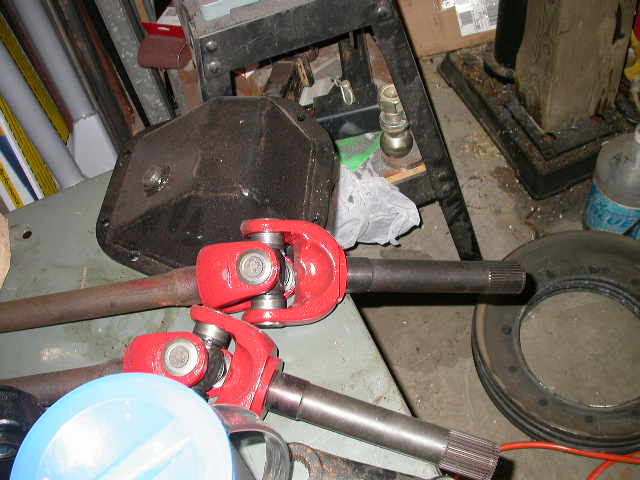 Stock Ford shock towers for a '97 F-350.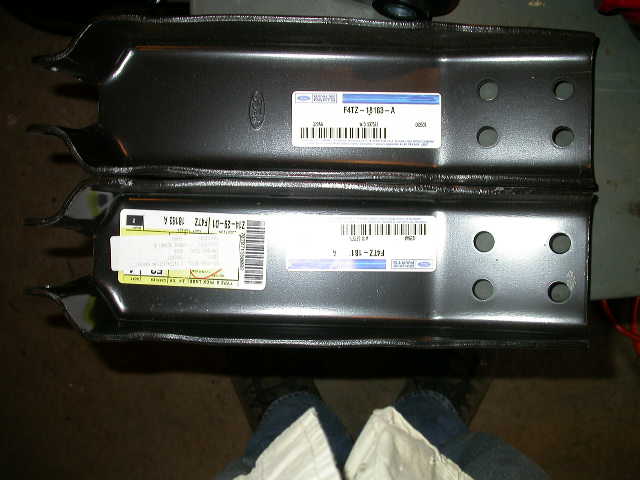 And for some reason I don't have a pic of them, but for coils I'm running the new Cage 6.5" progressive rate coils. I'm really looking forward to seeing how these perform.
So anyway, time to get to work. First step, out with the TTB. Sorry, no TTB flip off pic. That axle got me home too many times after some stupid hard wheeling to do that to it. Still, what is a TTB worth? When I sold mine it was worth $9.50/100# at the scrap yard.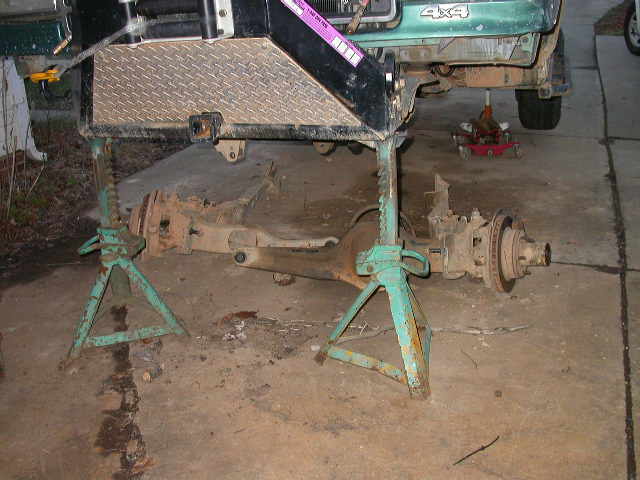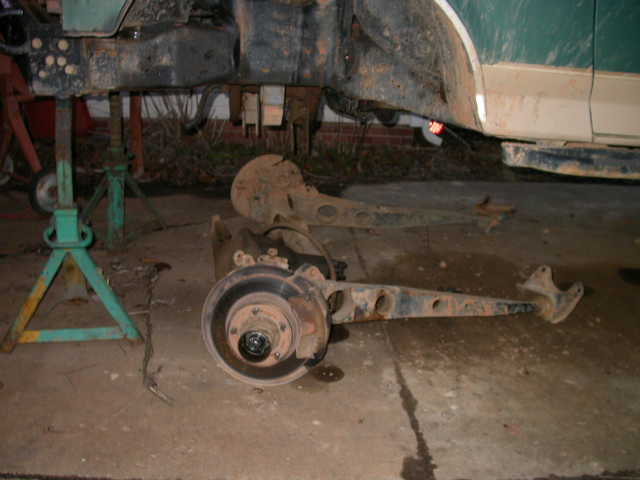 I did think that this was interesting though. Apparently I managed to bend the passenger side TTB arms drop bracket. Looking back on it I'm pretty sure that I bent it labor day when Johnski and I went wheeling at Uwharrie by ourselves. I developed a death wobble on the way home from that trip, but at the time I was under the impression that I had damaged one of my Swampers. I thought that because I could run the tire pressure up to 50# or so and the death wobble would go away, and I never felt it at all with my street tires on the truck. I never saw the bent drop bracket until I dropped off the TTB arms. Oh well, it won't be a problem now, although it
might
affect their resale value.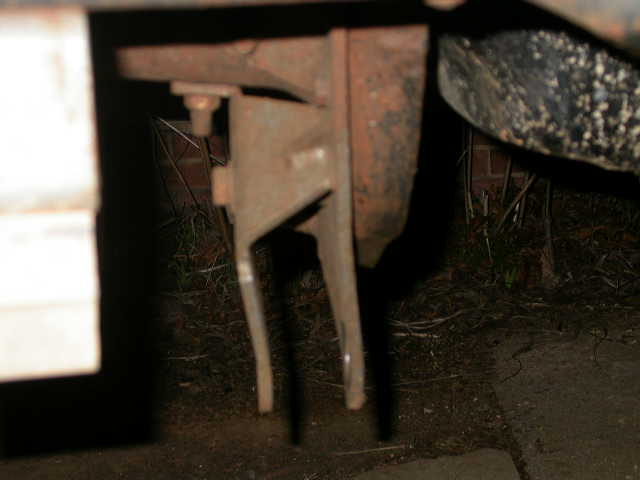 Off with the TTB coil buckets. I was happy about two things; one was that the frame wasn't very rusty behind the buckets, and the other was that I'll never have to do that again. I will say that having a 7" grinder made it MUCH easier than it would have been with a smaller grinder, but it's still not a fun job.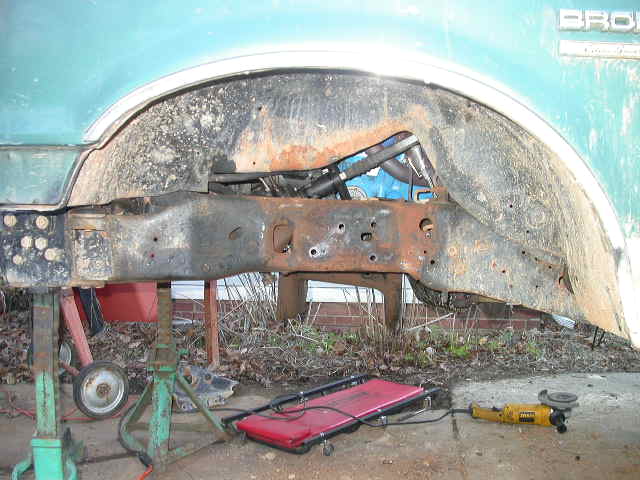 Painted the rusty(est) part of the frame, and mounted the coil buckets. These are stock buckets that I pulled off of a '77 pick up at the Pull-a-Part.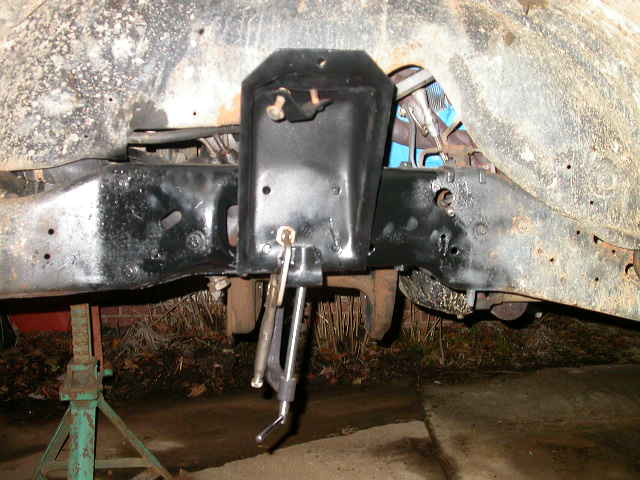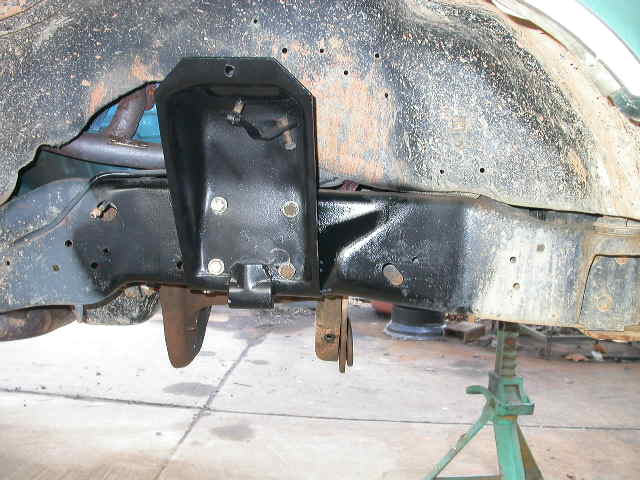 So after looking at Bossind's SAS thread I really liked his tranny cross member, and I wanted to do something similar. I thought I was going to get lucky and be able to use this one, but no such luck. This is MagnumPI's old trailer hitch with the hitch part removed. Unfortunately though, it sits about an inch and a half too tall. Ultimately it would have worked, but I just wasn't willing to sacrifice that ground clearance. That's all right though, my efforts weren't entirely wasted. Now I think I'm going to use it as a cross member on the F-350 when I get around to building an anti-wrap bar for the tow rig.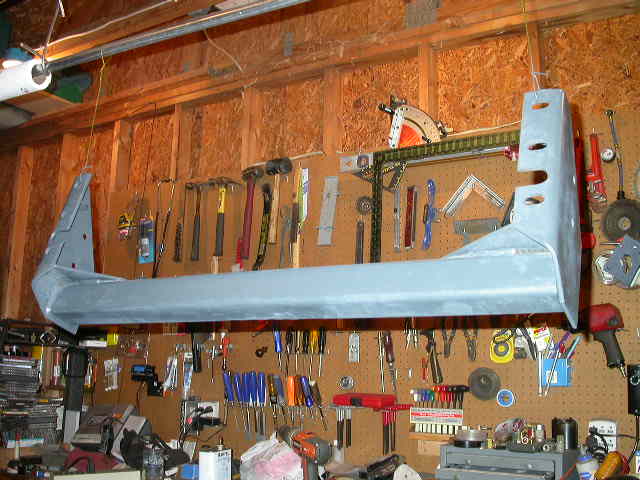 I still liked that design though, so I fabbed one from scratch, just an inch and a half shorter. It's a little beefier to because I used 3/8" thick angle for the end pieces.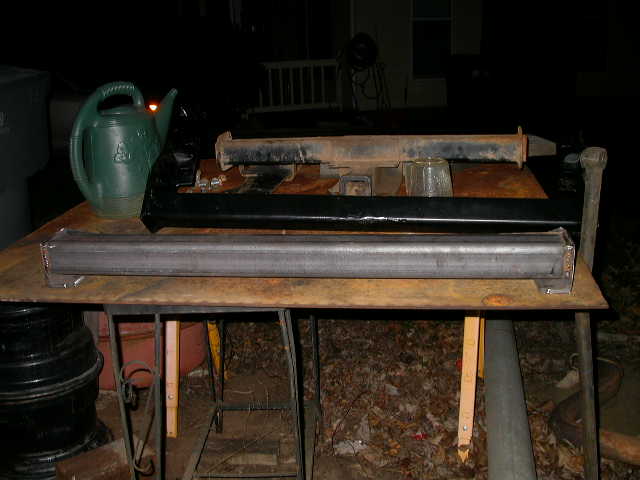 So then the tranny cross member obviously needs a foot for the tranny to bolt to. This was the first one that I built.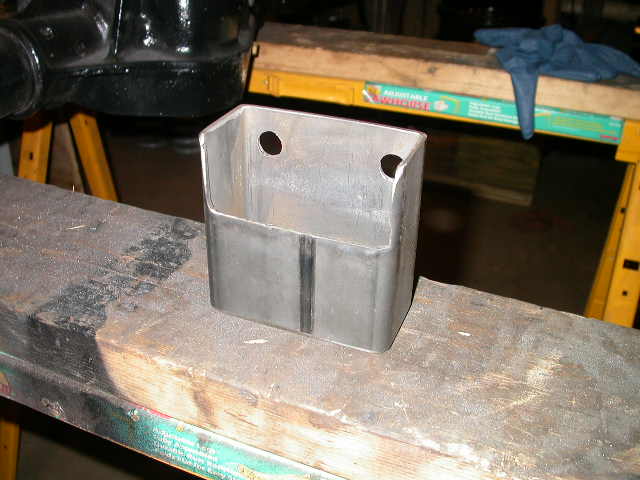 It was not the most impressive thing I've ever built, although it probably would have worked out fine. I decided that I wanted something stouter.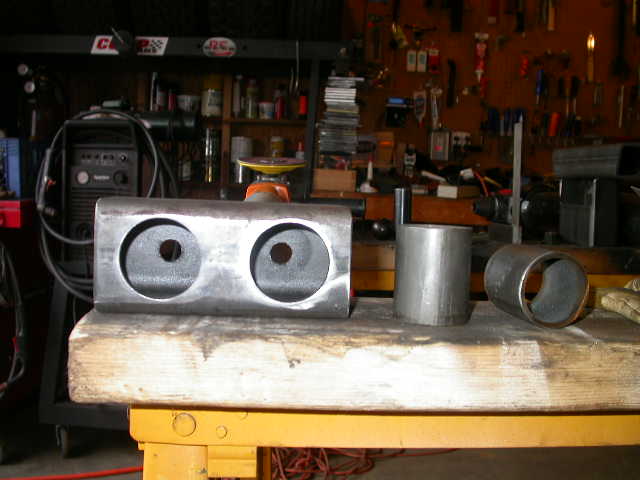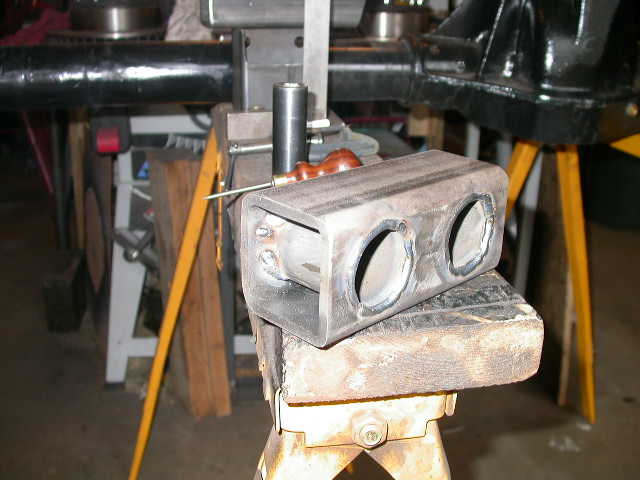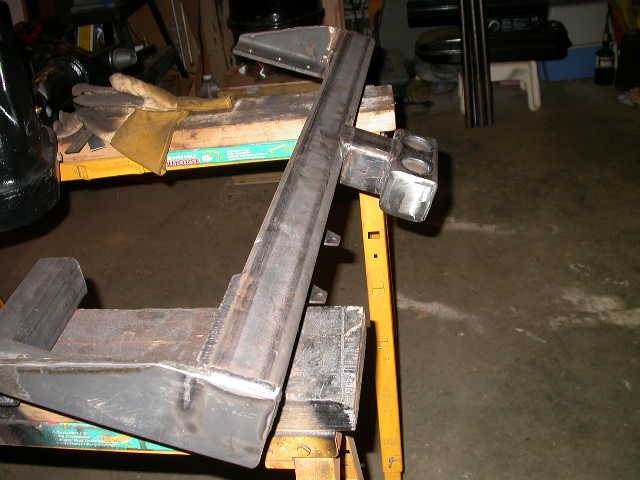 The new foot was made out of 1/4" wall 2.5" square tube, with 1.75" DOM inserts to keep mud and water from getting into it and rusting it from the inside out. The end caps are 1/4" plate. Much beefier, so no strength issues here. In this pic you can also see a couple of little tabs that I welded to the cross member to bolt the tranny wiring harness to. I've heard several horror stories about that wiring harness getting wrapped around the drive shaft and causing untold misery, so I didn't want to trust keeping it out of harms way to tie wraps.
Here it is in place bolted up under the truck. You can see that the Cage radius arm brackets actually hang down just a touch lower than the cross member does. This will also make a nice place to anchor the front half of my new t-case skid plate that I need to build.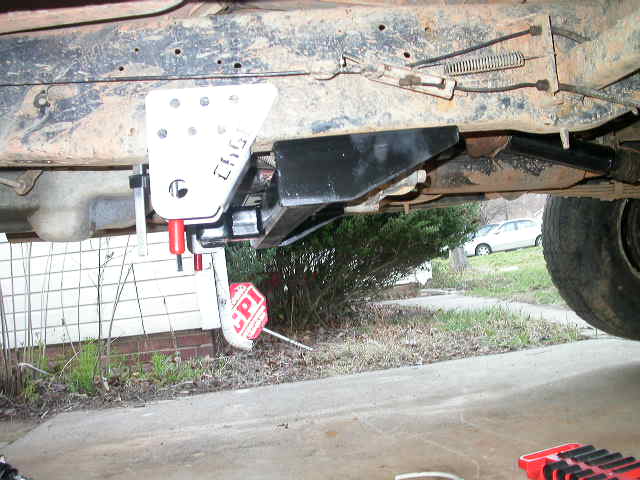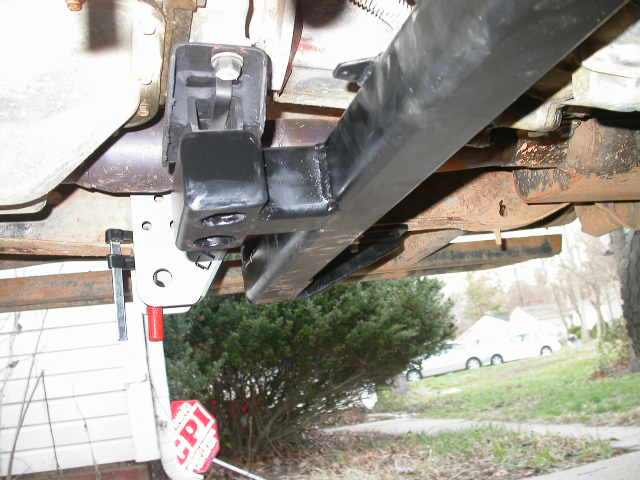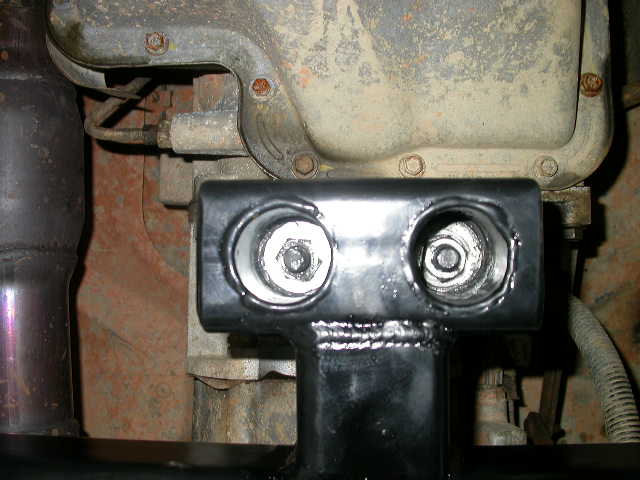 And that's pretty much what I've completed so far. More to come shortly!