Discussion Starter
·
#1
·
Oh no what have I done?!!!
Found this 96 XL on CL earlier in the week
Front bench! Its comfy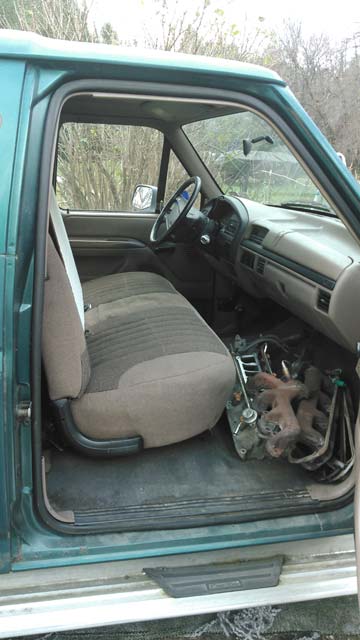 The worst of the rust
The reason it was on CL: PO pulled heads thinking it needed a head gasket and found a cracked block instead:banghead
That was the end game, after that it just sat in his yard.
So this morning me & a buddy took the whopping 20 minute trip to pick it up :toothless
Plans:
Its a MAF truck with no motor. So im currently hunting for one. Its looking like im going to drop a 351 in, as they seems to be a ton cheaper in these parts than 302s for some reason. I did find another EFI 460 for sale :toothless but I want to keep this one a mild truck that both of us can drive. Currently researching what it takes to make a 351 run off a 302 MAF system.
So yeah it needs a motor. Windshield is cracked and needs replaced. We blew a rear brake line loading it up so it needs one of those too. Rear tires are pretty clean 31s, front are mix matched and shot. So it needs two tires as well. But did you see that tailgate?!
Mint :smokin:
So yeah, needless to say I had to snag it up. Especially when it was only $400
:rockon:rockon
Short term is to simply get this thing running, and drive the hell out of it. Maybe if I decide its a keeper, ill go 3/4 ton with it :toothless