Discussion Starter
·
#1
·
Death Valley Poker Run - Friday, March 22 to Monday, March 25, 2013
The weekend AFTER St. Patrick's Day and BEFORE Easter. Should be open for everybody!
The route covers 175 miles of unpaved, off-road fun. This does not include the on-highway mileage, so don't forget to budget for that, too. It is not, nor is it intended to be, a highly technical, sheet metal-bashing obstacle course but rather a balanced mixture of terrain and sight-seeing with basic dirt roads, slick rocks & ruts, sand dunes and low-level rock crawling. The elevation changes will be huge - from a little over 8,000' to sea level... pine trees to salt flats.
The date of the run nearly coincides with the full moon so night wheeling is possible. There are animals to look out for, including Mojave Green Rattlesnakes and scorpions.
Temperatures on these dates are on average between 54° and 85°F.
The record high for these dates is 100°F so it
could
be hot. Obviously we'll check weather conditions before we go, but be prepared for warm (or hot) weather just in case but normal high temps are around 85°. This is not the hot part of the year and we will not be going in the summer.
Those of you who follow the tv show "Top Gear USA" will recognize the route from Season 2, Episode 4 (which has apparently been removed from YouTube for copyright violations). I contacted the hosts and pieced together the route from what little they remembered and what I could see in the episode while it was still online, including the ghost town of Ballarat, the tough wheeling in Goler Canyon and the long West Side Road. We'll stop off at some of the better photo ops but keep moving for most of the days.
Wheeling Conditions from Death Valley National Park literature:
Goler Canyon: "Rough 4WD. For experienced 4WD drivers only. Section over both sides of Mengel Pass is challenging, steep and rutted."
Warm Springs Canyon: "High-clearance first ten miles to Warm Springs Talc mine and camp, then 4WD to Butte Valley due to deep ruts and rocky areas."
West Side Road: "High-clearance due to washboard, deep gravel and dust pockets."
Echo Canyon: "High-clearance first three miles, 4WD required beyond. Road to Amargosa Valley is rough 4WD, requiring short-wheelbase, narrow vehicles. Experienced 4WD drivers only. Vehicle damage is possible going over the dry fall. Travel with more than one vehicle recommended.
Amargosa Big Dune: "A playground that covers about five square miles of dunes and dips, and its centerpiece is a peak that tops out at 500 feet. These hills, about 100 miles northwest of Las Vegas, are a well-kept secret and mostly used by locals, but expect to find plenty of other off-roaders on the weekends. Remember to pack plenty of water and food. 1.5 square mile complex star dune that reaches 2,731 feet above sea level.
FRIDAY - DAY 1
12:00 - Rendezvous at U.S. 395 & Palmdale Rd. in Adelanto. (Gas station, coffee shop, restaurants, grocery store.)
Drive 84 miles from Adelanto to Ridgecrest for last dependable refueling point until Furnace Creek. (Trona Texaco is unreliable but may have gas, too.)
Drive 73 miles from Ridgecrest to Thorndike Campground in Death Valley National Park. (The last 17.5 miles are unpaved dirt road.)
Camp at Thorndike Campground or Mahogany Flats for the night.
Charcoal Kilns along Wildrose Canyon Rd.
View from Thorndike Campground
Thorndike Campground is located at 7,400 feet in the Panamint Mountains and is accessible to high clearance vehicles only. Depending on road conditions, 4-wheel drive may be necessary. Thorndike has 6 sites, tables, fireplaces, and pit toilets. Campfires are allowed unless fire conditions prevent them.​
SATURDAY - DAY 2
Drive from Thorndike Campground (elevation 7,400') to the ghost town of Ballarat (elevation 1,100').
Drive from Ballarat to Goler Canyon. Good wheeling here. Narrow canyon, slick rocks, ruts, etc. Manson Family hideout called Barker Ranch near the top of the canyon. Talc mine along the route.
Drive from Mengel Pass at the top of Goler Canyon down Warm Springs Rd. More fun here, but easier and less technical than Goler. Route passes Pfizer camp geologist's cabin and Striped Butte (good photo op).
Warm Springs Rd. meets West Side Road, where we head north toward Furnace Creek. Photo ops along the way include a split cinder cone, Shorty Harris' grave site, Devil's Golf Course, Natural Bridge, Red Cathedral.
End the day at Furnace Creek Campground or Furnace Creek Ranch if you want to stay in a hotel. The hotel sells day passes for the pool for $5.00. Sounds to me like a good place to hang out after a long, dusty day. Gas at Furnace Creek is crazy expensive, so be prepared for that.
Ballarat
Goler Canyon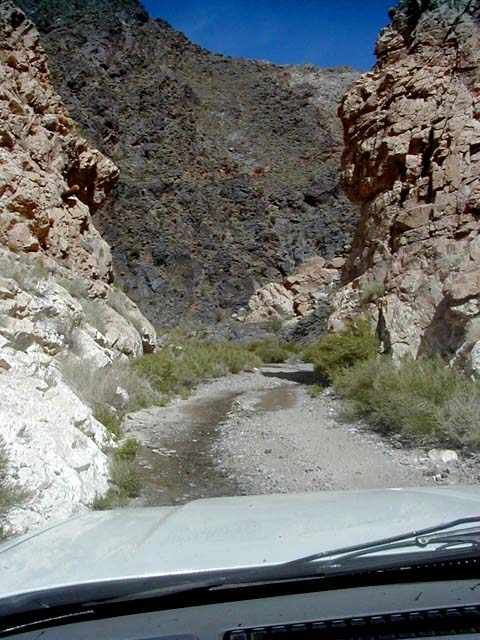 Keystone Mine
Warm Springs Road from Mengel Pass past Pfizer camp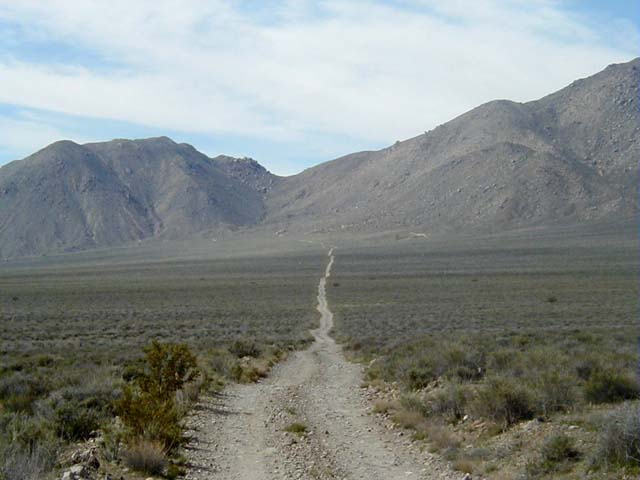 Striped Butte
Devil's Golf Course
Red Cathedral
Furnace Creek Chevron
SUNDAY - DAY 3
Drive from Furnace Creek to Echo Canyon Rd. passing the Eye of the Needle and stopping to look around at Inyo Mine.
Drive over the pass above Inyo Mine and down the back side to Lee's Camp and the Nevada state line, then ultimately to Big Dune outside Amargosa, NV.
Wheel/Play/Screw around at Big Dune and camp there for the night. Those who have to be at work for Monday morning can head home instead of camping.
Echo Canyon Rd. -- from this...
...to this.
Eye of the Needle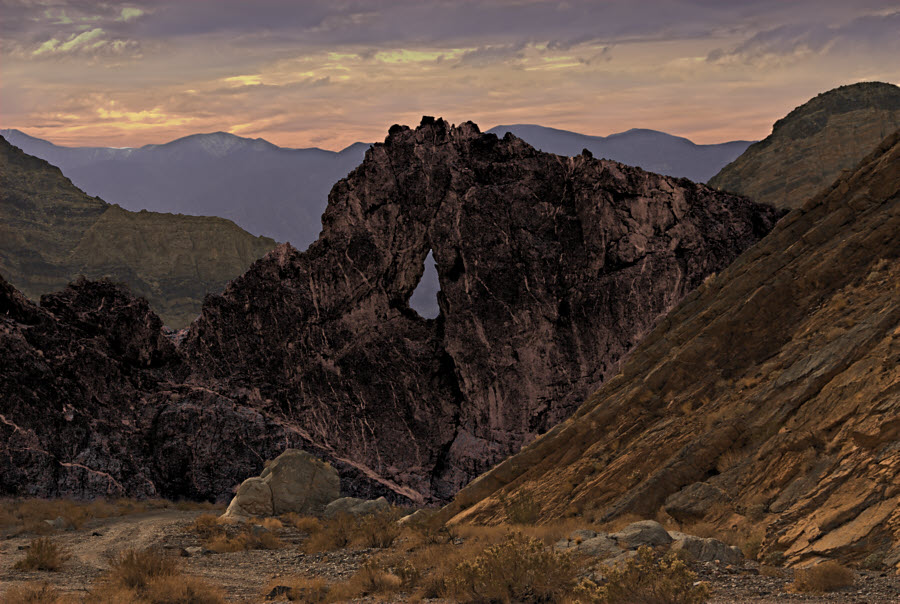 Inyo Mine
Amargosa Big Dune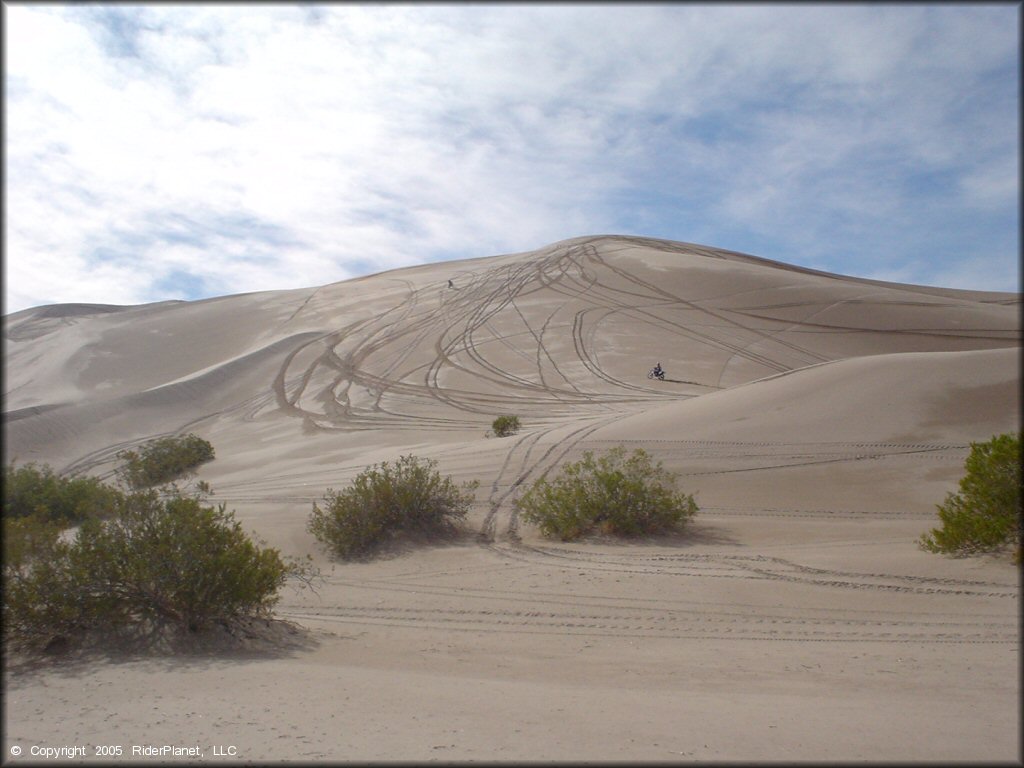 MONDAY - DAY 4
Screw around/wheel some more in the dunes, then head south toward Vegas (or home, for those uninterested in Vegas - "Bronco" John Galt - I'm looking at you).
Drive south along NV-160 toward the group split at Pahrump... those interested will continue on to Las Vegas and those who want to go home take NV-372/CA-127 south toward Southern California.
VEGAS, Baby! or Home, Sissy... depending on your plans.
Suggested Packing List... and this is only a cursory list:
- Extra fuel
- All the Water you can carry (at least 2 gallons/day during the summer months and 5 gallons for your 4-wheel drive vehicle).
- Adequate clothing (enough to survive a night out without a warming fire in the winter).
- Map and compass along with the knowledge of how to use them.
- First Aid Kit:
Roll 2" gauze
Snake bite kit
3x3 gauze pads
Alcohol wipe pads
Band aids
Gauze swabs 1"x1"
Saline eye wash
Extra large band aids
Roll adhesive tape
Personal prescriptions
Emergency blanket
Sun screen
- Shovel
- Fire extinguisher
- High-strength tow strap
- Matches - stored in a waterproof case
- Snaplight Light Sticks
- Distress Whistle and Flares
- Small Pencil and Pad of Paper
- Flash light and/or head lamp and extra batteries
- Spare Vehicle Keys
- Tool & Equipment Kit including:
Jumper cables
An assortment of screws, hose clamps, washers, nuts....
Electrical tape
Baling wire
Spare fuses
Multi-purpose knife
Multi-plier Tool
Assorted screw drivers, wrenches, socket wrenches, hammer.....
Duct tape
There are some good ideas/tips for packing
here
,
here
and
a good pre-trip checklist here
.
POKER RUN INFORMATION


Poker Run begins at the Rendezvous Point (US-395 & Palmdale Rd. in Lancaster) and ends at Amargosa Big Dune.
There will be five stations that you must go to to collect a card concealed in a sealed envelope.
Envelopes MUST remain sealed. Damaged/opened envelopes will not be counted.
When you collect an envelope, we will write your license plate number on the outside of the envelope.
Each card will be numbered with the station number.
You MUST bring one card from EACH station to qualify your hand.
You are not allowed to switch envelopes with any other competitor. Doing so will forfeit your hand.
Competitors will meet at the office at 11 PM to open the envelopes & reveal their hands.
Best 5 card hand wins.
If two hands are identical apart from the suits of the cards then they count as equal and the pot is split between them.
Poker entry fees received will cover campsite reservations, then the balance will be split 50/50 between the poker hand winner and the Boy Scouts of America. If we get enough entries, we can do a group BBQ at Furnace Creek.

POKER RUN ENTRY FEE: $25 per vehicle before 8/31/2012 -- $35 per vehicle 9/1/2012 - 3/22/2013
GOOGLE MAPS LINK -
http://g.co/maps/gjc7r
On the top right corner, mouse over the button that says, "Satellite" and check the box next to where it says, "Terrain."
GOOGLE EARTH FILE -
http://maps.google.com/maps/ms?authuser=0&vps=2&ie=UTF8&msa=0&output=kml&msid=200515576456566869644.0004bc770fd11826bc036