Discussion Starter
·
#1
·
Although having similar properties,
Silicone Dielectric Grease
is not the same as
Thermal Grease
. Silicone Dielectric Grease is a temperature resistant material used for lubrication and as a sealant to prevent corrosion. Thermal Grease is a temperature conductive material used to assist with efficient heat transfer to a heat sink with electronic components. The incorrect application of Dielectric Grease on your new TFI ICM or using Thermal Grease to seal a harness connector can result in component failure. Let's find out why…
Silicone Dielectric Grease
is a waterproof, non-conductive, temperature resistive lubricant usually used for preserving rubber parts, such as o-rings. It does not swell or soften rubber as may be the case with hydrocarbon based lubricants. Typically, it is used as a means of lubricating and sealing the rubber portions of a connector without arcing.
When used in a spark plug boot, it seals the boot from water intrusion and prevents the rubber from sticking to the spark plug ceramic. It is formulated to withstand higher temperatures and it does not break down in the spark plug environment. Because it is non-conductive, it can be applied to the actual contact as well because the spark plug high contact pressure is sufficient to penetrate the grease.
On the other hand, this is not the case with multi-pin electrical connectors where it is not recommended to be applied to the electrical contacts. In this case, it could interfere with the electrical signals passing through the connector where the contact pressure is very low. With harness connectors, it should only be used as a lubricant and sealant on the nonconductive mating surfaces of the connector.
Silicone Dielectric Grease is typically a component of Thermal Grease due to its supportive properties. In addition to carrying suspended heat conductive particles, Dielectric Grease fills the gaps and conforms to both the component's and the heat sink's uneven surfaces, adheres to those surfaces, maintains its consistency over the required temperature range, resists drying out or flaking over time and does not degrade with oxidation or break down over time.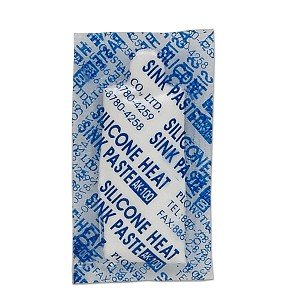 Thermal Grease
(also called thermal gel, thermal compound, thermal paste, heat paste, heat sink paste, heat transfer compound, or heat sink compound) is used to support conductive heat transfer between the TFI ICM and the heat sink. This conductive heat transfer is done through a thermal interface, or direct contact between the two surfaces.
Thermal Compounds
improve the efficiency of conductive heat transfer by filling minute air gaps that occur between imperfect surfaces. The contact area between the heat sink and ICM has inherent surface imperfections from machining marks, casting irregularities and even invisible sub-microscopic spaces which reduce direct contact and promote air spaces. These small air spaces within the contact area reduce conductive heat transfer due to air being approximately 8000 times less efficient at conducting heat than, for example, aluminum which is a common heat sink material.
Thermal Conductivity and "Conformability"
(i.e. the ability of the material to conform to irregular surfaces) are the important characteristics of thermal grease. These compounds generally contain a conductive substance such as ceramic, metal or carbon and usually include Silicone Grease as a medium for conformability. Keep in mind that Thermal Compounds conduct heat far better than air, but far worse than metal. These compounds are only intended to fill the gaps that would otherwise hold air, not to create a layer between the ICM and heat sink as this would reduce conductive contact decreasing the effectiveness of the heat sink. In other words, excess grease separating the metal surfaces more than the minimum necessary to exclude air gaps will only degrade conductivity, increasing the risk of overheating. The compound must have a suitable consistency to apply easily and remove all excess to leave only the minimum needed.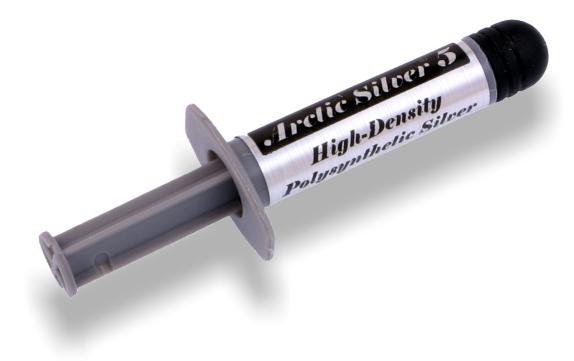 Arctic Silver 5
is a premium thermal compound having a high-density filling of micronized silver and enhanced thermally conductive ceramic particles. This efficient silver thermal compound exceeds the conductive properties of metal oxide, nitride, copper and aluminum. It is commonly used for modern high-power CPUs and high performance heat sinks and can be found at most electronic stores. Be aware that silver based thermal grease can be slightly electrically conductive or capacitive, meaning if some flows onto sensitive circuits it can cause malfunctioning and damage. At $9.95 for a 3.5g tube, this is the high end product many in-the-know are using for TFI ICM installation.
Radio Shack/Walmart/Comp USA – (Arctic Silver 5) Part #
AS5-3.5G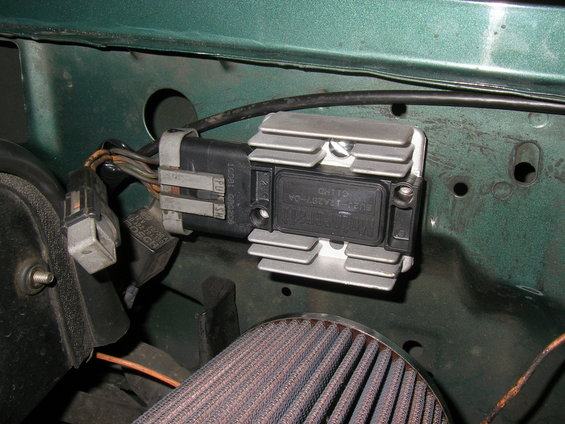 Automotive TFI ICM Heat Sink Compounds
Napa/Echlin – (Echlin) Part#
Echlin TPL45
AutoZone – (Wells Vehicle Electronics) Part#
Duralast SL203
O'Reilly Auto Parts – (Borg Warner) Part#
BWD CL80
Discount Auto Parts – (Standard Motor Products) Part#
SMP SL-3