Discussion Starter
·
#1
·
I have a couple of 4x36 3/4hp belt/disc combo sanders from sears. Fitted with norton zirconia alumina belts, they do pretty good for their size. Last year I stretched one of the two sanders to take a 54" belt. This worked great, and I love using this one. The short one pretty much serves disc sanding duties.
Anyhow, they use a cast aluminum contact/idler wheel. I really wanted a rubber contact wheel in a bit smaller diameter than the 2.25" wheel that comes on them. Searching for contact wheels, I came to the quick realization that they were way to expensive! The only stuff I could find in 4" width were far to large in diameter and several hundred dollars. I have found that rubber contact wheels seem to give a better "bite" by the abrasive and that belts tend to last longer.
I use the belt sander contact wheel mostly for cleaning up tubing notches, so you need a wheel close to the diameter of the tube joint you are making. I work most with 1.75" tubing, so a contact wheel of the same diameter would be ideal.
So, since I couldn't find a commercial one that would fit my needs for a reasonable price, I decided to try to make one. I figured I would try 4 hockey pucks bonded together and to a metal hub and see how it does. At $.99 each, hockey pucks are in my price range. I drilled the pucks to .75" on the lathe and turned an arbor to turn their OD on and keep it concentric. Turned them down to close to the correct diameter, and then took the old contact wheel off the belt sander that doesn't see much belt use. I made an arbor for the aluminum wheel and turned it down until I just had the center hub, just over .75" OD. I put a good layer of loctite super glue on the hub, and fed each of the turned down hockey pucks on the hub with glue between each puck as well. With a tight interference fit and the glue, hopefully they wont slip. After that, I turned them on the hub and arbor to the finished diameter.
I tried it out on the little belt sander, and it does give a lot more bite, but it now stalls the motor if I lay into it. I have a couple of 3hp motors around, so that will have to be the next evolution. I am thinking of cutting axial groves in the wheel with a tire groover. The axial groves should add more cooling capacity and even more bite.
Here is what I came up with.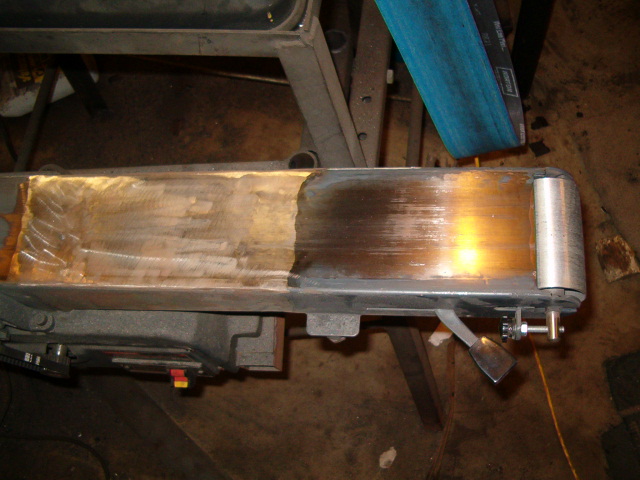 This is the lengthened sander with it's original contact wheel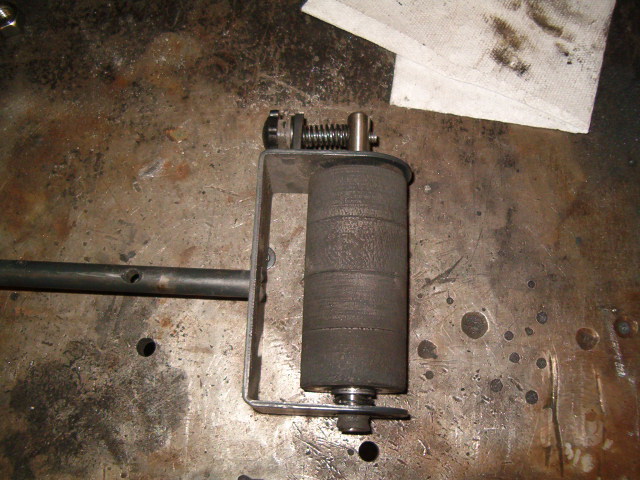 Here is the new rubber one, ready to go in.
Later,
Jason