Discussion Starter
•
#1
•
ECORS is the closest thing we have to "desert" racing our east, yeah it's more like woods racing....Anyway the stock class is very competetive, and being able to go fast and not break down is the key to winning.
www.ecors.com
A quick run down of stock class rules:
1. No coilovers/airshocks/etc- Stock style suspension
2. Long travel kits/mods ok (so I can extend radius arms, c&t beams, etc)
3. No engine swaps (that's ok, got a 351w)
4. Safety items blah blah blah (I'll be running at least a 6 point cage, tied to the frame and suspension seats/5pt harnesses, not a big deal)
5. 35" tire max w/ no lockers, 33" tire max with 1 locker
I've been wanting to do some racing and have a "go fast" trail rig for those fire roading trips.
I thought about building a Ranger or a Toyota, but my ol FSB seems like a sold choice. I mean HELL, it already has "Baja" style bumpers :toothless All tube work is and will be 1.75"x.120 DOM (might get some .095 wall for interior tubes.
Specs:
89 Bronco 103K miles
351W efi
C6
BW1356
D44 TTB front
8.8 rear (have 9" to replace it)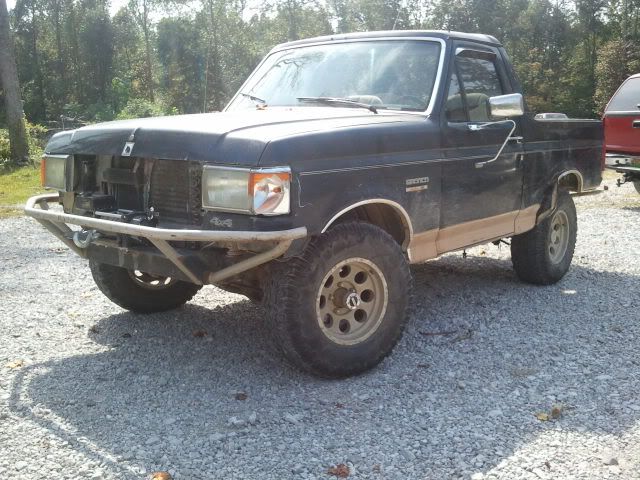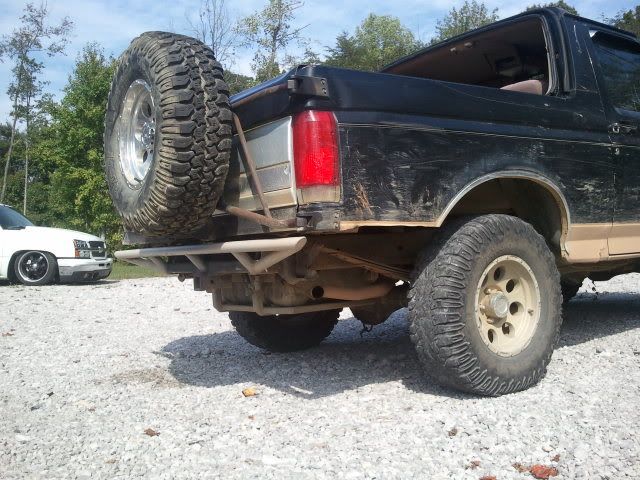 My plans : I am editing this as I go along and as discussion in this thread gives me ideas
Suspension:
Front: remote resi 2.5" FOA, custom mount, 2" lift springs for the front (cc826),
Rear: remote resi 2.5" FOA, stock springs minus over load, plus long add-a-leaf, longer rear shackles, 2 link traction bars
Drivetrain: fix leaks/exhaust on the motor, trans is fine, BIG cooler for trans, new u-joints throughout, modify front shafts for full circle clips, Dana 50 center shaft, open front diff, 9" swap in rear with discs and spool. EDIT: Open diff or ARB to use cutting brakes now.
Tires: run whatever 285/75-16 and 305/75-16 I can pick up used for cheap/free. Keeps me under the 33" tire limit so I can run the spool in the rear.
Interior: Corbeau XPs and 5 points, plus fire extinguishers, safety equip, etc.
My main debate on starting the rig is what I want to do with the body.
EDIT: I'LL be keeping most all of the stock body, in case I race in other stock class series besides ECORS, and to "rep" the FSB!
Debating doing a full tube rig with rear radiator like Davids "Lil Digger"
Or maybe save some time and $ on mounting steering/pedals/shifters/gauges/wiring etc and build a "firewall buggy", mostly tube, but stock firewall/dash/controls like my 4runner
My last option is just doin an interior cage and removing doors/glass/tailgate.
I'm kinda leaning toward this just for simplicity, but I'd really like to cut the weight of the sheet metal and make the "body" smaller with one of the above options... I'm going to weigh the pig and see just how much fat I can trim.
Any and all feedback is appreciated, tell me if I'm doing something wrong, or could save a pile of $ somewhere!
I'm not sure what to do on the rear suspension yet.
I've read through the Daily Driver Mods thread and think I've got a pretty good game plan from that. Especially since I plan on cutting out ALL unneccessary items (interior, a/c, heat, doors, glass, tail gate, hood?(replace w/ fiberglass?)
I have to keep the winch because there are rock sections that I'll most likely get hung up in...