Discussion Starter
•
#1
•
My '95 5.8L drove fine one day, then the next the idle was really bad. So bad, I didn't risk driving it. I pulled codes via KOEO test with the engine cold and got 33 from KOEO and 33 stored. This led me to start taking apart the EGR to clean it up. Once I disconnected the tube from the valve, I realized that the tube was completely severed. Ayup... thar's yur problum... :toothless Anyway, I can't seem to locate an EGR tube that looks like mine, so I'm guessing that I have a CA emissions setup. ??? I bought it used in OK, and I've continued bringing it eastward as the military moved me around.
Here's a pic of the parts, please help me:
1) identify them (everything I know about EGR is from searching this site over the last 2 days)
2) identify if I do indeed have the seemingly rare '95 CA emissions bronco
3) find somewhere to get the right EGR tube (entering my VIN in fordparts.com doesn't help)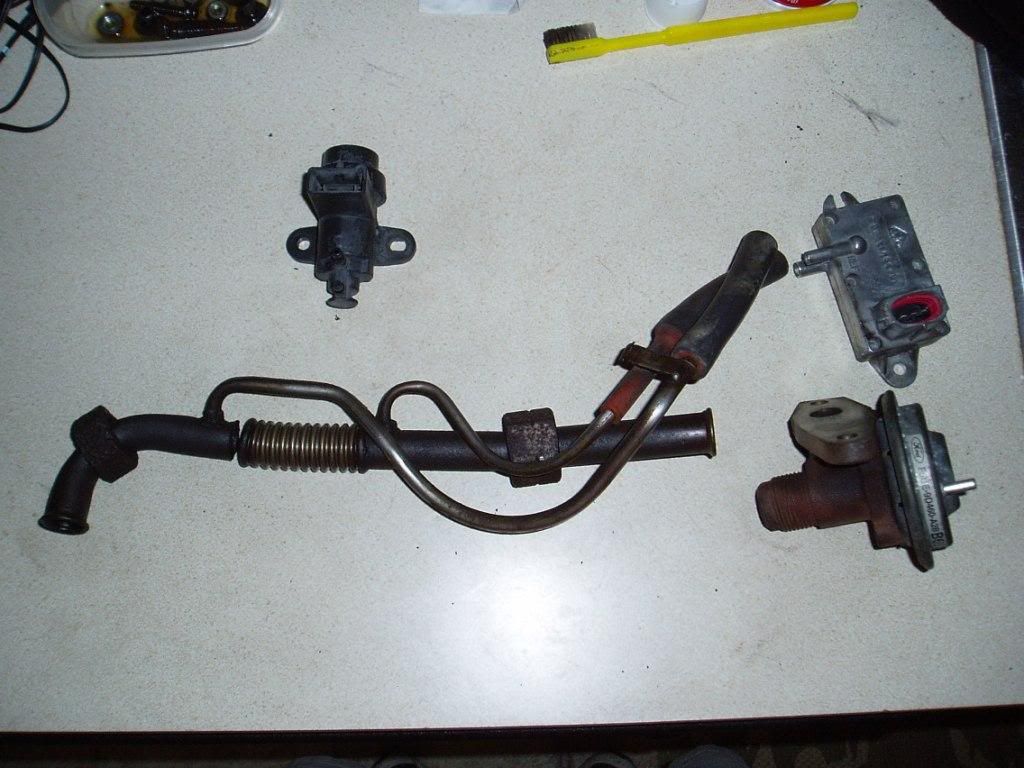 The EGR tube is obvious. So is the EGR valve. The black plastic thing is the EVP sensor right? And the solenoid thing is a DPsomethingsomething? Found a good post on here about it, but I lost it and can't find it now that I'm looking for it. What does the DPXX do in relation to the EVP sensor?
Lastly, thanks to all the members that post great information. I've never troubleshot an emissions problem before, nor have I even pulled codes before... but armed with info from this site, I'm doing both! Yay me!