88, 90, 96 broncos, 96 F250
Discussion Starter
·
#1
·
Did this back in the first half of july, but i thought id post it up since its an alternative to buying lowering shackles. Wasnt sure to post this up here or the Fabrication section, up to the mods where they want it.
Step one, get a pair of stock shackles! I got a used pair in excellent condition from
Justin's bronco
way back in april :thumbup
(insert a pic of a pair of stock shackles here)
Then you need to cut four pieces of steel. In my case, they are 6 1/4" long, by 1 5/8" wide. This will work for extending them 2", if ya want longer just add another inch, altho i dont think id go any longer. Made out of 1/8" plate, so when done the shackle will be 1/4" thick like the F450 shackles.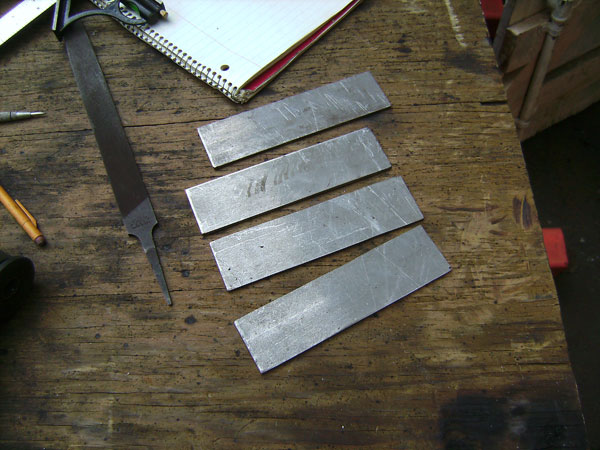 Next up, drill the hole for the bolt. The hole is 9/16", and to make it as close to stock as possible, i centered it, and set it 25/32" from the end.
You also need to cut off one corner. The angle isnt crucial, you could just grind that spot to fit later on if you want. In my case, it was laid out like this: mark the short side at 1", and the long side at 1½", and cut the corner off. This proved to be not enough and i had to grind it to match the shackle, but id rather have to grind some off, then to have it too short. Anyways, cut an angle.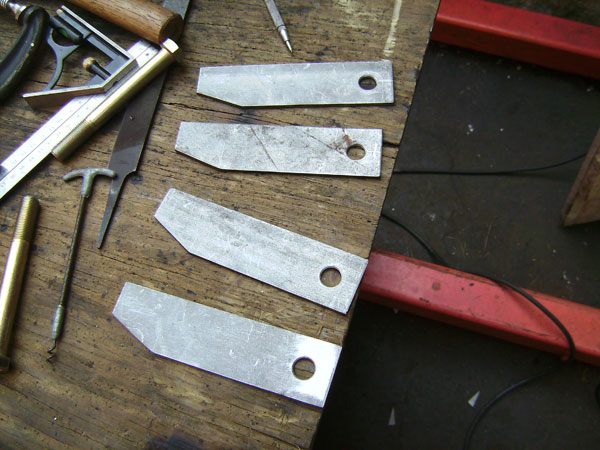 Then i duplicated the original radius of the stock shackle, altho after i was done, i decided that having it round looked better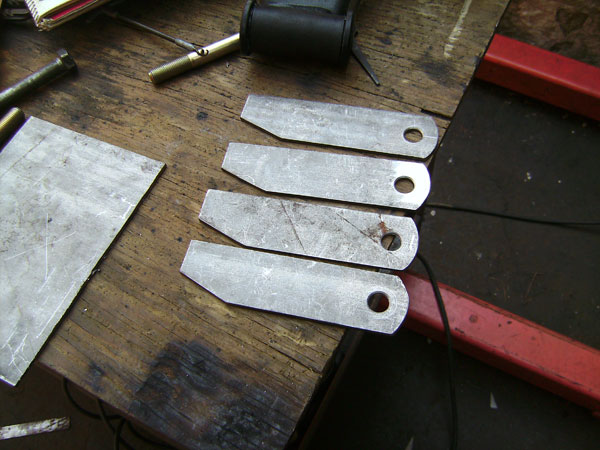 Next up you need four of these. I made em 2¼" x 1 5/8". the shape of the radius is unimportant, so just cut a rough one and go, ill explain later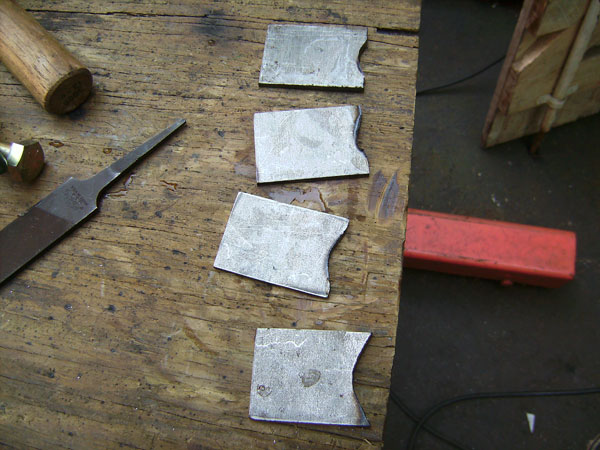 Now, take your plates, make sure the new bolt hole is 2" away from the original one, and weld it to the shackle. You can weld it to the flat 'ear', and then once thats fully welded, hammer the other end over till it touches the body of the shackle. Then just clamp it and weld it up.
I tacked the plate to the shackle via the original bolt hole, to hold it in place, and then once the sides were fully welded, filled in the original hole and ground smooth so youd never know it was there.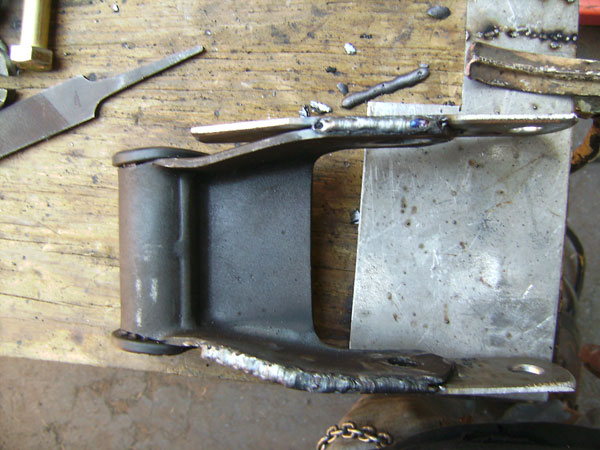 Now those little tabs come into play. Place them here, and grind the rough radius till they fit. In my case i had tacked the end of the original ear to the new plate, so i had to grind a notch to fit around that. The plan here is to fill that whole seam in with weld, and grind till it disappears. Obviously every edge has been bevelled so i can have as much weld as possible left over after the welds are ground smooth.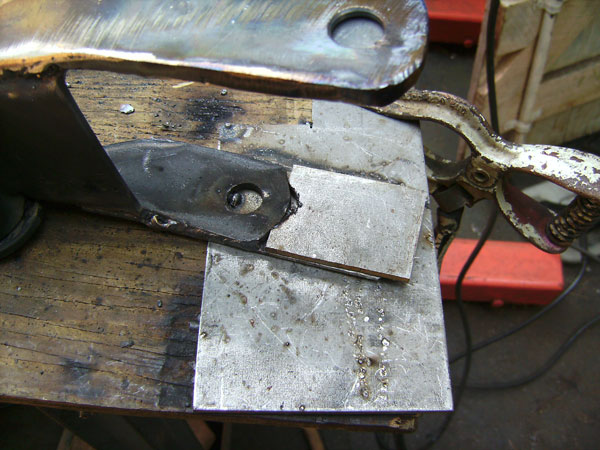 Next up is a plate to help keep the ears from bending. Technically, since its been extended 2" you should only need a plate 2" long, but a 2¼" one will fit, so thats what i cut it to. 2¼" x 3½" specifically. I ground the two corners a little bit to get it to fit in there nice. I also bolted the shackle to the spring pack and
then
tacked the plate to the shackle, to ensure that the ears wouldnt end up too spread apart, or too tight after i welded this piece in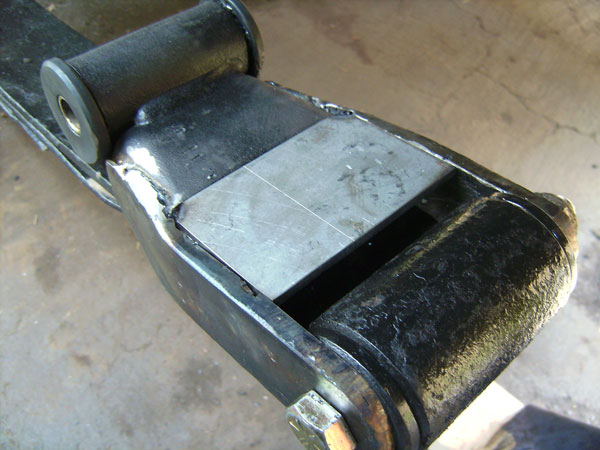 After a bunch of welding, here's the mostly finished product. Beef!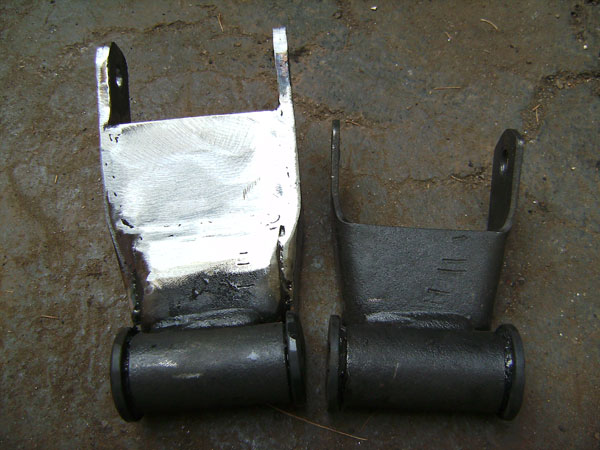 i did some finish welding, and then painted and installed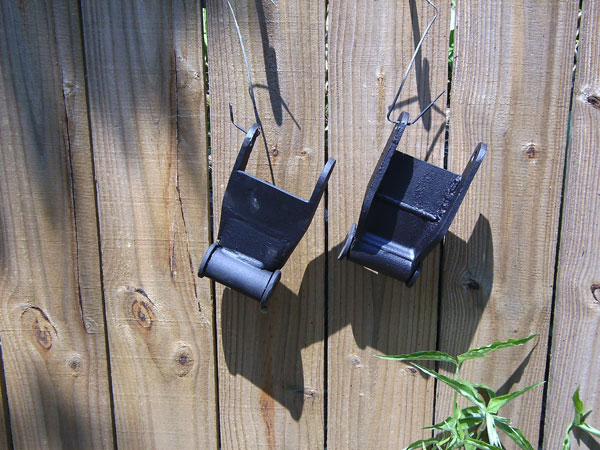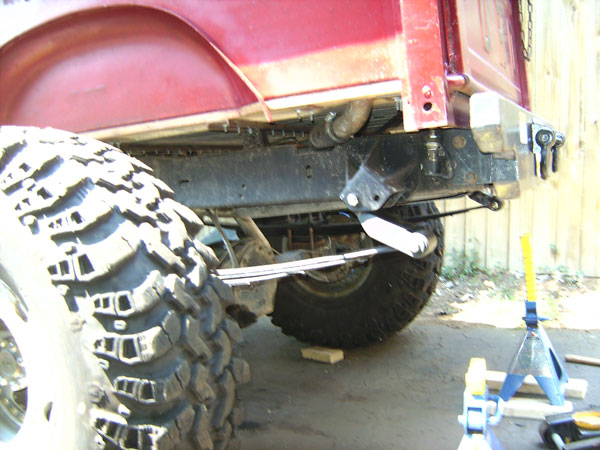 The shackle angle was horrible! So i moved em to the rear hole, and all is good :thumbup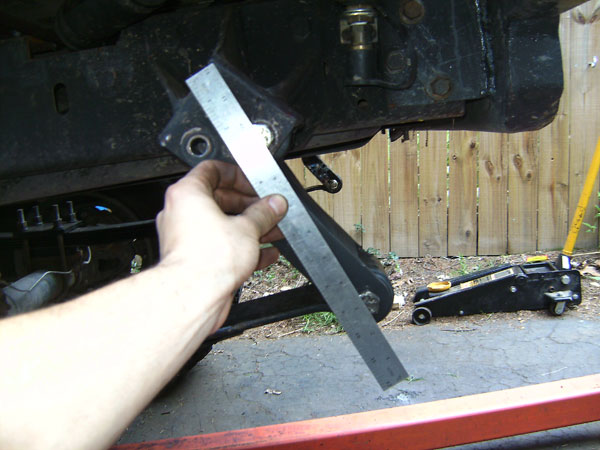 And since i know youre gonna ask.......i did this because i moved the front spring hangar 3" backwards, installed new non-bent mainleafs, and removed my 2" AAL to get be back to stock springs. This also means that now both brackets have been moved on my frame, so you cant use these pics as a reference for shackle angle. Also of note is, while the pics dont always show, every joint was beveled prior to welding to ensure that after they were ground id still have plenty of weld left over holding everything together.