Discussion Starter
•
#1
•
So a while back (years ago), I pulled a factory transmission cooler off a 96ish or so F350 truck with ambulance package at the junkyard. I finally got around to replacing my 1992 Bronco factory cooler with tow package and have a couple of questions...
The 92XLT tow package cooler is tiny compared to what I just swapped in, btw.
The cooler has similar dimensions and plate size to B & M 70298, I haven't been able to find much info about this cooler online via the stamped part number, but it appears it was an option for "heavy duty trans cooling" on F250-350 94-97 trucks.
This is the part number: F6TH-7A095-AB
This is the same exact one I just swapped in:
http://www.ebay.com/itm/New-OEM-Ford-Automatic-Transmission-Cooler-F4TZ-7A095-C-F6TH-7A095-AB-/381149511672
It looks similar to the Explorer cooler swaps in some of these threads but looks like it has more radiator like fin volume. The Explorer swap coolers look like my stock tow package one but much larger. The fins on those look thick and don't bend easily.
It has 15 total flat plates and fins approximately 2.5" wide. Any idea how this stacks up against the B & M 70298 or Derale 15900? The Derale was my initial choice, but it wouldn't clear my grill without clearancing. Not to mention I paid like 10 dollars for the cooler and it was practically new.
I've already ordered a 9" diameter 700cfm fan that i'll be attaching as a pusher and controlling via a thermostatic probe that ideally has a on temp of 180* and off at 160* for those long grades and sand dune lugging up and down the dunes.
1.Any suggestions for a price valued thermostat probe that presses in the fins? I want to keep it simple and don't want to do any additional plumbing.
2. Anyone familiar with this cooler, and if so could you share some specs or info about it?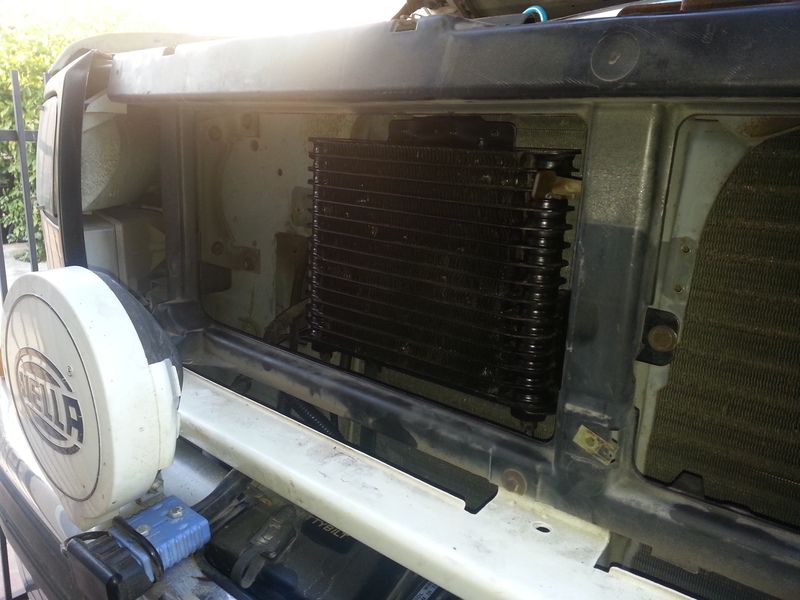 Stock 92 tow package one..