Discussion Starter
•
#1
•
Since everything I did I blatantly stole from other members on here, I didn't think it was necessary to do a step-by-step on my build. Instead I'm including pics of the finished (almost) project...if anyone has any questions ask away. Huge thanks to Project86 for his welding/fabrication skills and also to Plug Ugly for letting me use his reamer on the knuckles.
Here's a picture before: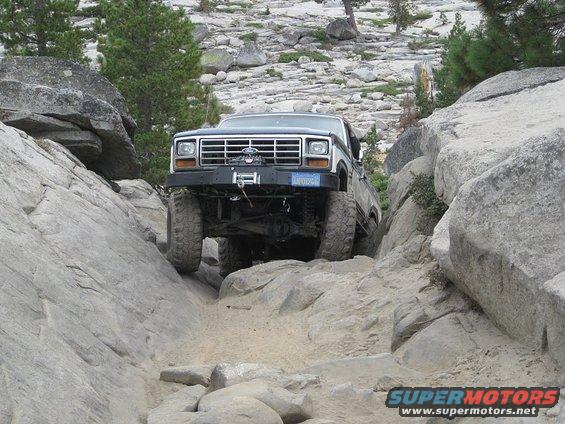 And here's what I have into it, with costs.
D44 out of a 76 F100 - Free
4 degree JD C-bushings - Free
Stock 76 track bar - Free
Stock 76 coil buckets - Free
New ball joints - $50
JD Radius Arms - $500 used
4.88 gears - Reused from TTB
Misc Axle rebuild parts - $50
Diff cover - $75 from Bronco Graveyard
Axle u-joints - $60 Spicer from BG
Bilstein 5150 shocks - $100 used
F-350 shock towers - $35 used
Deaver 6" springs - $169 from BG
LockRight D44 locker - $240
Steering - Chevy TRE's and DOM tubing, all from PartsMike (really great customer service) $290
Misc nuts and bolts - $50
Rear shackles and bushings (not installed yet) - $90
Driveshaft lengthening - ???
Shipping charges - $190
Total build cost is right around $1900 or so, but I sold my TTB lift for $400 so I'm at about $1500. I still have some misc TTB parts and Solid axle parts left over that I might be able to sell to make up some of the cost. I started the tear down in April I believe, and just worked on it a little each weekend and bought parts along the way. Oh, my TRE's are ES2233L, ES2027L, and 2 ES2234R. DOM tubing length is 46" on the tie rod and 29" on the draglink. Pitman arm is stock. Seriously, the guys at PartsMike are awesome, they really helped me out and even reamed my pitman for free. I still need to cycle the suspension and take measurements to get my driveshaft lengthened, and I ordered longer shackles for the rear to try to even out the height difference. I'm hoping the Deavers settle a little bit since I bought them new. My track bar and draglink angles are just a smidge off; I might need to lower the track bar bracket just a tiny bit if I get too much bump steer. But after a few test drives, I'm pretty happy with how it turned out.