Discussion Starter
·
#1
·
Well guys, my current 8.8 under my truck is making some howling noises and I don't like it not one bit.
Some history on it as I wasn't a member here when I did the first repairs to it 2 years ago. My spider's blew apart in Nov of '07. I was on my way up north to go hunting and my speedo started to bounce, first sign. Nothing abnormal other than the speedo bouncing. 2 weeks later, it wasn't good. My tires seemed "LOCKED" when turning corners. Opened it up to find chunks of gears. I replaced the spiders, clutches, axle bearings, axle seals, and the passenger axle shaft as it was pitted. The tone ring was damaged, but I didn't know enough about taking out the carrier so I left it be.
Jan 01, 2009, I opened it back up to change out the tone ring to fix my bouncing speedo. Went pretty smoothly. I follow directions from steve83's post in
this thread.
Everything was fine until about 3 months ago, my speedo started to flutter again. :doh0715: And a few weeks ago, I took the top off, and I could hear my rear axle making noises. Now I'm getting a little leary of driving except for going to work. It's getting loud.
So, a few months ago, I sold a good rear axle I had out of a parts truck to another member on here (sewiv), and installed it for him. Sandy left me his bad axle. So now I have one to work with so my truck isn't down and out while I try to figure out what the hell I'm doing. I ordered a master kit from vendor ericautoparts, with a slightly used (says 7 miles and looks it too) ring and pinion 3.55. Parts came in great packaging and I'm ready to start.
I'm going to need help. Yes me, that's what I said. Never have I ventured into the lands of a axle build this deep. I've done EVERYTHING else, but not this. So I'm ready to learn.
I've gotten a couple of great links from jopes and FE Bronco and these are the links I've got.
FE Bronco's link he gave me:
http://www.angelfire.com/theforce/5ohcpa/cpa5ohtech001.htm
jopes link he gave me:
http://www.pirate4x4.com/tech/billa...Ring and Pinion installation instructions.pdf
So I've been schooling myself to do this but I'm still nervous.
Now I'm getting started. First thing I did was take apart the complete housing I have.
Here is the problem of this axle I'm rebuilding. Notice the pinion bearing. It came out just like that.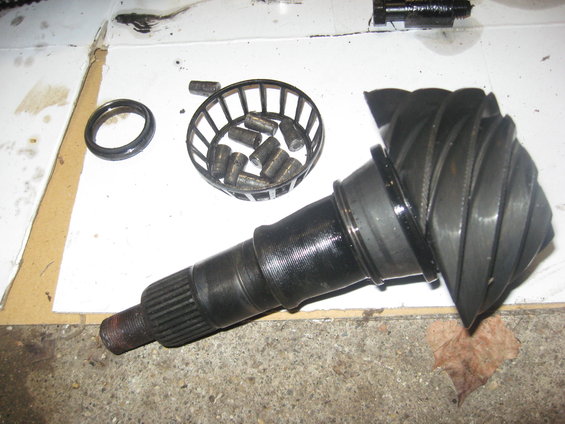 Next step was to take it to the car wash and give it a good hosing. I want to do this as fresh as possible, as my last repair had metal in it and only thing I could do was to run a magnet up and down the tubes to try and get all the metal out. Which lasted almost 2 years.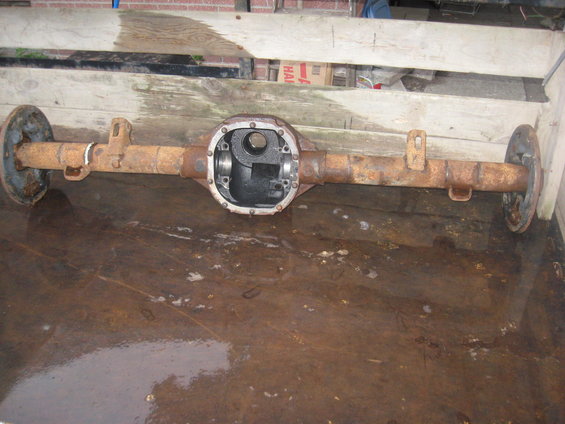 I've got the new parts....
and I forgot to take a picture of the new bearings and shims but got those as well.
I've got a press to press these bearings on/off.....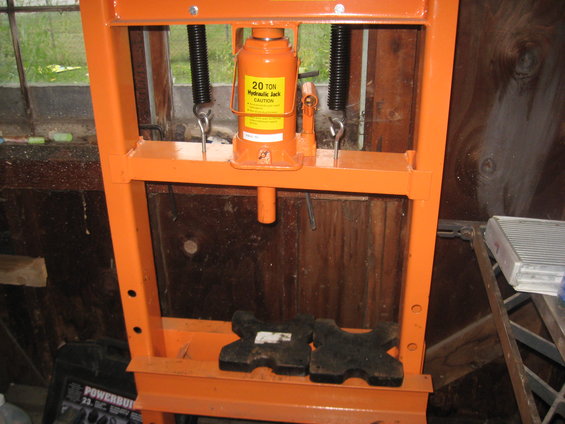 Now this carrier that's in this axle is a LS carrier, but it is different than the one that's in my current one. This one you can see the clutches on the side.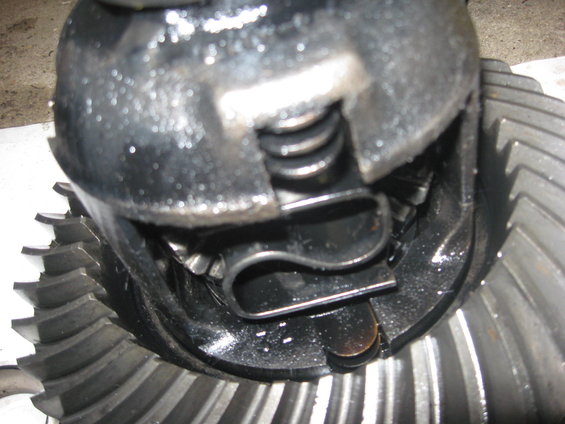 And although I don't have a picture of my current carrier, it's clutches are encased where you can't see them. I'll get a picture of this later.
So last night I pounded out the pinion races in the housing and install the new ones as well. I pressed off the old pinion bearing to get to the shims, to put on the new pinion gear. They say start with that for measuring I guess. I also went to Harbor Frieght to get a gear puller to pull the bearings off the carrier as there's no way to do this with the press. So in a little bit, when the boy takes a nap, I'm going back out to remove the carrier bearings and will install the new ring gear and new bearings.
Now what I see thats going to be a pain in the a$$ is figuring out which shims to use. Because the shims go behind the bearing, I'll have to keep pulling the bearings on/off to add or delete shims.
I'll have more pictures in a bit and could use all the helpful knowledge on this forum. Let's do this together :thumbup