Discussion Starter
·
#1
·
hey guys,, i got both my new mitech 40 plasma cutter and my new lincoln 175hd welder in on friday. Thought id post some pics of my my weekend projects i build. this is my first time using or seeing any plasma cutter, and my first time using another wire welder other than my old Cambell hausfield that ran on 110v . (piece of junk)
Feel free to ask quesitons about either machines and ill be happy to answer..
Also.. ive cut and cut and cut all weekend and im still on my first set of consumibles. if i was using my torch i would of went through at least 75bucks in gas.
HERE IS A STEEL CABINATE IM MAKING SO I CAN LOCK UP MY NEW TOOLS
HERE IS A STEEL WORK BENCH WITH ROLLERS I CUT SOME 4 INCH PIPE FOR TOOL AND TORCH HOLDERS, MY NAME IS DREW AND I MADE A PLATE AND WELDED IT TO THE TABLE AS WELL. I ALSO CUT ANGIE @ BILLY AS A DECORATION FOR MY WALL. THEY ARE MY COUSINS AND BEST FRIENDS.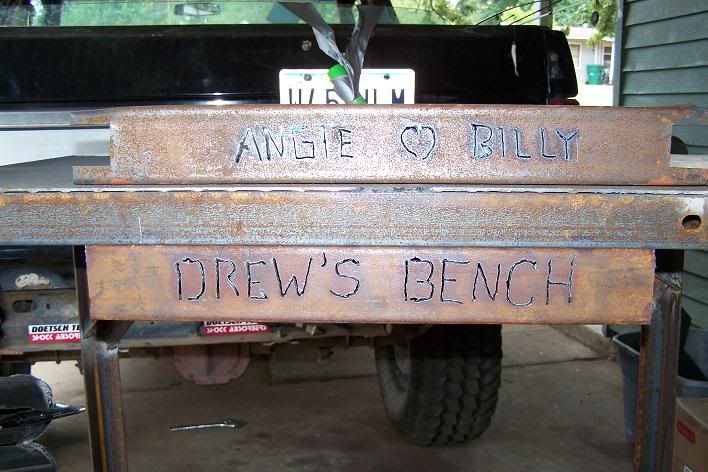 HERE IS A PIC OF A 3 INCH BY 2 FOOT C CHANNEL I USED TO SHOW WHAT ALL I COULD CUT WITH EASE.
I BASHED MY TRANSFER SKID PLATE TO PIECES SO I BUILD A NEW ONE REAL QUICK. HERE YA GO. IM VERY PROUD OF THIS ONE. LET ME KNOW WHAT U THINK.