Discussion Starter
•
#1
•
I knew that I wanted a welded front and that I wanted hydro assist. I didn't come up with anything new, just gathered info from other posts on this site and used a few different vendors.
First I followed Bronkzilla's drilling and tapping instructions here:
http://www.fullsizebronco.com/forum/showthread.php?t=10413
Ordered the same parts as derrick36 here:
http://fullsizebronco.com/forum/showthread.php?t=98041&highlight=hydro+assist
**Borrowed from Derrick's thread**
2x8 Surplus Center Ram - Chief Brand
Fittings for steering box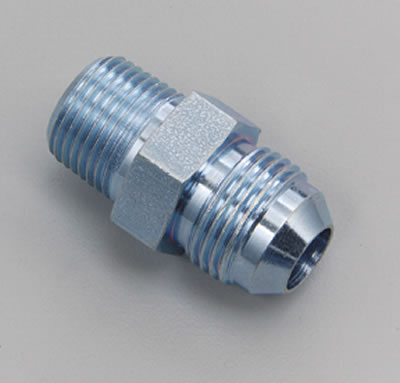 Fittings for Ram
90 Degree Swivel Fittings
Hydraulic Hoses
Caps
just in case something goes wrong.
Here are the other items I ordered to complete my system.
Fabricated diff cover from
Great Lake Offroad
Tabs from
Offroad Overstock
1.5" OD Tubing clamp from
Ballistic Fabrication
I extended my Saginaw pump reservoir really cheaply by clamping a radiator hose to the pump inlet. I had tried to be neat with a toyota PS reservoir, but the saginaw did not like the set up I had.
Here is the final set-up. Sorry for the dirty/oily pictures. I didn't have time to take pictures once I completed it because I was out the door for a wheeling trip.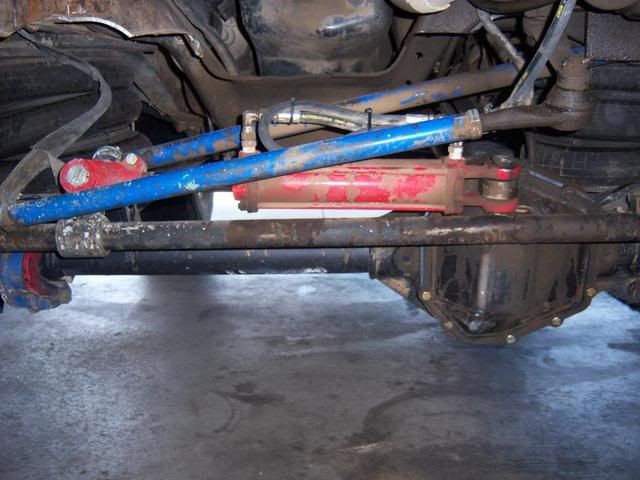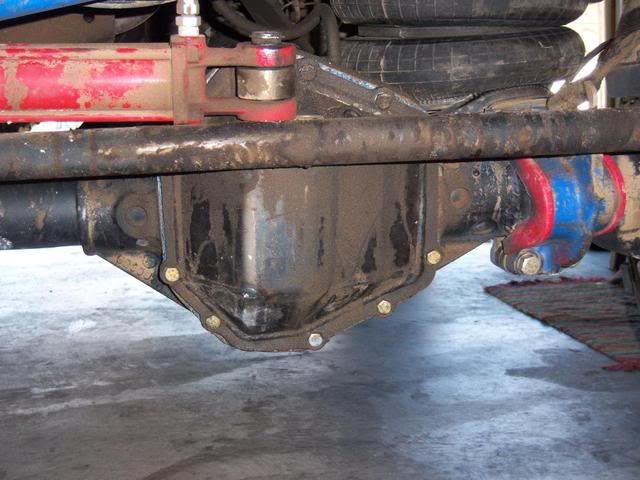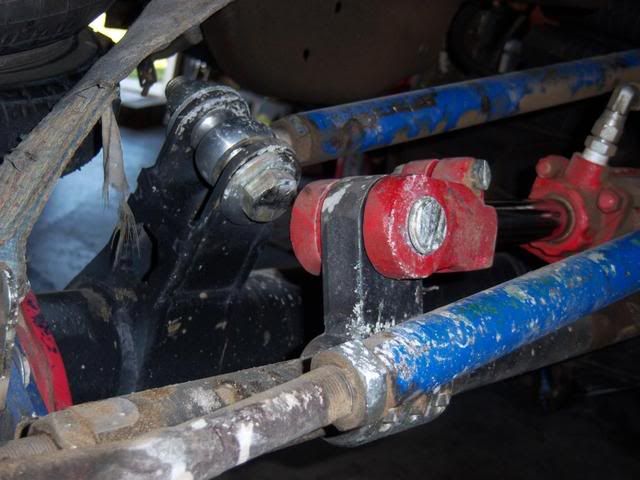 It functions great at slow speeds but has a little lag at high speeds. I believe the lag at high speed is from the larger bore of the cylinder. If I had went with a smaller bore cylinder, I wouldn't have the lag. Just like everyone else, I can steer effortlessly with a welded front in a very high traction/bound up environment.
Also, be sure you have your steering box centered (adjust the drag link to center). I didn't think of this until I was going down the road with it. If you are off center, the ram will want to push the tie rod making you fight it all the time. This is a small pain, but large enough for me to center my box.
The combination of knuckle under steering, the Great Lake Offroad Diff cover, the 1.5" OD tie rod and the hydro cylinder make for a very tight fit. The tie rod is fractions of an inch off the diff cover and hydro cylinder at full lock, but everything clears.