Discussion Starter
·
#1
·
Asking Price:
$3000
Mileage:
50K+ on Body, ~150 Miles on Motor
1983 Mustang GLX
5 speed manual transmission
Mods:
351 Windsor Swap (freshly rebuilt)
Edelbrock Performer RPM Aluminum Intake Manifold
Edelbrock Performer RPM Cam
Edelbrock Performer 650 CFM Carb
Chrome Holley Air Cleaner (needs filter)
Edelbrock Lifters
Accel Coil
Cervinni's Fiberglass Twin Ram Air Hood
85 GT Front Bumper
Cervinni's Front Air Dam
Hurst T-Handle Shift Knob
Cervinni's Front Air Dam
Currently it has no radio (nor do I have one for it) but it has a mounting kit installed and has a Stinger power wire ran underneath the carpet to the hatch and a Stinger distribution block under the passenger seat. I have a Clarion 6 disc cd changer and a Rockford Fosgate 451S amp that I will make available to the buyer if they desire them.
New parts: Piston Rings, Cam/Main/Rod Bearings, Gaskets, Timing Chain and Gears, Starter, Spark Plug Wires, Spark Plugs, Oil Pump, Tires (Have most of the receipts)
Previous owner replaced clutch, trans, and rear-end gears when doing the motor swap.
History:
Car was originally silver and was owned by my teacher who's wife blew the motor and fried the trans. He sold it to the owner of a body shop who swapped in the 351W, replaced the transmission and rear-end gears. He then added the hood, bumper, put in a sunroof (doesn't leak) and front lip. He painted it and then sold it to a good friend of my dad's who just drove it in the summer to work occasionally. He then sold it to me because he needed more of a "family car". None of the owners have driven the car in winter. Interior is clean, no rips or tears, little bit faded.
The Bad:
Has a couple small spots of surface rust of driver's side door. Missing one peice of body moulding on driver's side front fender. Speedo stopped working a few days before I put it up for winter. Needs exhaust. Dash has a few cracks. Timing seems to be off, and it is running rich, needs to be adjusted and dialed in.
Any questions feel free to ask, I'm sure I'm missing stuff. The only reason I'm getting rid of it is because I can't drive it year-round. I don't see the point of having a car like this in the U.P.
I want something 4wd, preferably lifted on at least some 33's? No Junk. I am willing to meet part or halfway to make a trade as long as it isn't half way across the country.
Old Pics here:
http://photobucket.com/albums/a79/351wstanggt/?start=40
Pics as of June 3rd, 2006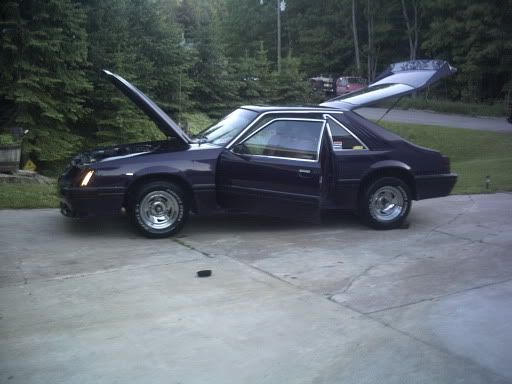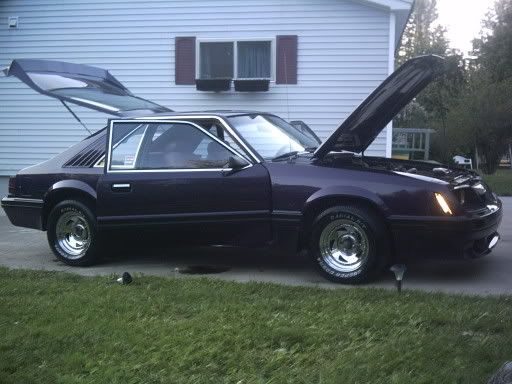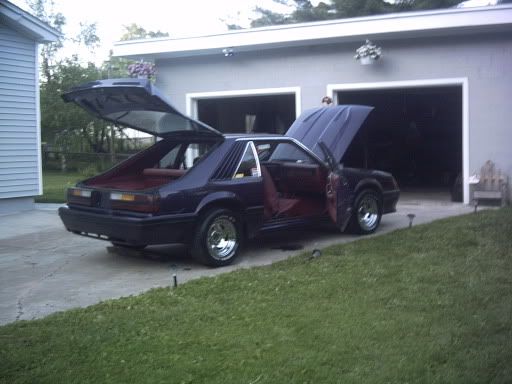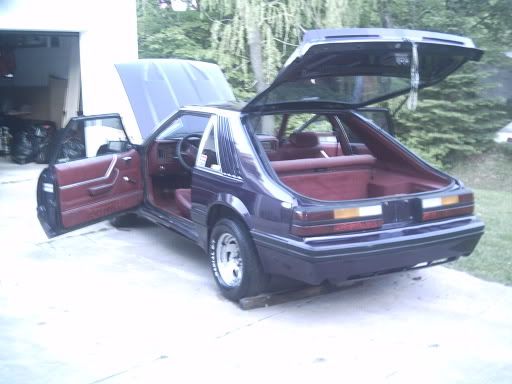 Edit: Yes, the e-brake works, the peice of wood was there just in case. lol