Thank you again for registering at FSB. Please take the time to fill out your bronco info under "edit your details" in the User CP. After that slide on over to the
Introduction Forum
, introduce yourself and share a few pictures of your bronco.
Q:
Why can't I start a new thread?
A:
We have some post restrictions on the forums. They are as follows:
-
Noobie Bronco Tech: 0 posts.
The place to start your first technical help thread.
-
Main Tech forums:
30 posts. Go here after you get a feel for the site and have questions above and beyond "the Bronco Basics".
-
Classifieds:
75 posts required to view others or start your own "For Sale" or "Want to Buy" thread.​
Q:
How do I post pictures on this forum?
A:
Read this thread to learn more -->
How to post pictures
Q:
How do I use special features, like add a url or link a video in a post?
A:
Read this page to learn more -->
VBB code
Q:
I got a Warning or Infraction, what is that?
A:
We use a warning/infraction system for users that abuse the forums rules. Not to worry, we have given very few of these out and if you do get one you will be warned before hand. Read this thread to learn more -->
Infractions
Q:
Where can I sell my parts? Where can I buy parts? Are there any vendors here?
A:
Yes, we have a classifieds section. You will need 75 posts before you can see or enter this area. This restriction has served us well for many years, so we will not be changing it. Vehicles or parts for sale or wanted are not allowed anywhere else in this site. Posting your Bronco or Bronco parts for sale in any of the other forums is a sure way to receive a infraction. See above for how infractions work.
Q:
Ok, I have 75 posts and used the classifieds. Why was my post deleted?
A:
To avoid as many problems as possible, we have a very simple set of RULES to follow when using the For Sale area of the forum.
Read this thread to learn more -->
Classifieds Rules
(Not view-able without 75 posts!!)
Q:
What are membership upgrades?
A:
Paid for upgrades to your existing, free membership. Upgrades include gaining more storage space on the forums for private messages and the ability to upload attachments. You will also gain access to the "Fullsize Members Only" area of the forum. Purchasing a "Fullsize Member" upgrade does not wave the
75 posts required limit.
Read this page to learn more -->
Member upgrades
Q:
I have seen an offensive post, what should I do?
A:
If you see a post containing SPAM, sales of prohibited stuff, or anything else that might not be within the guidelines of the forums you can use the "Report Post" button. This sends out a email to the mods and admins every time it is used. This works well, and most have not abused it. This button is outlined in the image.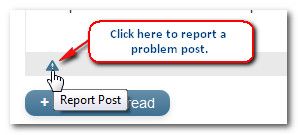 Q:
How do I contact an "Admin" or "Mod"?
A:
At the bottom of every forum is section labeled "Moderators". The names of Administrators and Moderators is given there in a clickable, hyperlink form. This will take you to their profile where you can pm them.
Q:
How do I move or delete a thread I started?
A:
Only Administrators or Moderators can do this. You can send them a Private Message and it will get taken care of... sooner or later.
Q:
I sent a Private Message to an Administrator/Moderator and I don't have a reply yet?
A:
The Mods/Admins volunteer here to help keep the forums in order. Chances are your PM has not been answered because the one you choose to PM hasn't logged in to see it yet. Give us some time, we all have lives outside of the Forums but we do value our members and will get back to you.
Q:
What is this "F.O.T.M." thing I am seeing?
A:
We run a contest that goes on for
F
ullsize
O
f
T
he
M
onth. There is a 60 day waiting period before you can vote or be nominated. Purchasing the FSM upgrade does not wave the 60 day waiting period.
Q:
Are there Technical Write-ups or other "How To" threads?
A:
We have an entire forum section dedicated to these -->
Technical write ups
Q:
Is there a how to for the advanced search function?
A:
Yes there is. Read this thread to learn more -->
How to use the forums search
Q:
Anything else I should know or can I get started already?
A:
Other meaningful information to familiarize yourself with:
Privacy Policy
&
Terms of Use
Q:
Does FSB have different Forum Styles or "Skins" I can use?
A:
Yes we have a few to choose from. They can be changed from a pull down on the bottom left of each page. -->
FSB Forum Styles
Q:
Is there a store front to purchase FSB goods?
A:
Read this thread to purchase FSB goods. -->
OFFICIAL FULLSIZEBRONCO.COM "STUFF" THREAD!