Discussion Starter
•
#1
•
Hey guys. I can't tell you how many times I have had suspensions and axles in and out of my Broncos. Over the years I have learned to work smart as opposed to hard. No matter how strong you are, wrestling TTB arms can be frustrating. I have become pretty competent at utilizing one or more ratchet straps to give me the advantage during assembly / dis-assembly.
With that in mind, I need something to strap to. Strapping to the vehicle you are working on can yield less than ideal angles and there isn't much else in the garage solid enough. I decided to build a floor anchor with an extra weld-on tie down ring I had kicking around. I used four 5/8" concrete anchors with 1/2" bolts and a 3/16" steel plate. Remember, this isn't a recovery point on a vehicle, just something to hook a strap to. Here is a pic of the start: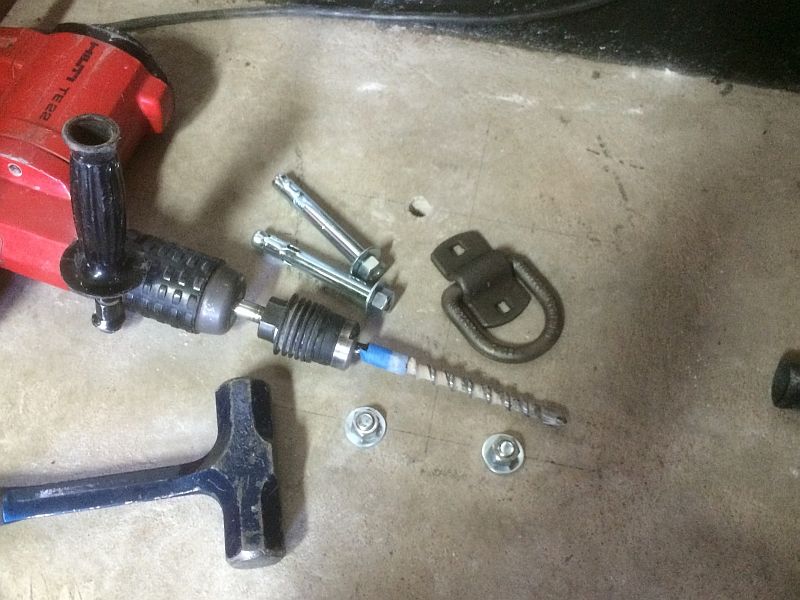 I'm apparently retarded and over tightened one of the bolts and snapped it off. :banghead Check this out.... my lady was in the house watching TV for the night. I insisted she come out and see my Friday night project and when she came out I was tightening the last bolt. "So cool" she said, then 'snap'! Wow, not what I wanted her to see.
Apparently, these Redhead brand anchors are pretty soft grade 2 hardware. I should have broken out the torque wrench. Instead, I picked up a Matco 15" 88 tooth ratchet form a garage sale and have been using it for everything... too much leverage. My options now are limited. I really think 3 of these 5/8" anchors will serve my purpose but I can't deal with the failure. I think I will place a nut over the broken stud and weld it on as best I can. Any other suggestions? Thanks guys!