Discussion Starter
·
#1
·
First, thank you to those that encouraged me to start this thread. I realize now it will probably be beneficial in more ways than one, allowing me to keep all this useful info in one place and keep track of the progress at the same time. As of today I haven't been great at documenting the progress with pictures but will make more of an effort in case it might help someone out in the future!
So first, a recap of how we got to where we are. I spent a few months looking for a 78-79, or Bullnose Bronco to start somewhat of a frame-on restoration with my kids. I was open to a wide range of prices and vehicle condition, but really didn't want any terrible rust. I found this one, probably a little too far away, but I was up for an adventure. I decided it would be a great idea to drive all the way to NW Arkansas from South Mississippi to pick up our first Bronco during the first big week of the corona virus outbreak. Maybe we'll call her Corona? Anyway, aside from taking a nice size rock to the windshield of the F-250 I rented...cheaper to replace than I thought...from Enterprise (awesome truck, btw) the trip went great and got to spend some quality time with my youngest who came along for the ride. Here she is fresh off the trailer (if I can get these pictures to work)
So with our new 1984 XLT, 351, C6 tranny Bronco at home, we decided we'd tackle the steering and suspension first. I noticed during the test drive I took that the steering was all over the place. Once I got it in the air I noticed a couple bad ball joints, but what the hell, let's just replace nearly everything while we're here. What's the worst that could happen? A few random pictures of the front end while I waited for parts to arrive...
Once I got into the drivers side, I goofed and tore up a spindle bearing, so that got replaced. Had I known about the bushings here I probably would have given them a shot...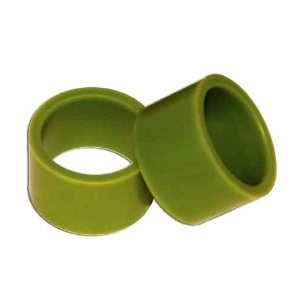 Our new Extreme Spindle Bushings will keep sand and mud out of your spindle much better than the old spindle bearings. This means they will last much longer. We believe this will be the last spindle bushing you will ever need! They fit in snug with no space to allow contaminants between the...
Along the way, had some help from these two, and tried to clean up parts as much as I could and get some rust reformer and chassis paint on there. Eventually I'd like to hit most/all the undercarriage with this.